The Wall Street Journal recently penned an article on "The Rise of the Older, Single Female Home Buyer". While that article was clearly focused on the luxury home market, it brought up some great points about a home buyer that tends to be overlooked in the 55+ industry. According to that article, single women over 55 make up 8.2% of all home buyers, almost double what it was 20 years ago, and growing.
Why do we have so many older single women in the home market? Men tend to remarry at a higher rate than women after becoming single. Women also still statistically live longer lives than men. On top of that, many marry men older than them. So, at some point, they're likely to be living on their own. Today, more women have careers of their own than previous generations, increasing their buying power and sense of independence.
The bottom line: The number of single women potential home buyers in the 55+ market is not insignificant.
New Home, New Memories
But where and what will they buy? Whether widowed or divorced, newly single women today tend to want a fresh start: a new home for new memories. If they have grown children, they may choose to move near their grandchildren – even if that means moving to another state.
"Oh No! I Booked The Wrong Cruise!"
Now, imagine booking a cruise and discovering only after you set sail that you're the only single on a "couples" cruise. Obviously, no one single wants to be on that ship. Visit the website of your nearest 55+ community, and you will likely find couples playing pickleball, kayaking, riding bikes, and dining with other couples. All good fun, but if over 8% of all home buyers are single women, that's a real missed opportunity. When my mother became a widow, she found that the majority of the activities at her golf club were couples-focused, leaving her to feel a bit of a third wheel. So, she moved!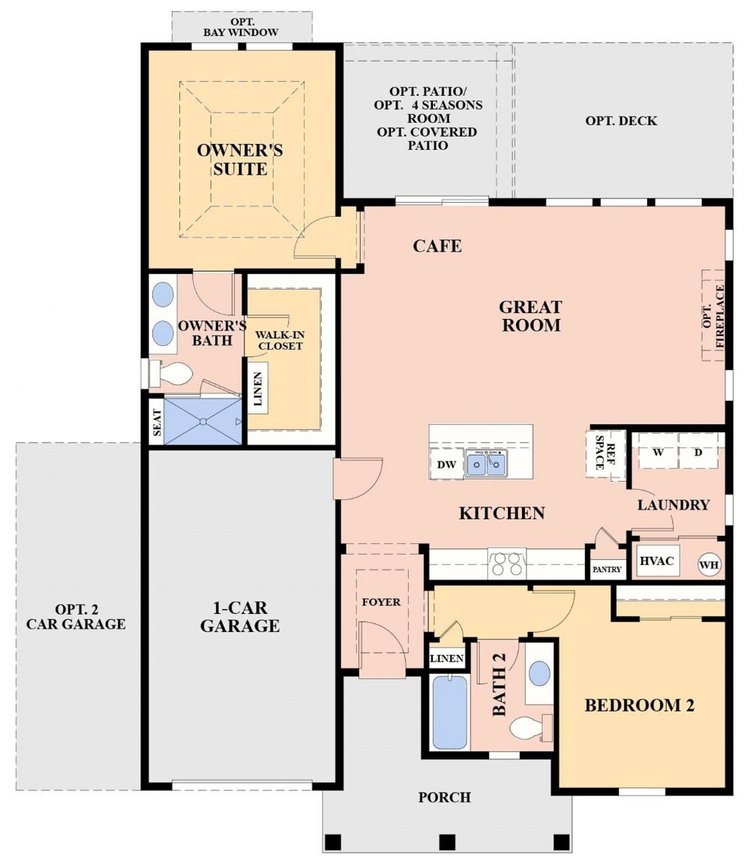 I've been told, the greatest danger women face in retirement is their longevity – outliving their savings. With women increasingly living into their nineties and beyond, how can the home building industry respond to this phenomenon? The Delmarva plan at Nobles Pond was designed with this buyer in mind. The house lives larger than its 1,250-base square footage suggests with an open kitchen, café and great room. The base condition includes a one car garage, a single-user master suite and a separate guest room. Options include a second floor for storage or visiting grand-kids and a two-car garage. We also didn't shy away from "cute" exteriors.

Houses are allowed to be cute! Especially for the single female home buyer!
A Sense of Community
Even when savings isn't a concern, single boomer women may prefer to move into a community setting instead of living in their larger-but-isolated single family homes. Without other family members in their home, they crave human interaction. Studies show this interaction is healthy for both the body and the brain. Many 55+ communities feature smaller, maintenance-free yards with great walking trails – creating the perfect setting for interacting with neighbors while walking the dog.
Avoiding the "Couples Only" Approach
How will builders and developers market to this buyer? What activities will make this buyer feel welcome? Keep the "couples cruise" scenario in mind when planning new communities. Age-restricted shouldn't also suggest "Couples-restricted". Even if the majority of your buyers are couples, there should still be a place for singles to feel welcome!
What Makes a Single Woman House Different?
How will a single-woman house differ from a house for couples? One thing I know for sure is this is not a homogeneous, one-size-fits-all buyer profile. The differences may vary greatly from one generation to another. What they choose to buy has to do with their independence, their wealth, if they are still working and the number of children and grandkids they hope will visit. Do they want to have family staying overnight or will they be the ones visiting family? Will they live with another single-woman sister or relative? Some may even remarry – but choose to stay in "her" house.

Let's work on this challenge together.

Tags: Housing Design Matters


Categorized in: 55+

This post was written by Housing Design Matters