If you ask me, windows are magical. The let in natural light, they expand the space we're in and provide a source for fresh air and cross ventilation (before air conditioning). All home buyers (the 55+ industry in particular) need windows for natural light. If money and energy efficiency were not a concern, we would add windows everywhere we could.
But in the real dog eat dog competitive world of production building, we need to be thoughtful about the number of window we use. Windows are expensive, especially if they are double paned, with low e glass, vinyl or aluminum clad outside, wood inside, true divided lite, last-forever windows. With that in mind, we need to be strategic about our window placement.
Step into the Light
Like moths, our eyes are naturally drawn to light. Therefore, having a window directly in line with the entry door will draw us into the space. Back in the sixties, it was vogue to have a wall greet you upon entering the foyer. Just ask any re-modeler how many times they've had to tear down those entry walls.
Even if tearing the entire wall out is deemed too impractical, you can still create an opening for a far more welcoming and impressive entrance.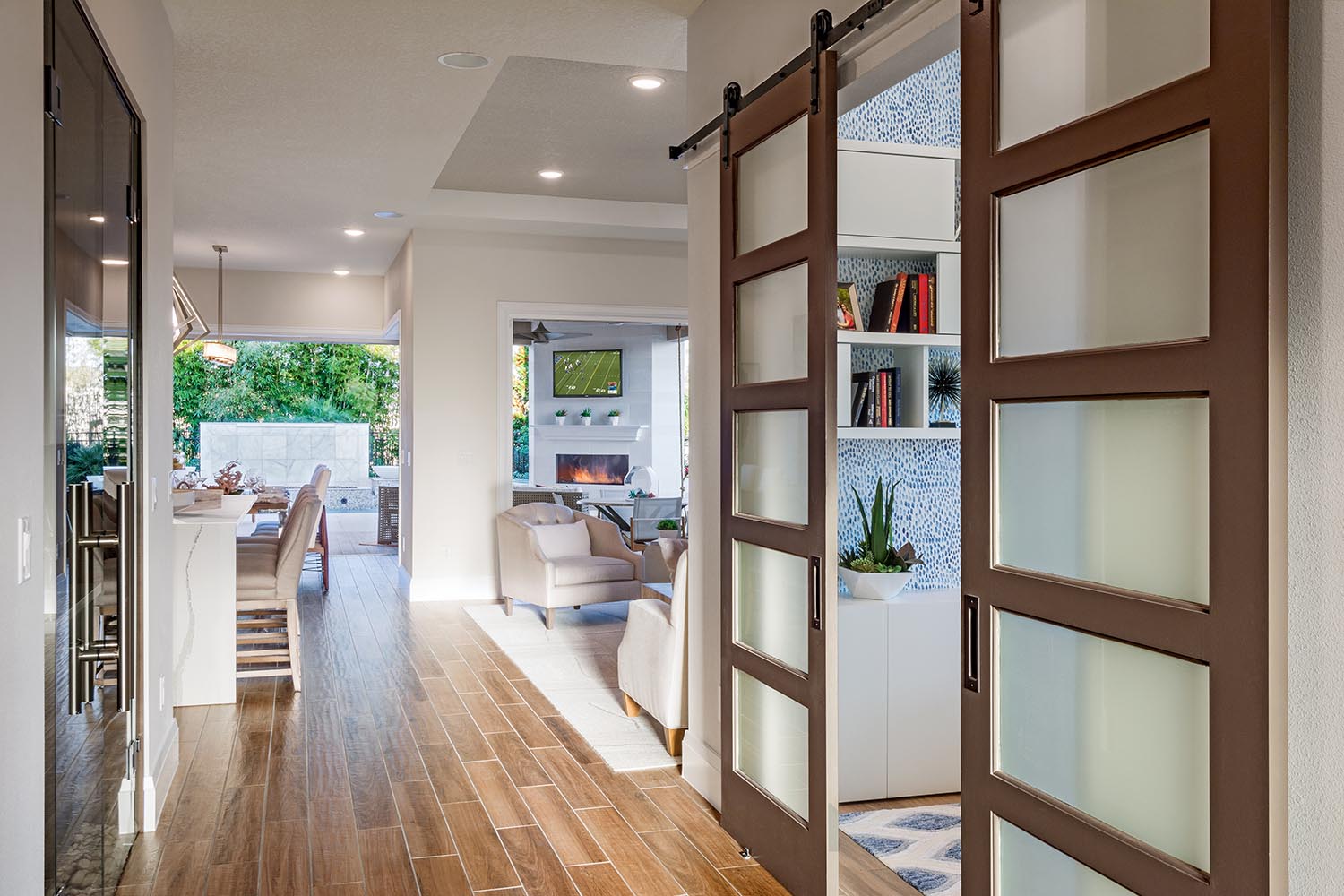 Borrowed Light
Strategic placement of windows allows natural light to spill into adjacent spaces or down a hallway. Aligning a window with a hallway makes the journey down the hall more pleasant and doesn't seem as long – at least when the bedroom door is open. In the NEXTadventure Home, we aligned the laundry window with the door and put glass in the top half of the door. This allowed light to spill into the middle of the house and the Messy Kitchen.
Windows in Kitchens
Natural light in kitchens is wonderful! After all, who wants to cook in a dark cave? But with our large kitchen islands, you'll struggle to find enough upper cabinets. Balancing windows and upper cabinets is a constant battle. I love an L shaped kitchen where the circulation is along a window wall. That way, upper cabinets don't need to be sacrificed.
I'm personally not a fan of putting the kitchen sink on an exterior wall just so you can put a window above it. I like the sink in the island, facing the action (and hopefully windows beyond). Therefore, we need to work a little harder at adding windows to our kitchens.
Avoid Tempered Glass (Where you can)
If you thought fancy energy efficient windows were expensive, wait until you see how expensive that window is with tempered glass. Try to maintain 24' between an exterior door and the adjacent window whenever possible. Additionally, windows at the bottom of the stairs and in wet areas less than 4' above finish floor often need to be tempered. But hey – sometimes that window placement is so strategic, it is worth the investment.
The best way to determine where to put the windows in a home is to do a furniture layout for each room – including secondary bedrooms. Make sure you have light directly across from the entry and then look for opportunities for borrowed light. If can do all of this in the planning stages, you will love the result and won't have to rip a window out of the wall during construction.
So yes, of course windows work wonders – you wascally wabbits!
Categorized in: Housing Design Tips
This post was written by Housing Design Matters