Last week, I was honored to host a webinar on trends from the Best in American Living Awards. If you were able to join, you saw some fabulous projects from around the country. Award winning designs, amazing diversity from affordable to high end, remodels, and everything in between.
Not all trends are applicable to every market, price point, or jurisdiction. But sooner or later, buyers will be demanding these cool new features. Or will they?
I've put together an informal list of trends and whether I think they are on the way out or not. It's important to note that having these in your existing home is by no means a bad thing! But for new home builders, now might be the time to start thinking about which trends have gone stale in the home. Let's dive in.
Open Shelving in the Kitchen (Out)
I can hear the "Boo's" already. Sorry, but I'm just not a fan. As a working mom, I could not imagine my kids artfully placing our dishes on the "display" shelves just right. And no one wants to see my mis-matched cups and glasses. But even if you happen to be far more organized than me (admittedly a low hurdle to clear), let's talk about maintenance. Open shelves with glassware mean the glasses will get dusty. Open shelves next to the cooking surface will be greasy as heated oils vaporize and cover adjacent surfaces.
During the webinar, we did see some great examples of cabinets with glass doors and cabinet lighting -which work great for the dust and, when paired with cabinets with solid doors, you get the best of both worlds.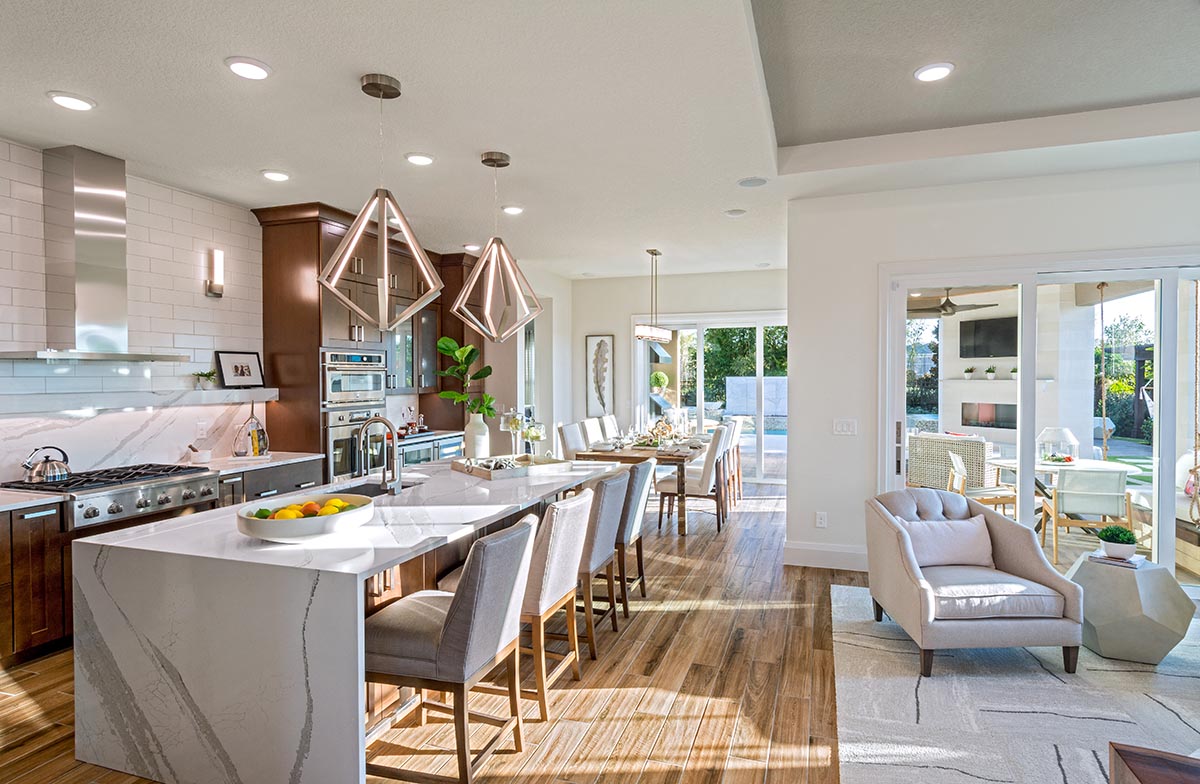 The Blue Island (Out)
We saw some beautiful kitchen islands, especially in blue. While I always try to advocate for more color, eventually, every other house on the street will have the "2019 blue" island. When we were selling our last house, the realtor insisted we remove the red tiles in our black splash because it appealed to too narrow of a market (A good move, in retrospect). I think keeping the cabinets neutral or earth toned and adding color in the accessories or back splash might be a better long-term solution. But perhaps you disagree? Maybe I'm calling this one a bit early? I'd love to hear what you think!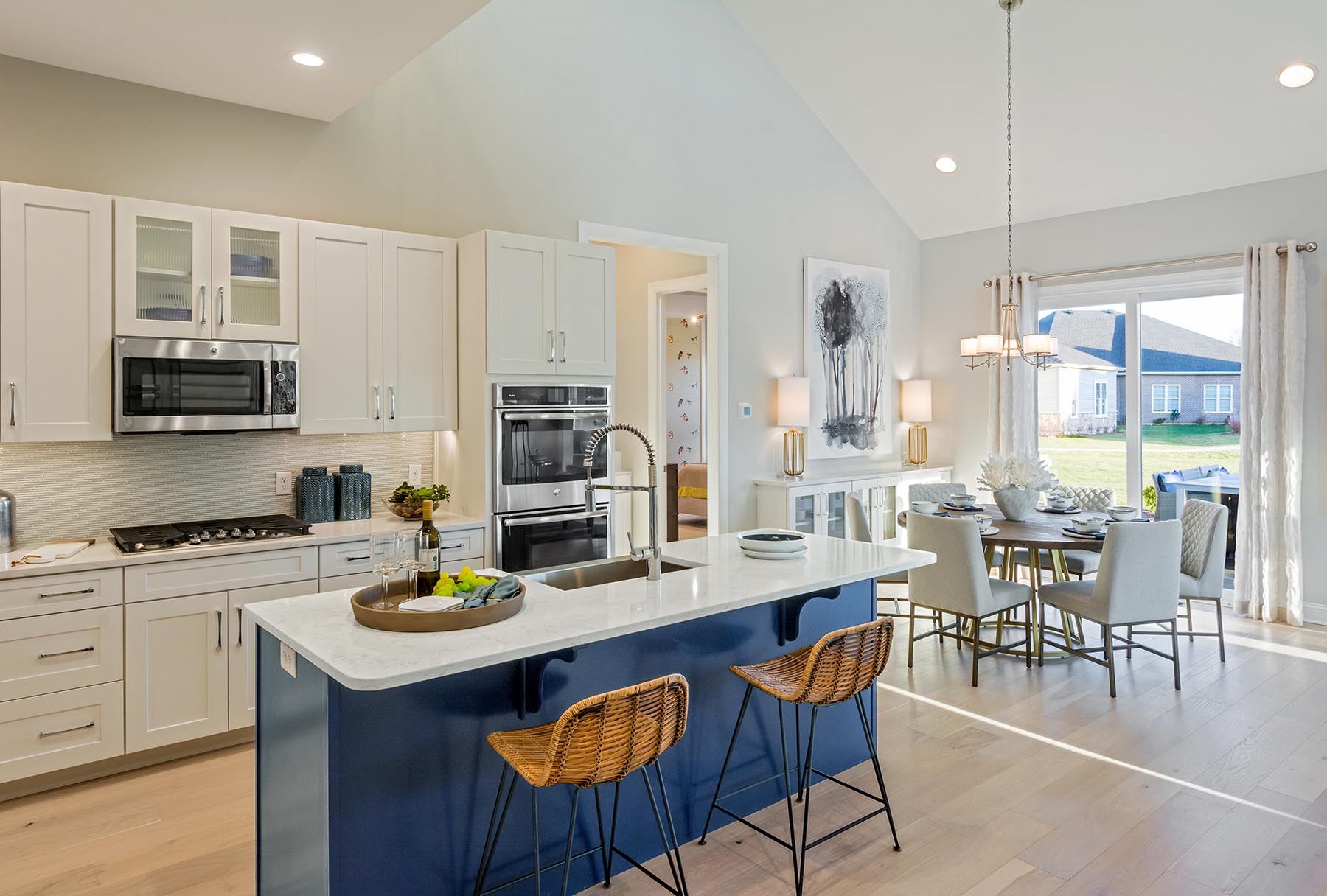 Greater Use of Woods (Caution)
We saw lots of beautiful wood accents on walls and ceilings, both inside and out. But recently, a friend of mine told me their beautiful stained wood outdoor living ceiling was infested with carpenter bees. Now, I've heard of carpenter ants – now there are destructive bees too? She noticed she had a problem when she saw dust all over her outdoor furniture. After calling the bug man, she was told you could only trap the bees in this antiquated trap or paint the wood to seal the insects out.
I'm definitely not saying to stay away from these beautiful woods, but you may want research where you are building before making the investment. Those beautiful wood ceilings may be more maintenance than many buyers have bargained for.
Barn Doors (Out)
A few years ago, I made the argument that barn doors were fabulous. It turns out they were a fabulous fad. This fun trend that helped sell many homes may be coming to an end as working and schooling from home families have discovered the acoustical short falls of barn doors. They offer visual separation but lack acoustical separation. Barn doors had their moment in the sun, but it is quickly becoming a turn-off in the market.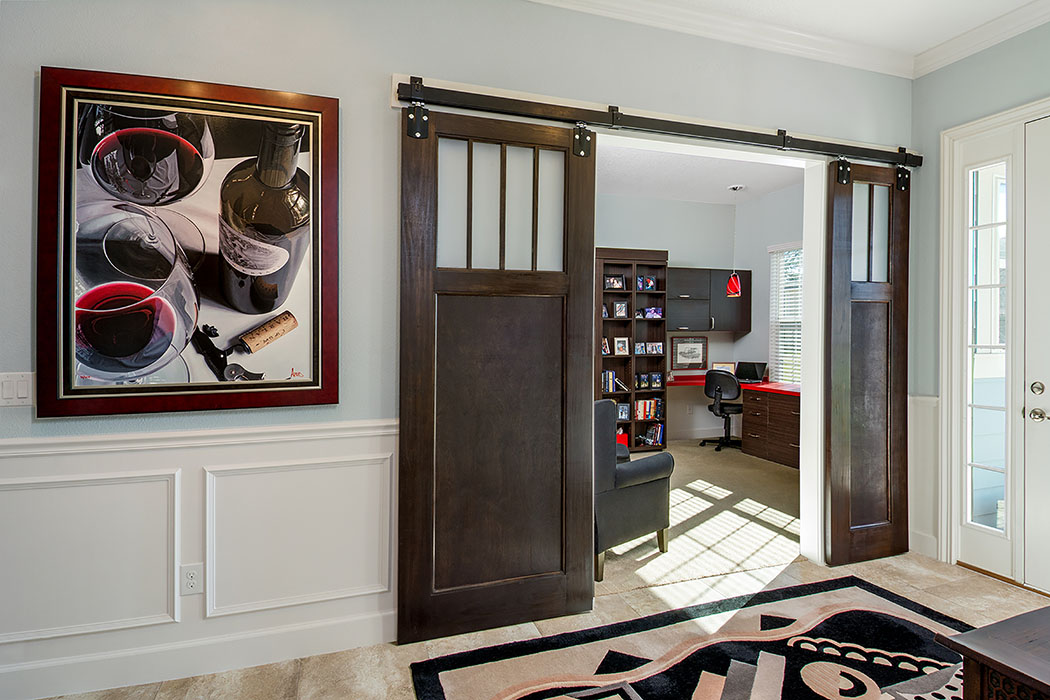 Personalized Lighting (In)
Ah, this is a trend that's here to stay. Residential lighting has made leaps and bounds in the past 5 years, with no sign of slowing down. I still remember a builder bragging to me about the number of recessed can he was putting in his home. Granted, is was better than ceiling-mounted fluorescent fixates but it sounded like he was building a surgery center with the number of lights. Of course, we saw great examples of playful pendant lights, but we saw them in more rooms than we've seen in the past -including bedrooms, offices, bathroom and of course over the island. We also saw great examples of LED strip lights above, below and in cabinets.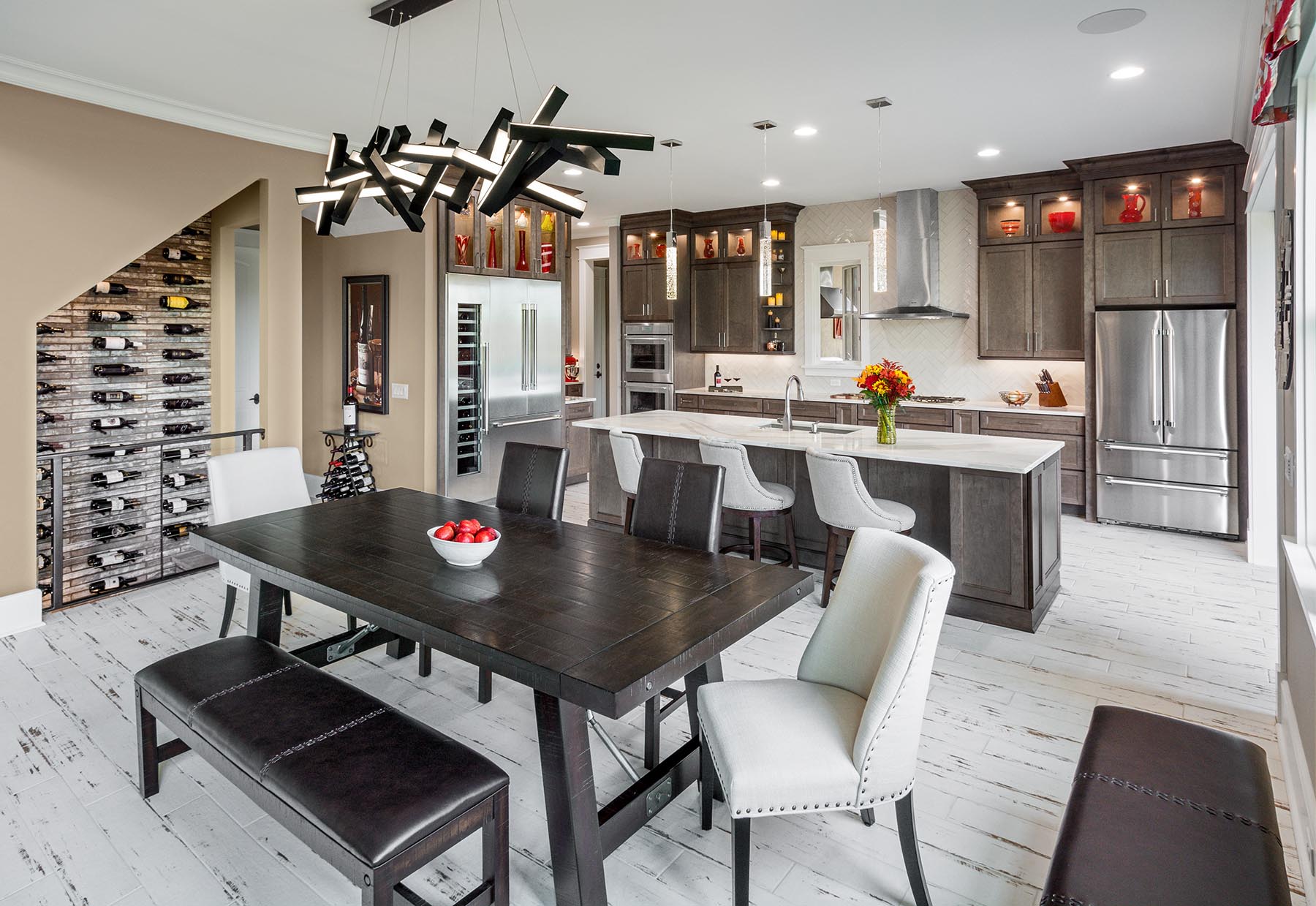 Don't start ripping out those barn doors and blue island just yet if they happen to be in your current home. Enjoy these features as long as they make you happy, as I did with my red back splash. But those of us in the new construction need to be looking forward to create the next must-have in the home.
Do you have any trends that you are ready to see go? Maybe you disagree with some of my choices. I'd love to see/hear it!
Categorized in: KitchenDesign, Trends in Design
This post was written by Housing Design Matters