Curb appeal has always been the first cornerstone for selling homes. Savvy builders have upped their game when it comes to the exteriors of their homes. But in a fast paced, competitive market, building yesterday's styles may leave you in the dust. Are you considering new styles, colors and material to improve your sales and the communities where you build?
Pick a Style, any style
It is important to change the thinking from elevation A, B and C to actual styles from a buyer's point of view. Do Houzz users begin their online search by typing in "Elevation C"? No – they're searching for "Farmhouse" or "Craftsman"! People react emotionally with styles that resonate with them – whether it's timeless, nostalgic styles, or new trending, edgy styles. Since most start their shopping online, your website needs to adequately convey the finished look.
Styles are regional
Public Service Announcement: There are more than three styles in your region to choose from! However, driving through some new communities, you wouldn't know it. Think in terms of streetscape, not just individual home. If every plan is tied to the same three elevation styles, your community will end up lacking in character. Offering multiple styles within the collection will provide a more varied and diverse streetscape. You will also have an easier time complying with a non-monotony code. If you do have one house that is more popular (your model for example), you can add the other styles to that house later.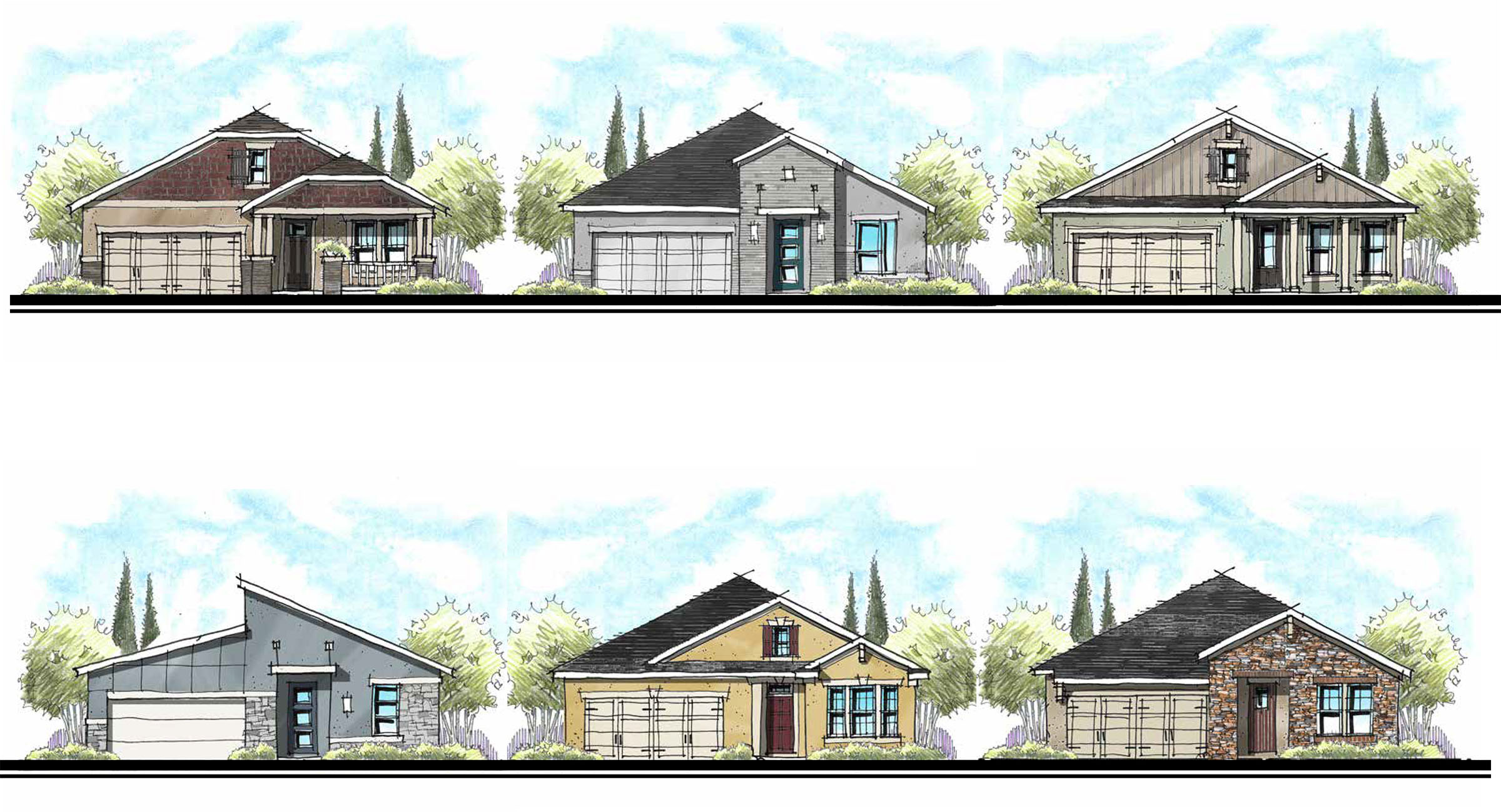 Style selection is often tied to roof pitch. In high wind zone areas like Florida, lower pitched roofs are more affordable. Some styles to consider for lower pitched roofs:
Mediterranean
Tuscan
Spanish Eclectic
Prairie
Craftsman
For higher pitched roofs:
French Country
Shingle
Farmhouse
What's trending in exterior styles
You may have noticed that there seems to be a lot of interest in newer, more modern styles. Mid Century Modern, Moderated Modern, Modern Farmhouse to name a few. How far can you go with fresh new looks and keep the homes "relatable" to your buyers? At the end of the day, most buyers want a home that – well – looks like a home. Keeping the main roof hipped or gabled allows for a less expensive roof system than a flat roof and it keeps the home "relatable".
Chasing trends can feel like running in circles after a moving target at times. At the end of the day, I think it's important to start with a clear vision from the beginning on what your community will look and feel like.
Categorized in: Exterior Colors, Exterior Styles, Trends in Design
This post was written by Housing Design Matters