I often hear builders tell me that they have two big concerns in their business: Reducing costs and increasing density. Many are interested in paired homes as a win/win for their bottom line. Before committing to pairing homes together, let's run through some points to consider.
Reduced Cost
Paired homes reduce costs by not having to clad one entire side of two houses. If your exterior material is brick or stone, the cost savings can be significant. There are also no windows on the party wall, which help reduce overall window count. Keep in mind, you now have the additional cost of party wall construction.
Increased Density
With the cost and scarcity of land, getting the most out of a lot is a huge focus. If, for example, you had two 40' lots with 5' side yards each side, you would save 10' of width with the paired home layout. This has the potential of a 12% increase in density. But be careful, some jurisdictions increase the side setbacks on attached product – even paired homes, so the increase in density may be less than anticipated.
So now that we're ecstatic about reducing costs and increasing density, let's consider the impact on the floor plan and the added complexity that comes with an attached product. If you're used to building townhomes, you may be thinking this is no big deal because it's like selling only your premium end units with light on three sides. What about single-family builders?
Floorplan Impact
Before you take two of your best selling 30' plans and squish them together for instant savings, let's look at what happens to the floorplan.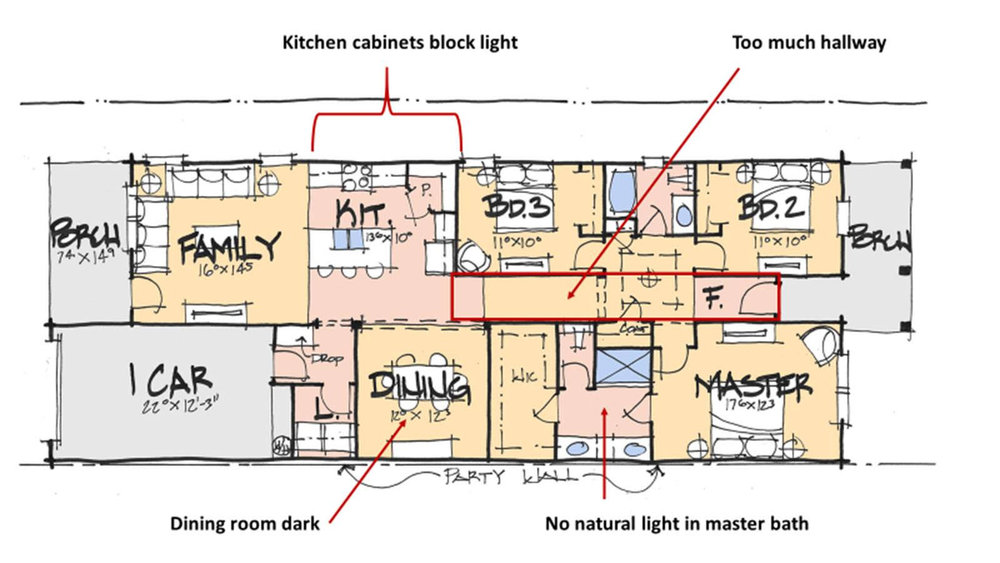 Suddenly, all that natural light along the Party Wall is eliminated. Will home buyers accept showering in a cave? Often times, secondary bedrooms lose their egress and can no longer be considered bedrooms! Imagine cutting vegetables in that dark kitchen. Because it is located on an exterior wall, the cabinets eat into window space. We can do better than that!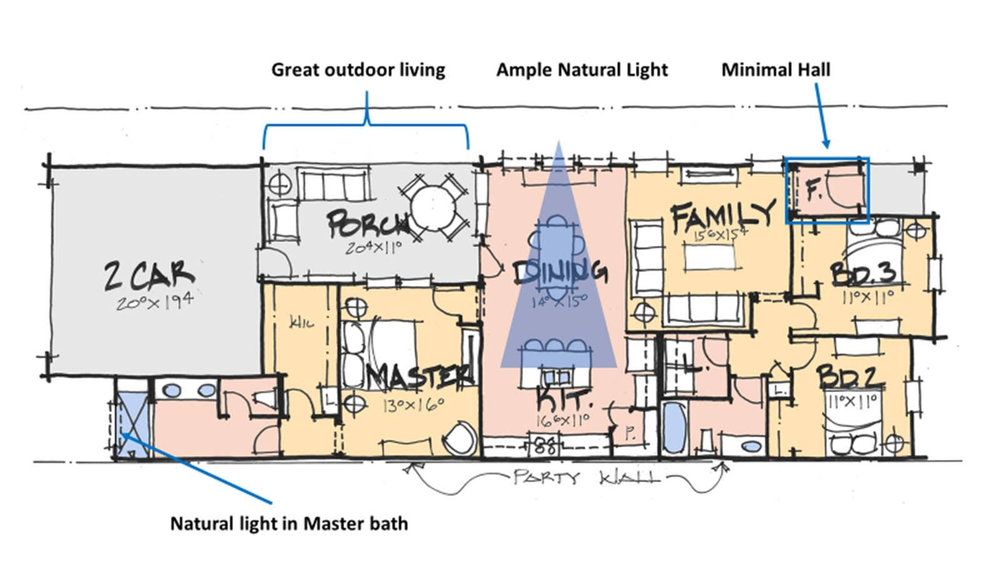 Instead, the above plan lives far more comfortably than the original on the same footprint – focusing on bringing in natural light and adding functionality throughout. Walking through this house will certainly have a more positive impact on the home buyer!
Added Complexity
Next, you need to shift your thinking beyond just one house at a time and begin thinking about two houses paired together. Of course, the easy way out is to just put the same two units together. That usually conjures up images of the duplexes from the sixties whose units were a mirror image of one another. Can you really charge a premium for that look? Should you decide to only pair the same units together, you will need a variety of front elevations to disguise their "sameness".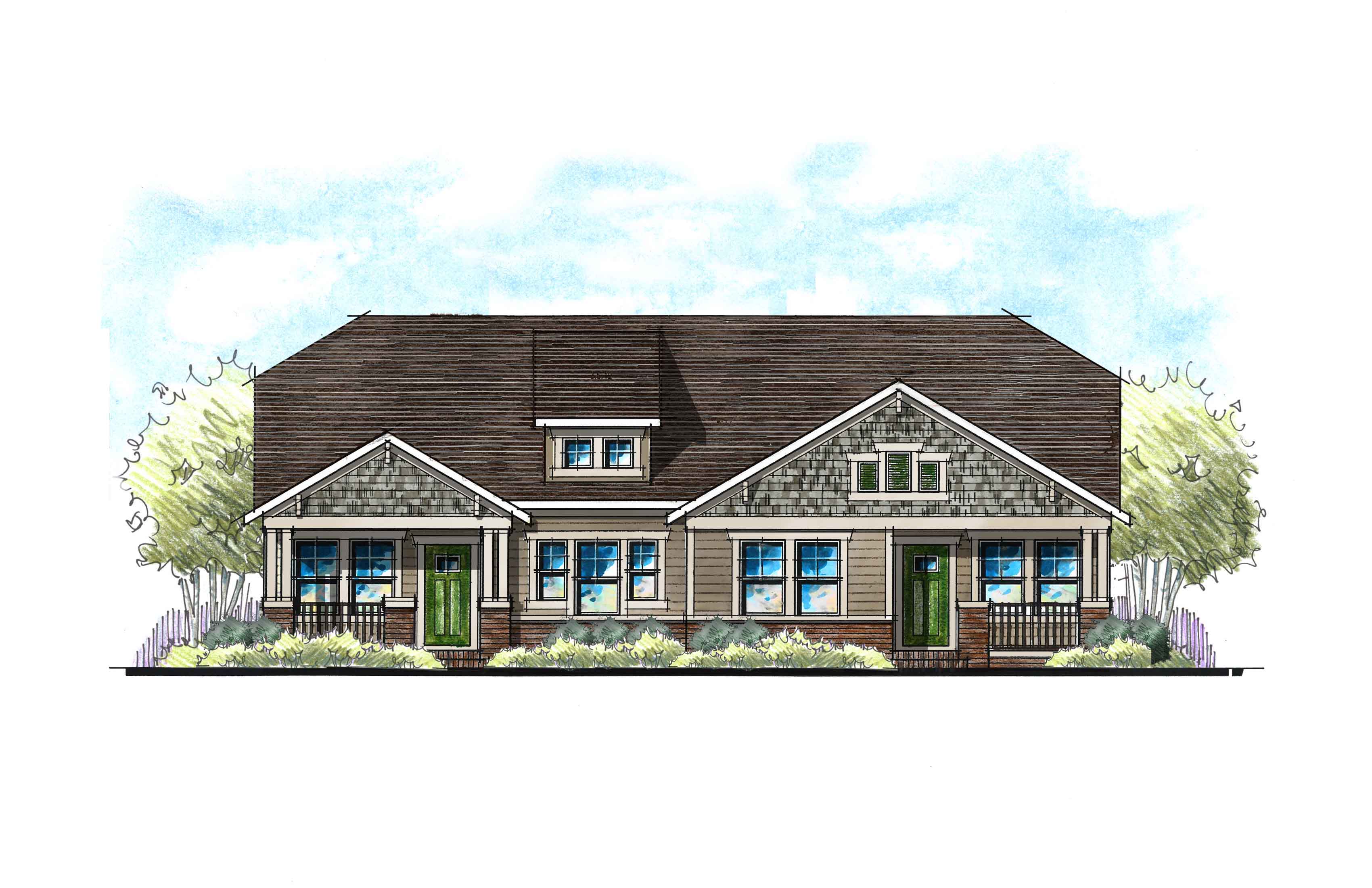 Let's say you're offering three floor plans. In the single-family world, you would be thrilled to sell any one of the three houses on any lot if you varied the front elevation. In paired homes, however, you must prepare building plans for each of the possible combinations. Suddenly, 3 units becomes 6 different building plans. Let's call them units A, B & C. Here are your possible combinations:
A+A
A+B
A+C
B+B
B+C
C+C
Still, this is manageable if they are all ranch plan or all two-story plans. Think about the roof plans if you have half ranch and half two story. Don't even get me started with bonus room options!

If you have two elevations each, you now have 15 different possible combinations. This is great for your streetscape (and your architect's pocket), but this level of complexity may be more than you, your estimating and construction team are prepared for.

Yikes – I might have scared a few people off of this strategy, but don't get bogged down! As an industry, we want to provide more and better value for home buyers – and paired homes can certainly be a successful path forward with advanced planning (and a good architect!).

Tags: multifamily, paired homes


Categorized in: Exterior Styles

This post was written by Housing Design Matters