Jack and Jill baths.. Talk about an industry buzz term. Everyone says they want a Jack and Jill bath. Buyers, realtors, and builders all say the want Jack and Jill baths for the secondary bedrooms.
The problem with that is, not everyone has the same understanding of what makes it a Jack and Jill bath. So that we are all on the same page, here is my understanding of a Jack and Jill bath. The bathroom has three compartments: 2 rooms with vanities and a tub/toilet room.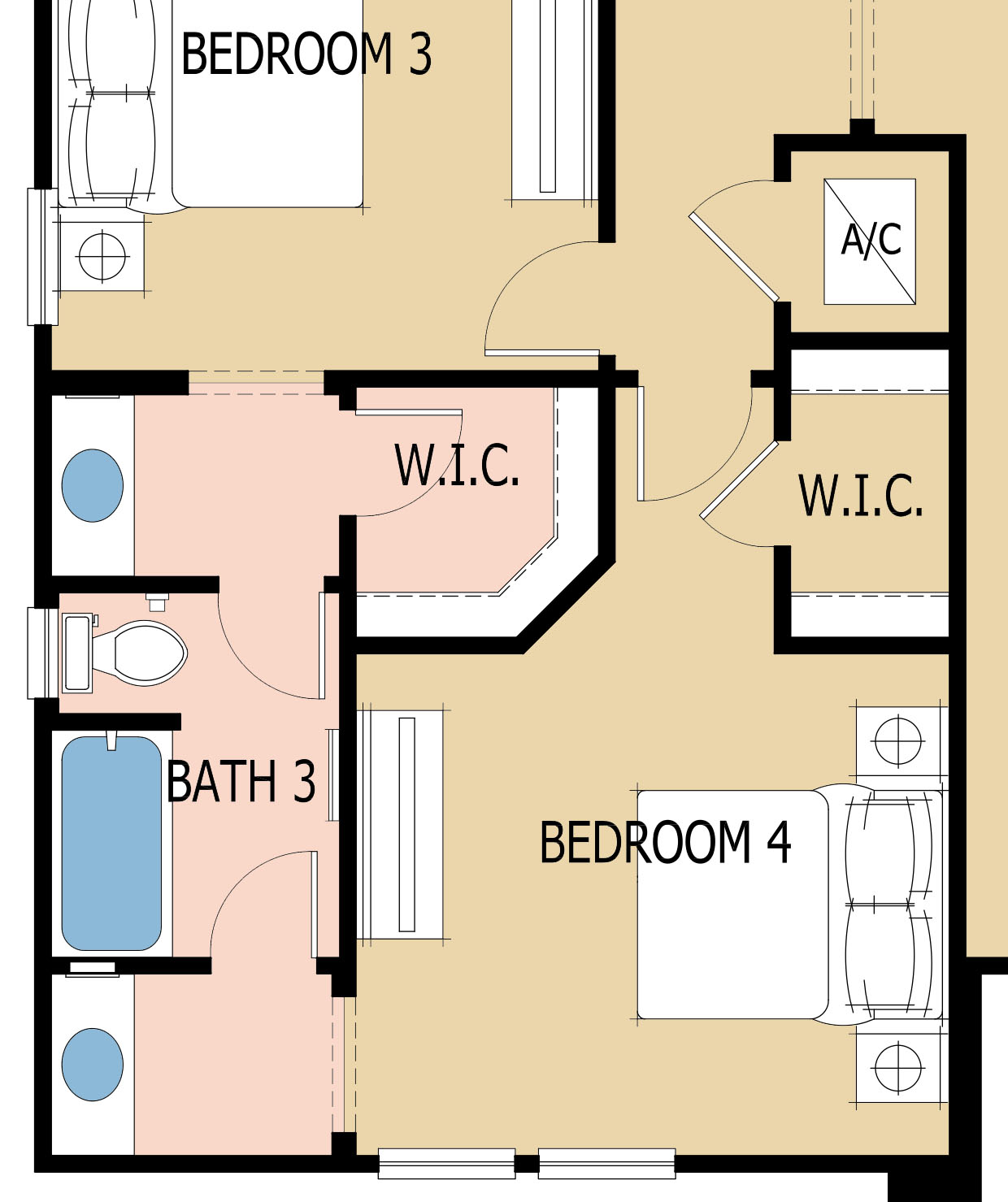 More Than One Type
They can come in a variety of configurations. Some in a straight line, others in more of a square pattern. Often, a walk-in closet is paired with the private vanity, giving this area more a dressing room feel.
There are other compartmentalized bath configurations which are sometimes referred to as Jack and Jill. Some have direct bedroom access while others have hall access and a combination of both. My first boss called the bath whose vanities connected directly with two adjacent bedrooms a "Pullman" bath, after the Pullman train. I'm not sure anyone else in the industry calls it that – how many people today have been on an overnight, sleeper train? (By all means, let me know if you have).
Regardless of what you call it, if you have a bathroom serving two or more bedrooms, it's always nice to have two sinks. What's great about the compartmentalized bath is it allows for three users at one time. Since the vanity area doesn't require privacy: two kids can be brushing their teeth while the third child is using the private compartment for bathing or, you know, using the toilet. This is perfect when it's crunch time in the morning trying to get kids out the door for school or at bedtime when everyone needs to brush their teeth.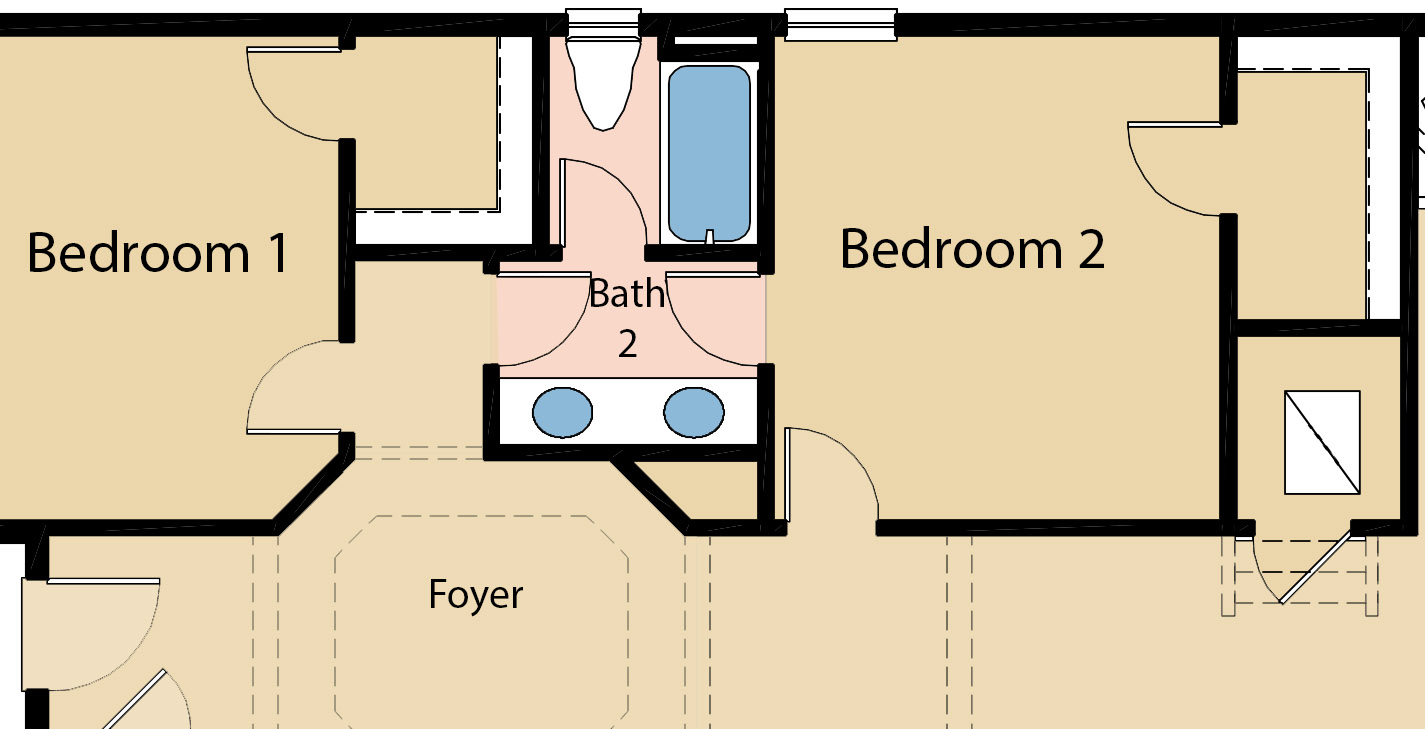 Minimizing the Conflicts
When the kids are little, the doors are rarely closed. As they grow older, the need for privacy sets in. That's when bathrooms start to get more complicated. Maybe not too bad if they are all are the same sex, but combine brothers and sisters – look out! Doors get locked. One kid locks out the other kid, "Mom! She locked me out again!" arguments – mass hysteria! Trust me, I've been there more times than I care to remember.
My first recommendation is to eliminate the locks on the doors to the vanity area – especially the ones with direct access to the bedrooms. Imagine this scenario:
Child in bedroom one locks the bathroom door to bedroom two while styling their hair.
 When they finish, they go back to their bedroom – forgetting to unlock the door to bedroom two.
 When the child in bedroom two tries to use the bath – they are locked out.
 Not to be deterred, they walk around into bedroom one to get into the bath; "Mom! She's in my bedroom AGAIN!"
Why was I always dragged into this?
The situation only worsens with the true Jack and Jill or three-compartmentalized bath. In this case, the shared space is the one requiring the greatest privacy, therefore is always getting locked and one child is always locked out. My preferred arrangement is the compartmentalized bath with hall access. Yes – it can be less private, especially if the door to the bath is out in the open.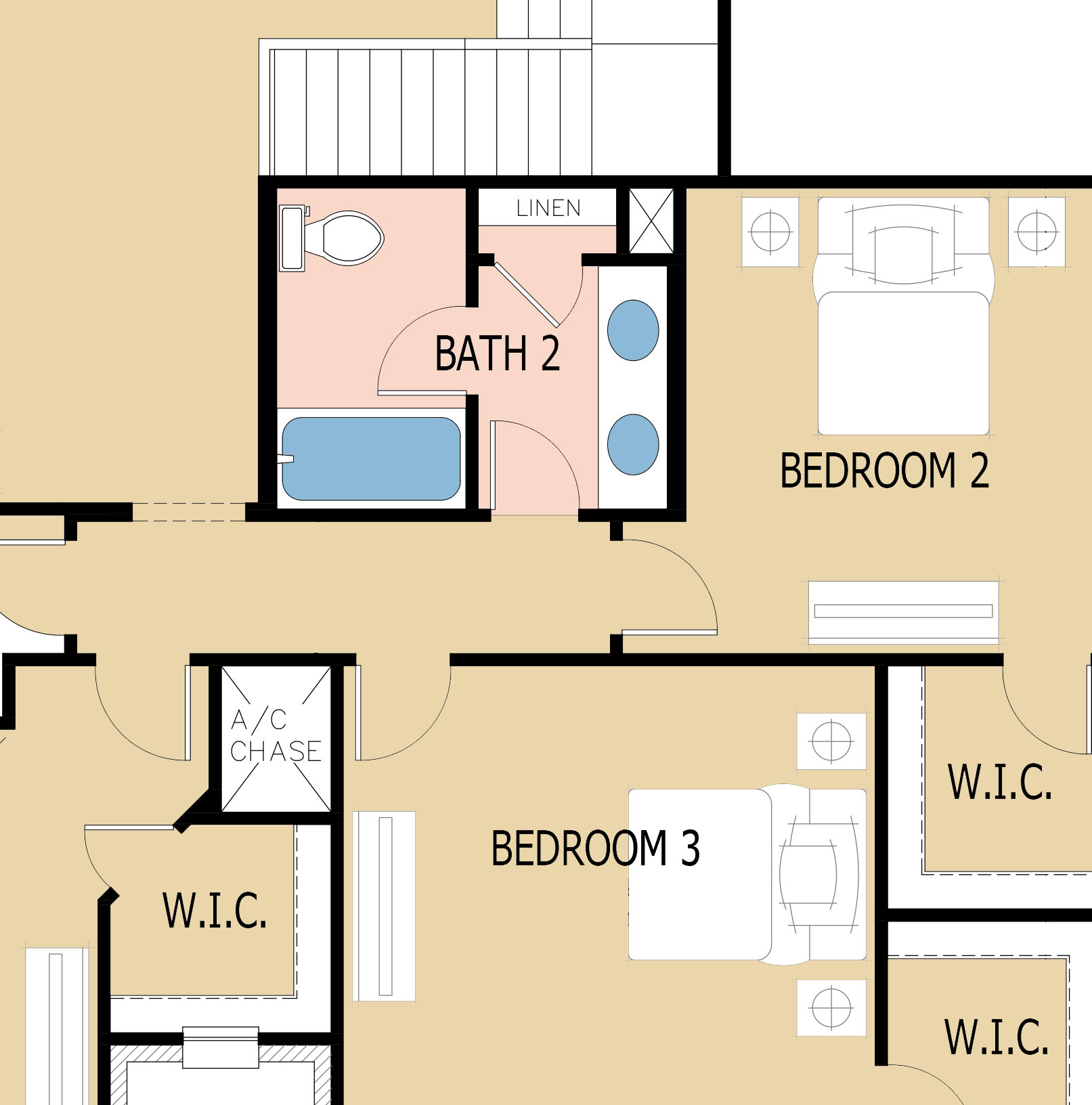 As a working mom who raised three kids (two boys and one girl), I know how hard parenting can be. We certainly don't need our houses to make it harder for us. So, what seemed like a good idea – giving "Jack" and "Jill" their own vanity can backfire. This might be a great thing to discuss with your sales staff as they field questions about the design of your homes.
Categorized in: Design Solutions from a Working Mom's Point of View
This post was written by Housing Design Matters