Over that last four weeks, we've been conducting Zoom meeting with new home sales professionals. Helping them to gain the confidence at selling in a new way. Initially, we covered the floor plan basics on how to read a floor plan. Then we graduated into describing the nuances of a plan, view lines, noise buffers, etc.
But perhaps the biggest ah-ha moment was talking about how a plan lives.
The Kitchen
We focused a lot of time on kitchens, arguably the most important room in the house. Naturally, we describe the island and what it looked like with the granite or quartz top and pendant fixtures above. But we also talked about the kitchen functions when you add people.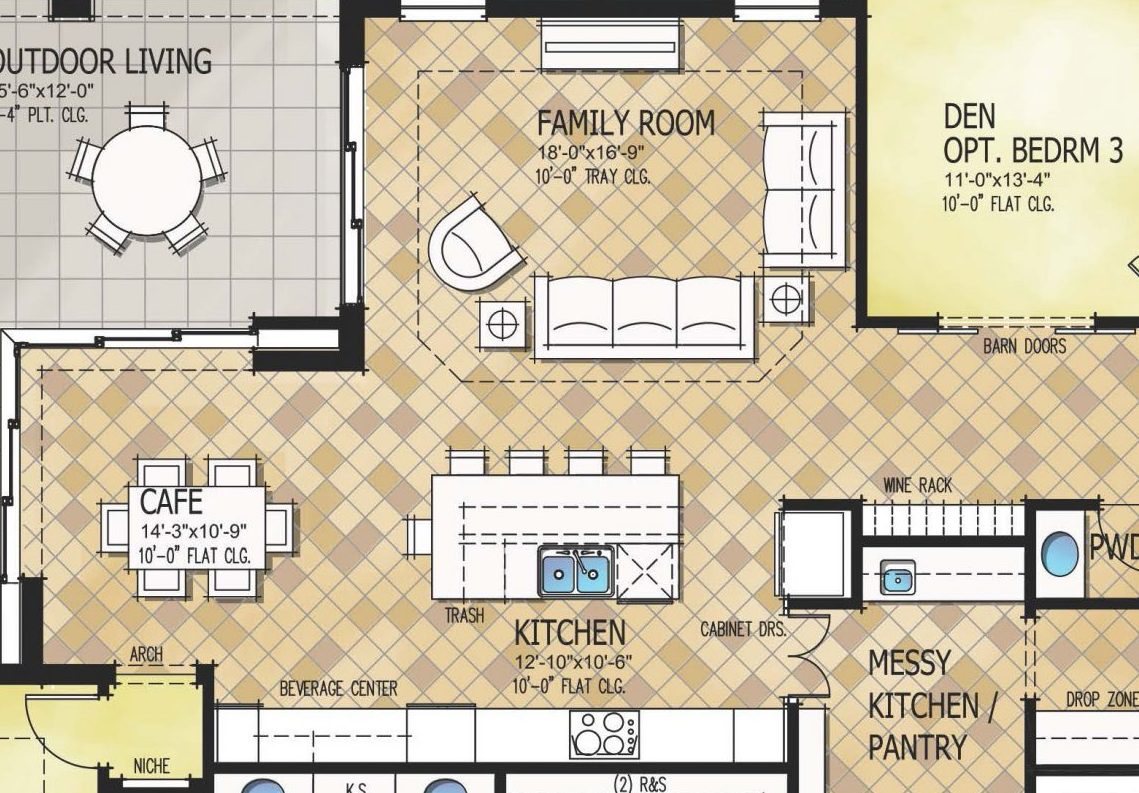 Can two people be working in the kitchen at the same time?
What happens when the dishwasher door is open? Does it block all traffic?
How will the kitchen function during a party when guests crowd around?
Can the cook see the TV and feel a part of the family?
The Master Bath and Closet
We talked about the relationship between the bathroom and closet. Initially, buyers will often question the closet opening directly into the master bath, worrying about excessive moisture migrating into the closet. Once we give them the reasons why that's not an issue (ventilation, for one), we then shift our focus to how the bath and closet function when one party sleeps late and the other gets up early for work or exercise. Invariably, there is always one who sleeps late. Explaining how this configuration allows for different sleeping habits gives much needed peace of mind and perspective to a home buyer.
The Secondary Bath
We were discussing the importance of a compartmentalized secondary bathroom – not just in physical terms, but in emotional terms. We explained how valuable this bath design was during those critical crunch times that occur daily in most families' lives. The morning crunch time when mom or dad are trying to get the kids ready for school with three kids. One could be taking a shower while the other two can be using the sinks to brush their teeth or achieve the perfect ponytail. The second crunch time happens at bedtime when once again, all hands are on deck to get to bed on time.
Moral of the story? Not all Jack & Jill baths are created equal!
Being able to walk a model is a huge selling tool, but there are some things that get lost in translation that only a floor plan can convey. Going forward, it will be critical for sales professionals to have a good grip on the plans that they sell to seal the deal. Discovering how a plan lives AND communicating that to potential buyers is critical whether you're in the actual model or selling plans online!
Categorized in: Selling Floor Plans
This post was written by Housing Design Matters