Prior to the builder show, I was chatting with a fellow designer about my upcoming speech. When I mentioned I was going to dedicate one part of my speech on 55+ kitchens and bath, my friend replied, what exactly do you do differently for that buyer?
I then realized that many folks in our industry have the same question. Some may think that 55+ kitchens and baths have to feel institutional, like something you would find in a nursing home. There are indeed many things that can break down the potential hurdles that these buyers face and what we can do to minimize or even eliminate the issue.
Kitchen
First, when appealing to 55+ buyers, you should know the kitchen is the number one upgrade. Whether fully retired, semi-retired, or newly empty-nesters, this buyer often finds more time to entertain. With cooking more of a hobby than a chore, how do we deliver a rock star kitchen that allows homeowners to age gracefully?
Island Configuration
As with just about every modern kitchen, we start with the island. The standard 36" single level island is a great way to go. Another alternative could be one that lowers the seating area to tabletop height of 30". The 36" takes standard bar stools while the 30" is sized for normal chairs and yes, wheelchairs. Forget about the raised bar top. The bar stools for this configuration are too tall and cumbersome for this buyer to get on and off. As for the finish, consider a non-porous material such as quartz that cleans easily and doesn't require the maintenance of granite or concrete.
A Shrinking Problem
Unfortunately, we tend to shrink with age. Adding insult to injury, the fairer sex – who start off shorter on average to men – loses more height than men! This limits our reach, so the first thing we should do in a 55+ kitchen is move the microwave from above the hot stove. Instead, consider pairing it with the wall oven or utilizing a drawer microwave at or below counter height. Next, let's add cabinets and shelves at countertop height. An oversized pantry is a great place to find storage at that is easily reached for shorter folks and those in a wheelchair.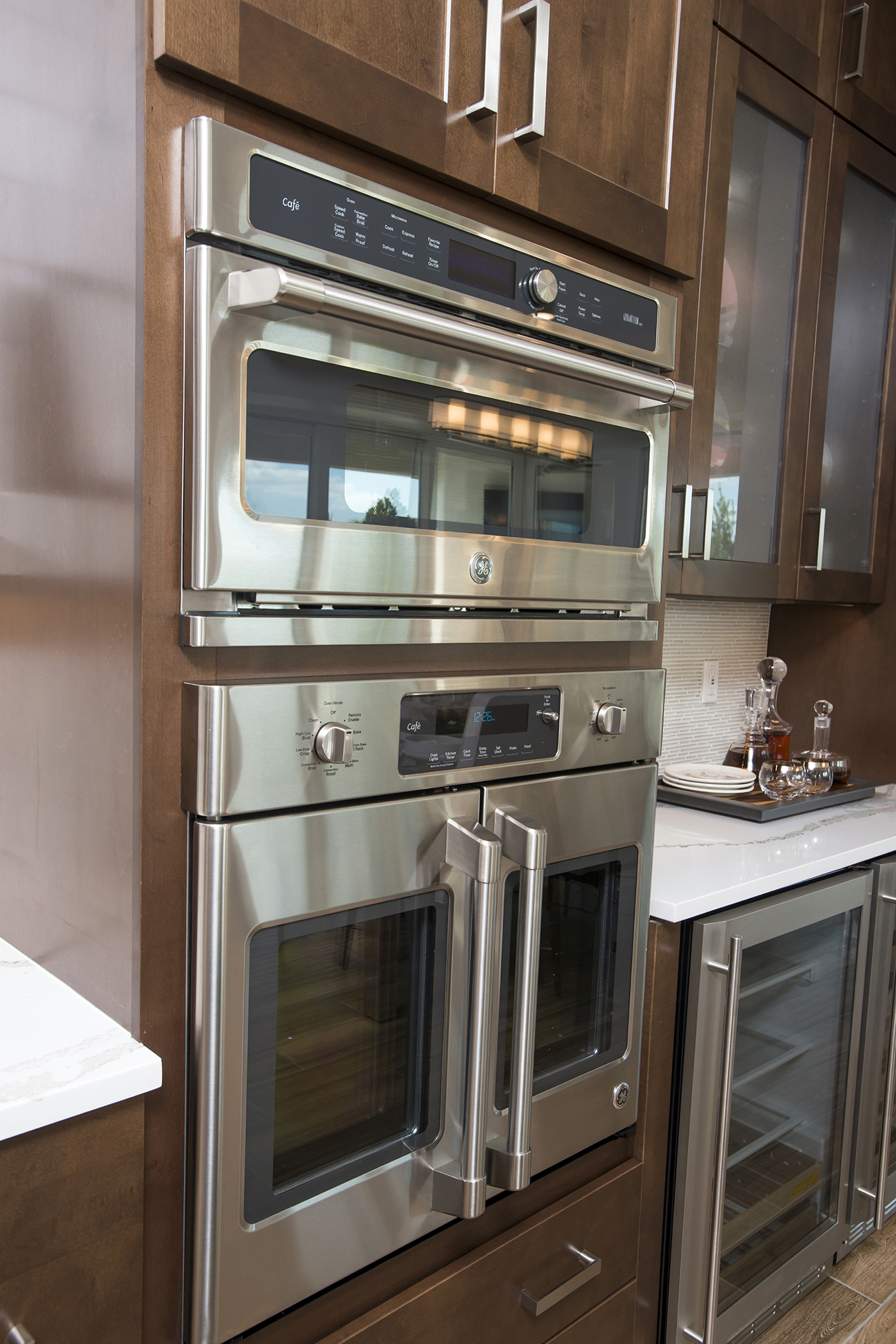 Oh my aching back!
As we age, a bad back and bending over can be the annoying at best, dangerous at worse. Anything that can be done to minimize the bending is encouraged. Considering large appliance drawers or cabinets with slide-out shelves can make it easier to access the contents. The electronic dustpan that comes with central vac is a true back saver!
Eyesight
The next issue to address is thickening of the eye lens and how this affects eyesight. On average, a sixty-year-old needs roughly six times as much light as a twenty year old. This calls for more light in the kitchen and larger font on appliances. Consider under cabinet lights, over cabinet lights, pendants and overhead lights. When in doubt, add more light! To maximize its effect, avoid dark cabinets like espresso that eat light. Instead consider medium or light-colored cabinets, but don't feel restricted to all-white. Stark contrast between surfaces can be helpful while making a dramatic statement.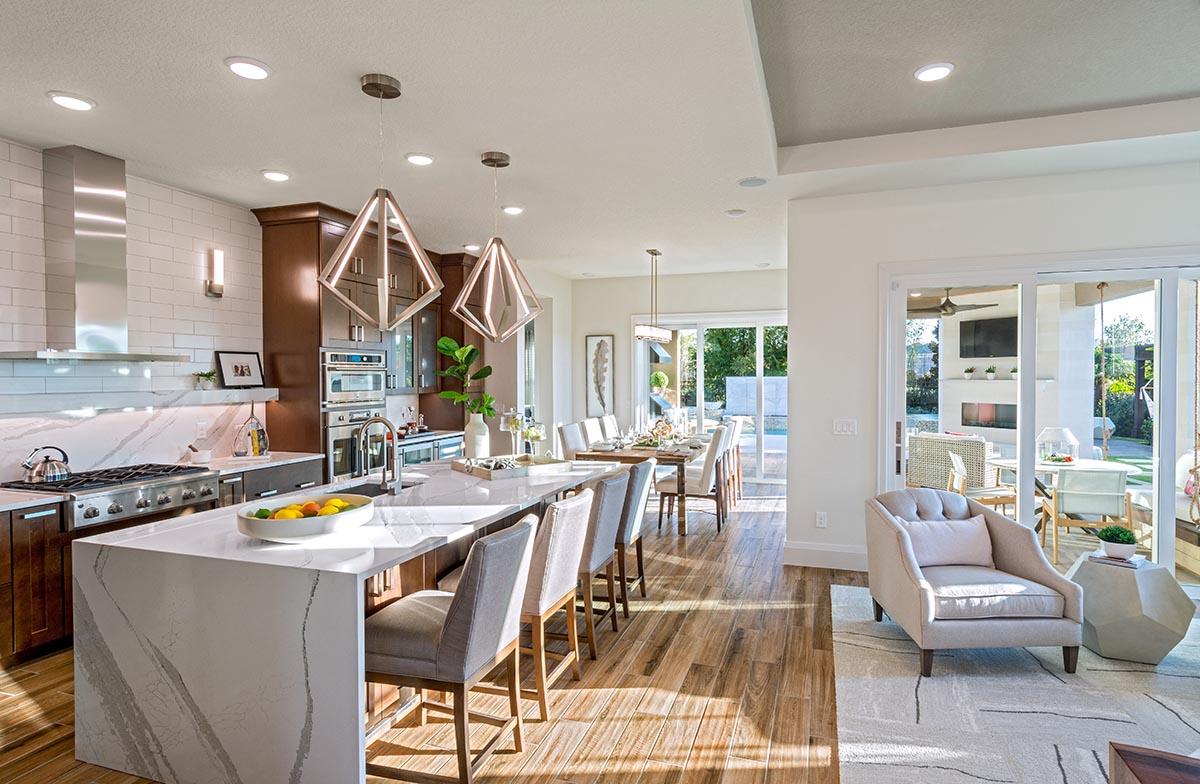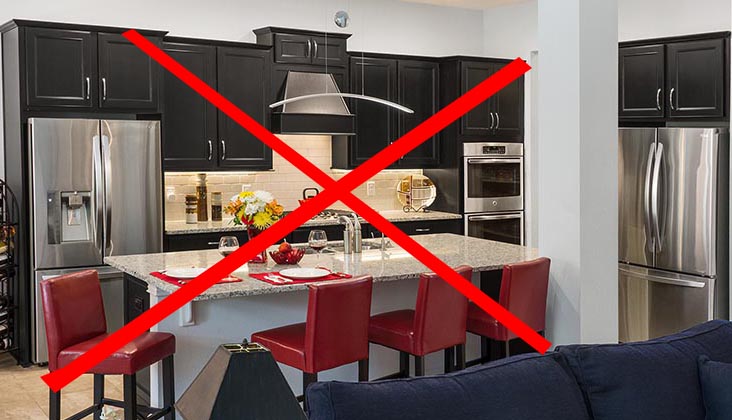 Live A Little!
While planning ahead for growing older is important, it can be a bit of a bummer. When a home buyer walks through your door, the last thing you want them to feel is "old". We need to keep in mind that these buyers more than ever want to live in the moment. So bring out the wine! Boomers make up 34% of the wine drinking population. They are also the largest group of high frequency wine-drinkers. Add wine display and/or wine coolers to the kitchen design to really drive home the fact that they are entering a fun and celebratory time of life.
Bathrooms
Just like kitchens, it's all about the light! 55+ women need more light and magnification to apply makeup. The same thickening of the lens that restricts light also prevents the eye from focusing on things up close. I like providing a make-up vanity in front of a window with a lighted magnifying mirror.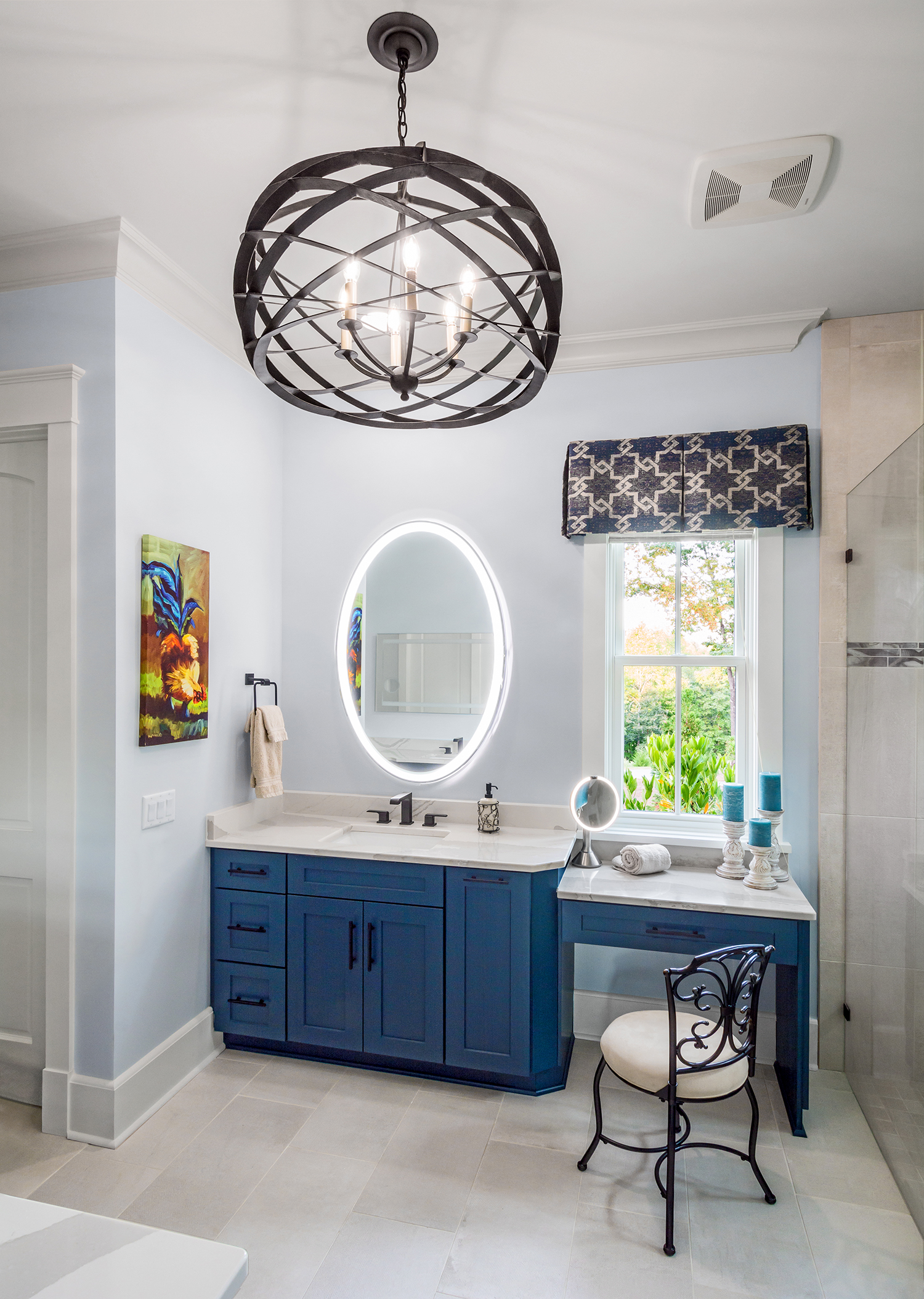 When you look good…
Would you be more or less likely to buy a house if it made you look good? Proper lighting can make all the difference in how you see yourself, so consider the light at the sinks coming at eye level instead of from overhead. This is a more flattering light source, casting fewer shadows and lighting the face better. This might mean mounting sconces on either side of the mirror or a lite mirror.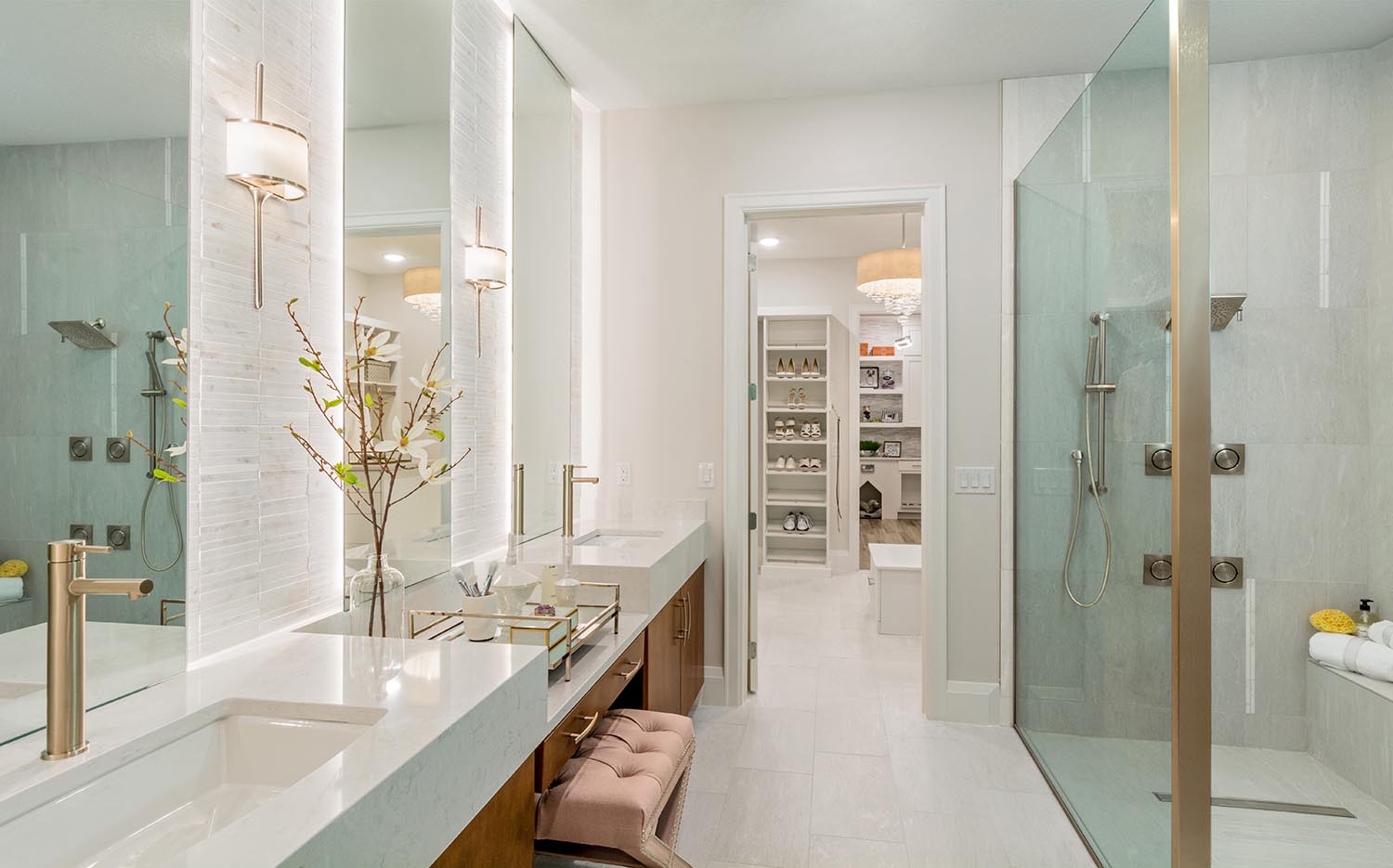 The toilet room
Adding light to the toilet is room is not just a practical luxury, and should be considered standard in every 55+ bath. This is easily accomplished with a step light. Depending on the size of the bathroom, you may consider step lights in multiple locations.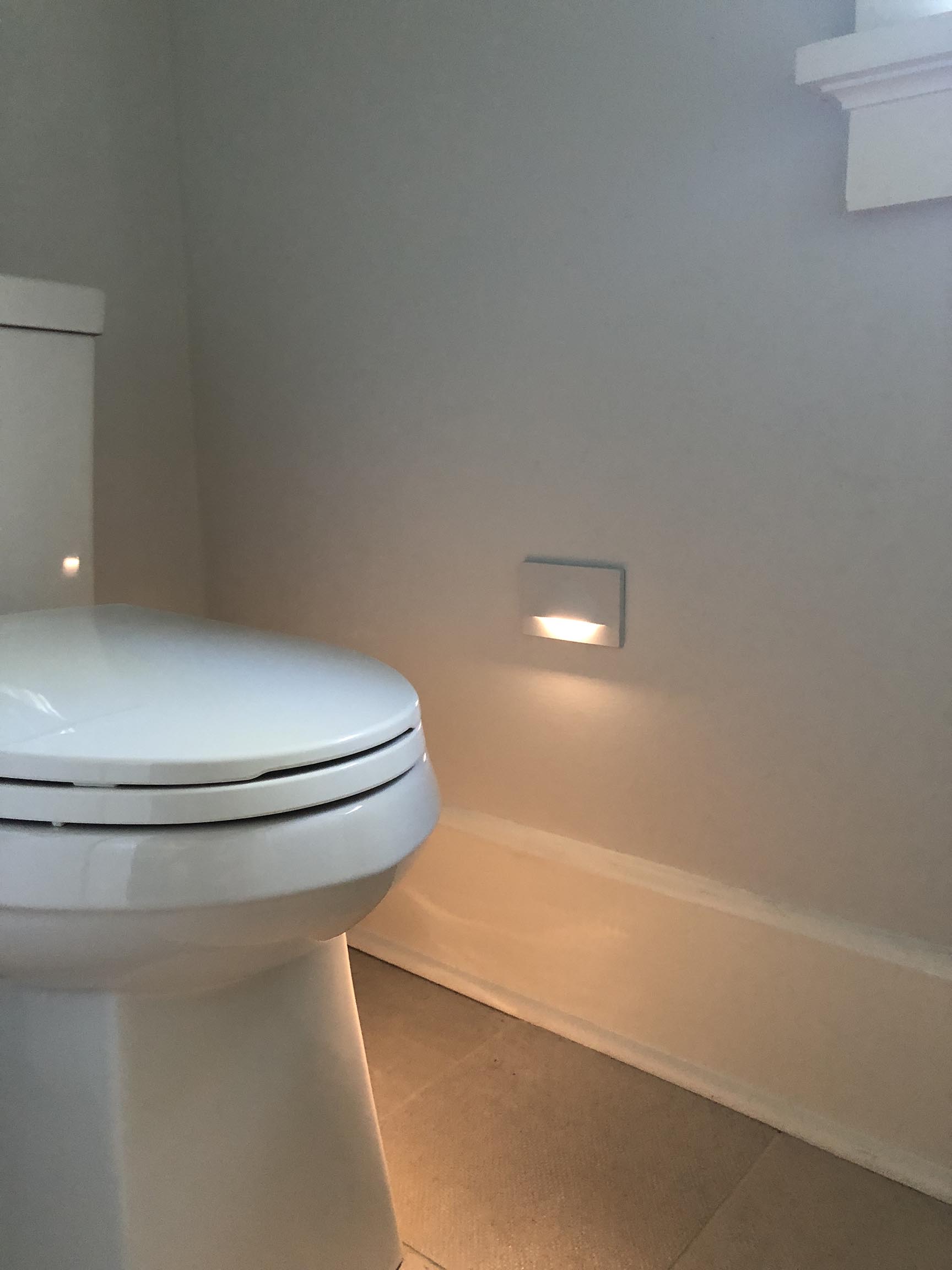 Speaking of the toilet room, don't forget to plan for future grab bars. I don't mean simply adding blocking behind the drywall – the room needs to be big enough to receive grab bars! Keep in mind that grab bars take 3″ of space each. If your buyer has a bum knee or bad hip, they may appreciate bars on both side of the room to help them push themselves up. Be sure to utilize a comfort height toilet at 16 ½" tall – two inches taller than standard height or new to the market. Kohler has a "Highline Tall" toilet measuring 19" tall, which really just makes me wonder if a 5' tall woman would be able to reach the floor with her feet…
Show-stopper Showers
Onto the shower – make it thoughtful with curb-less entry, a large continuous seat, second handheld shower head and designer grab bars. Oh the things we splurge on… Yes, you can (and should) spec designer grab bars in styles, finishes and colors that match your facets. Lastly, bring the heat and indulge your buyer with the creature comforts of a heated tile floor, heated towel rack and endless hot water.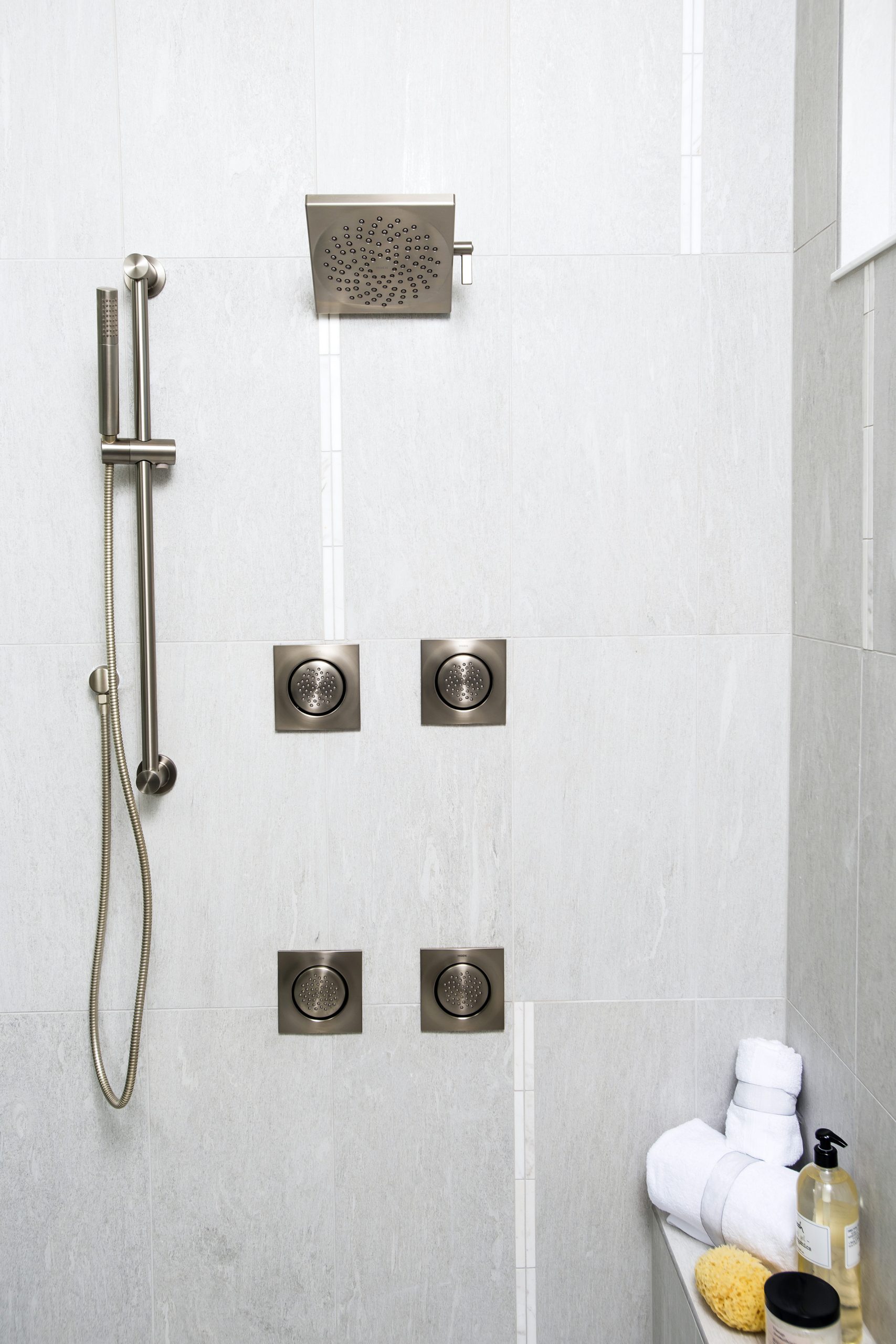 These days, it is absolutely critical to get 55+ housing right. It's all about finding the balance of creating a beautiful space that subtly allows homeowners to thrive for as long as they choose to live there.
This post was written by Housing Design Matters