Here in Jacksonville, a local remodeler is running radio ads. He is suggesting that instead of moving up and attempting to sell your home (fly the coop) you stay put and "feather your nest." The thought is that lots of homeowners with super low interest rates are hesitant to move to a new home with a rate double their current rate. He suggests making improvements to their current house that they can enjoy now. Then, when the market is right, they can sell their existing home for more money since they upgraded. It's a great advertisement, and I'm sure it resonates with a lot of listeners.
Upgrading kitchens is the focus of his commercials. He is also an appliance retailer, so remodeling will help him sell more appliances of course. One of his strategies is to paint the existing cabinets to give them a crisp, clean modern look and replace counter tops with granite. Easy as pie, right? Not so fast. Most older kitchens need more than just a fresh coat of paint and new countertops to function properly. Older kitchens suffer from floor plan flaws that no longer match our current lifestyle. Let's look at four common old kitchen woes.
Kitchen Woe One: Closed-off
The biggest challenge we see with a lot of older kitchens is that they are isolated from the rest of the house. You have seen these kitchens whose only opening is the lonely window above the kitchen sink.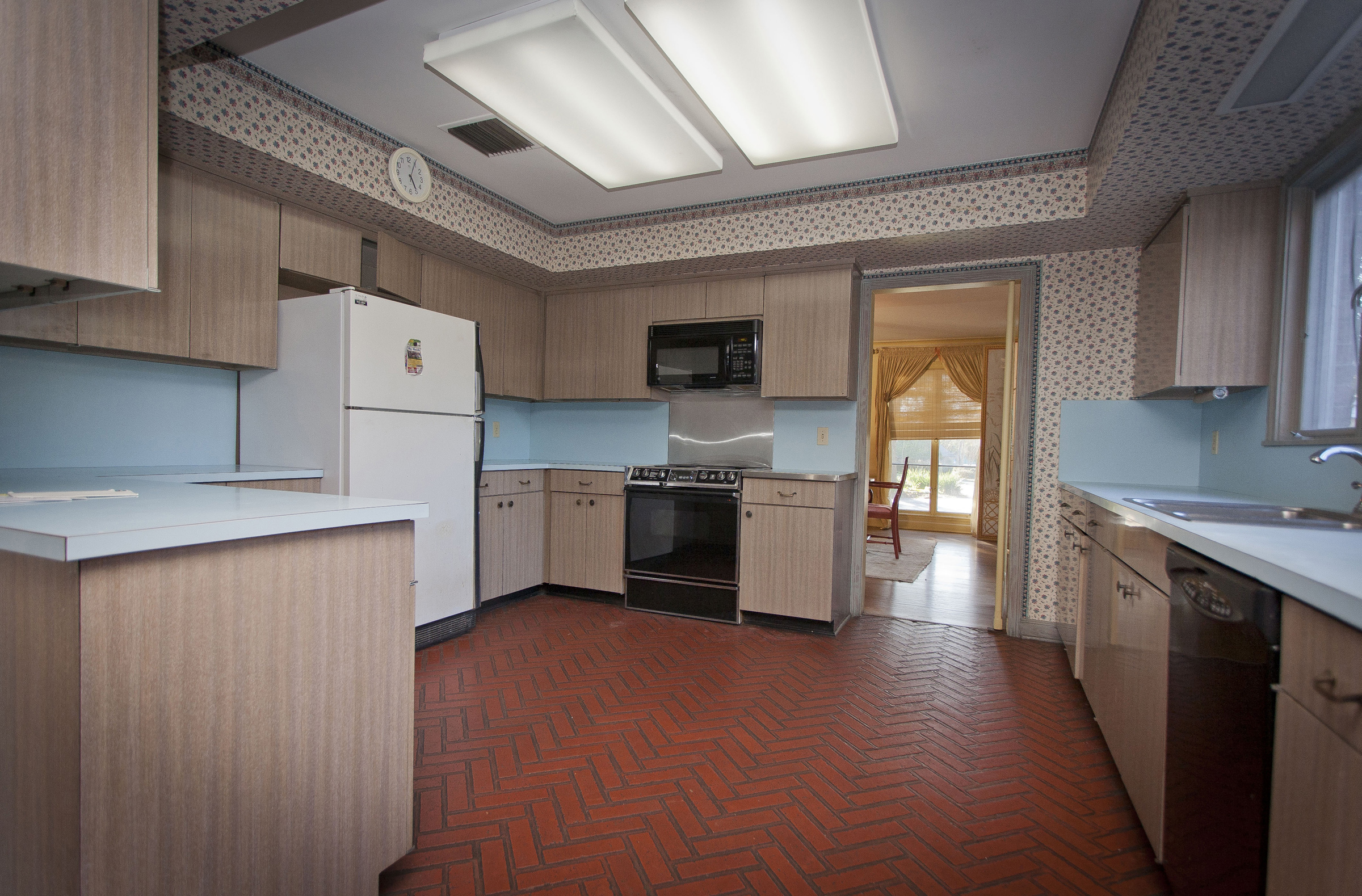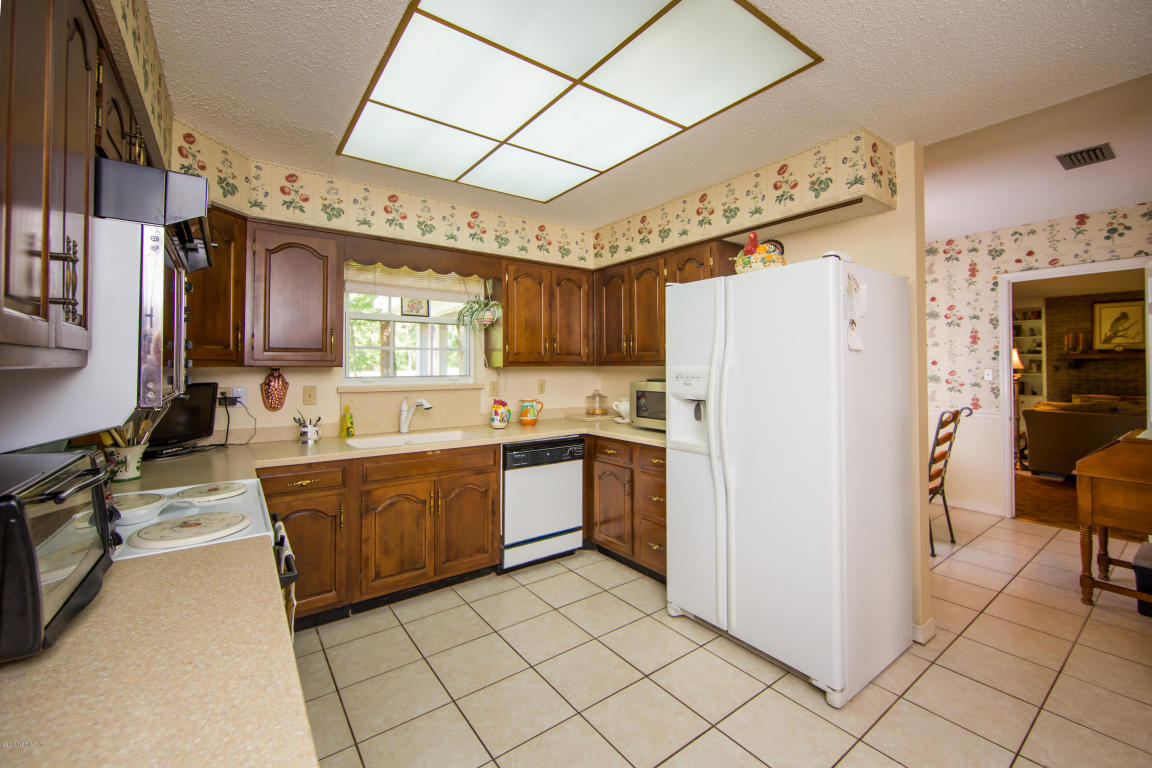 Opening older kitchens to the casual lifestyle living area often means removing load-bearing walls and adding beams. This becomes a more involved remodel involving temporary supports, cutting into, and patching ceilings. To make matters worse, these kitchens typically relied on upper cabinets for most of the storage. Opening these kitchens often removes too much storage.
Kitchen Woe Two: The Bat Wing
The next challenge we encounter is the bat wing island or peninsula. They often come with a two-level countertop. This raised surface was often too small to hold a place setting and was there primarily to block the view of the kitchen sink.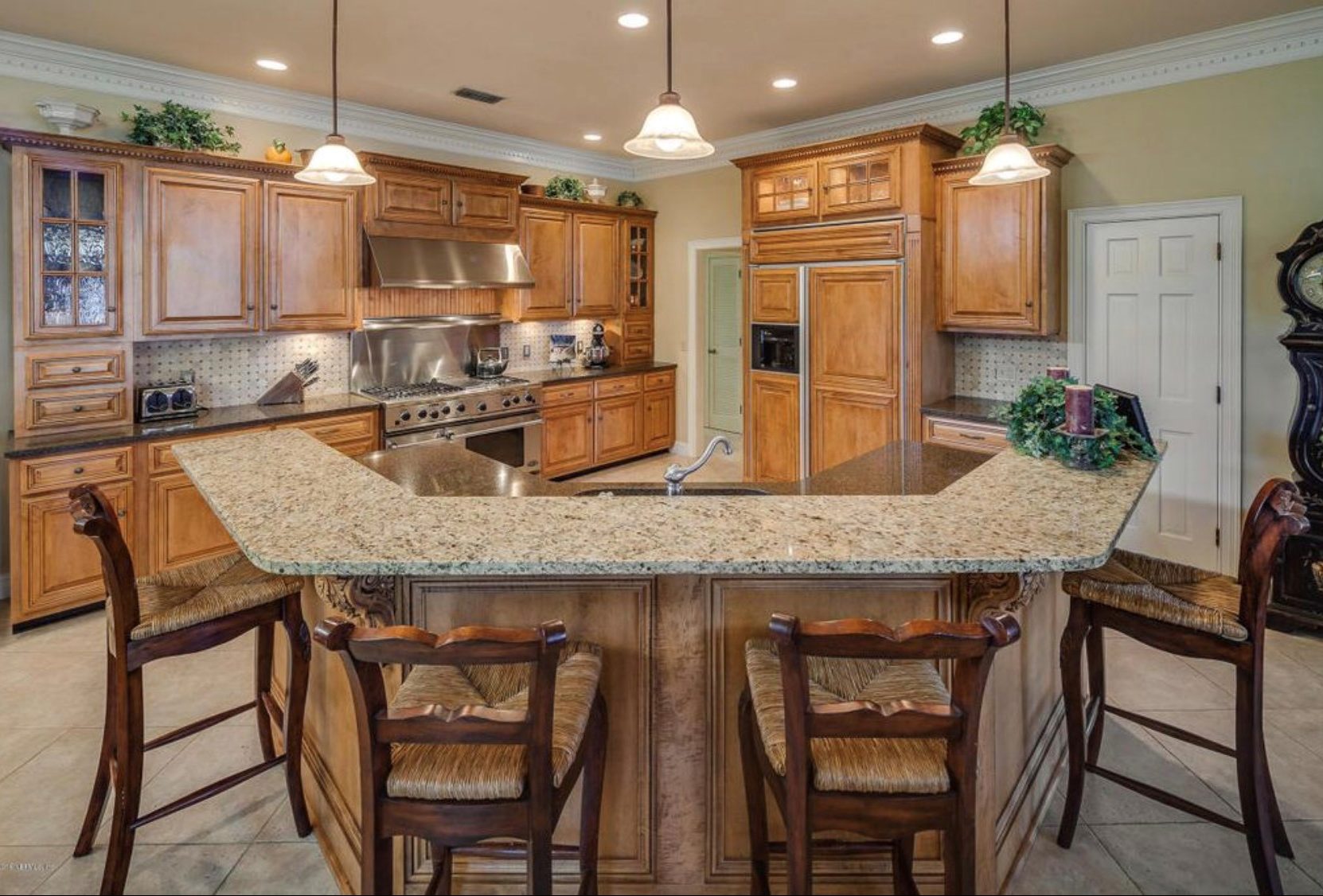 My friend Jay calls that the suicide edge where dishes go to die. These raised tops were also super hard to build with numerous surfaces. So happy those went away!
Replacing a bat wing kitchen can be a challenge if there is not enough room for a free-standing island. My son's Orlando kitchen is like this. But even when there is room to add a new, free standing one level island, there is added complexity. What about the flooring? Does it run under all the cabinets – probably not. I bet most hadn't included a new floor in their "paint-up/fix-up" budget.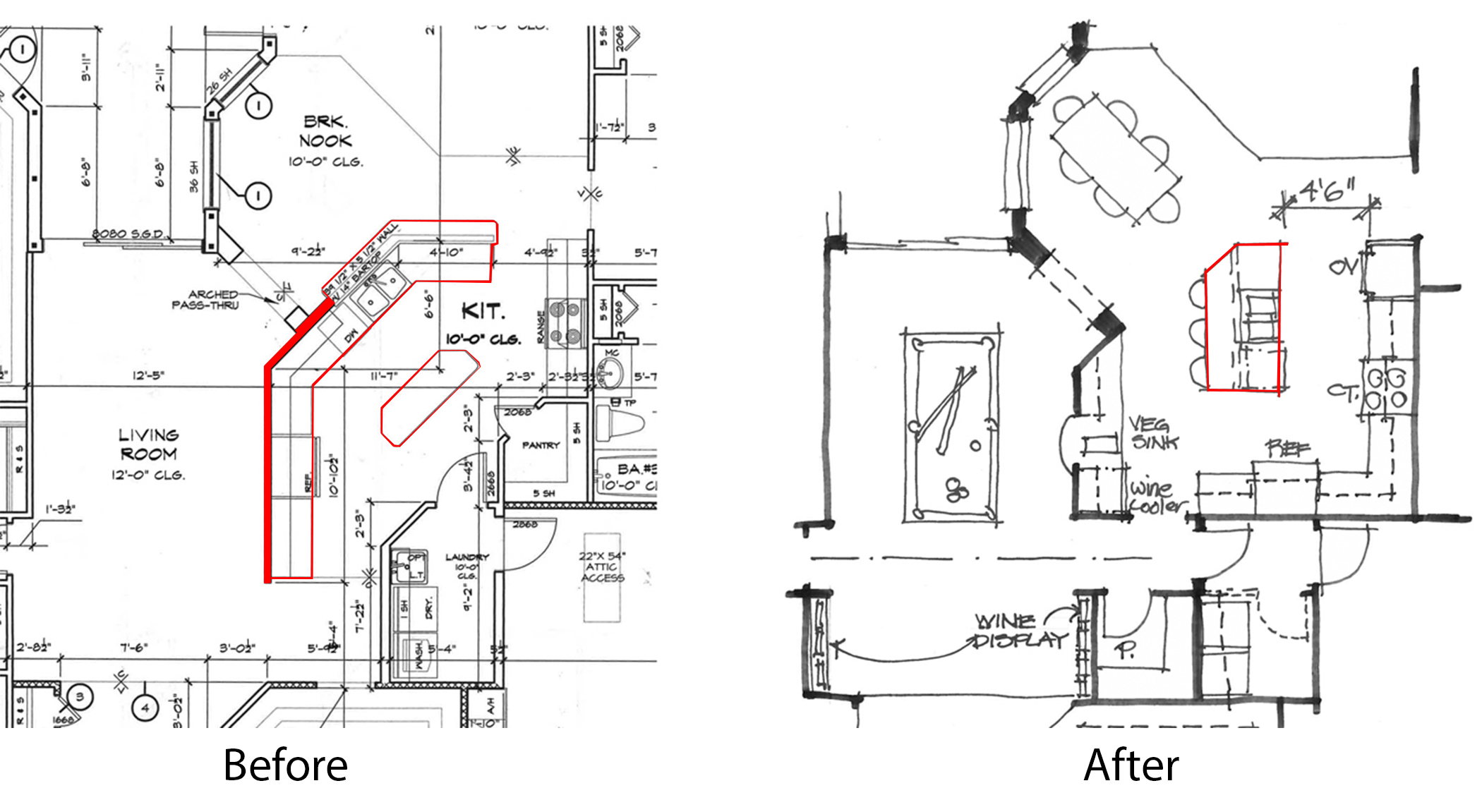 Going from a peninsula to an island means moving plumbing for the sink and adding electrical conduit in the slab. Everyone loves taking jackhammers to their slab. Talk about a mess! Most people don't consider all the moving parts needed to make a new layout work. They also didn't factor in the downtime.
Kitchen Woe Three: Inadequate storage
Open kitchens today need large walk-in pantries to make up for the lack of overhead cabinets. Small 24" wide cabinet pantries just aren't enough. Even the common corner pantry is undersized for houses above 2,000 sq. ft. New kitchens today boast large walk-in pantries, and they are awesome.
Kitchen Woe Four: Counter clutter
Kitchens today have become the center of all household activity. It is where everyone gathers – especially during a party. This puts a lot of pressure on families to keep their kitchens free of clutter. But what about all their favorite small kitchen appliances like the toaster, blender, coffee maker, coffee grinder and air fryer? Don't forget that super cool but too heavy to move stand-up mixer! There seems to be a small kitchen appliance for every scenario, but they clutter up our countertops – giving houses an upkept look.
But wait! Doesn't the kitchen need to be functional and beautiful? Absolutely! This is where the inclusion of a Messy Kitchen is so needed. Messy Kitchens can simply be an alcove off the kitchen with cabinets and plentiful outlets.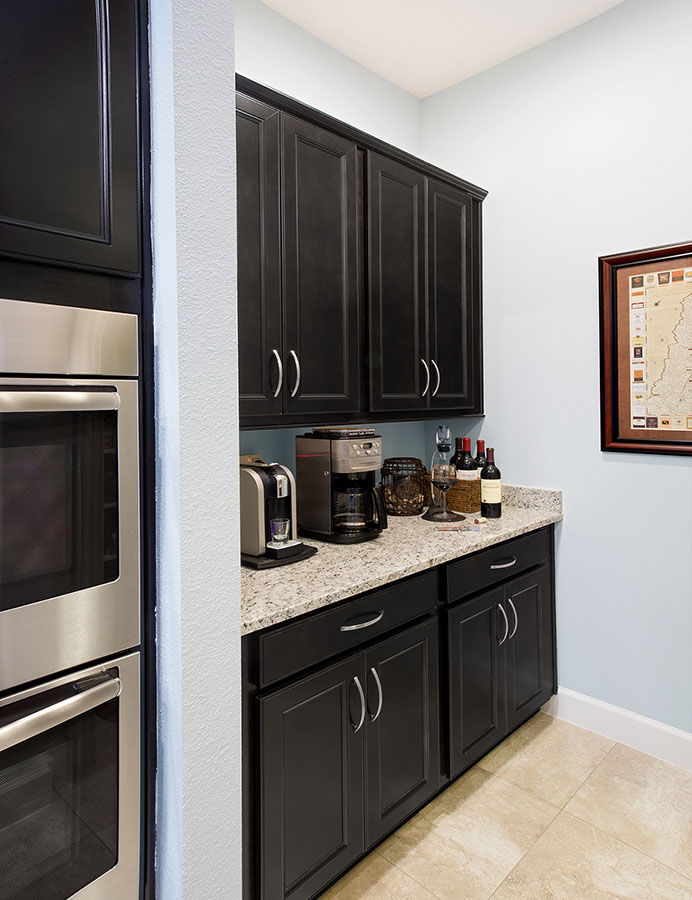 Or they can include a second sink (highly recommended) or perhaps a second dishwasher or second refrigerator. How about an under-counter ice maker (you never have enough ice in the summer)?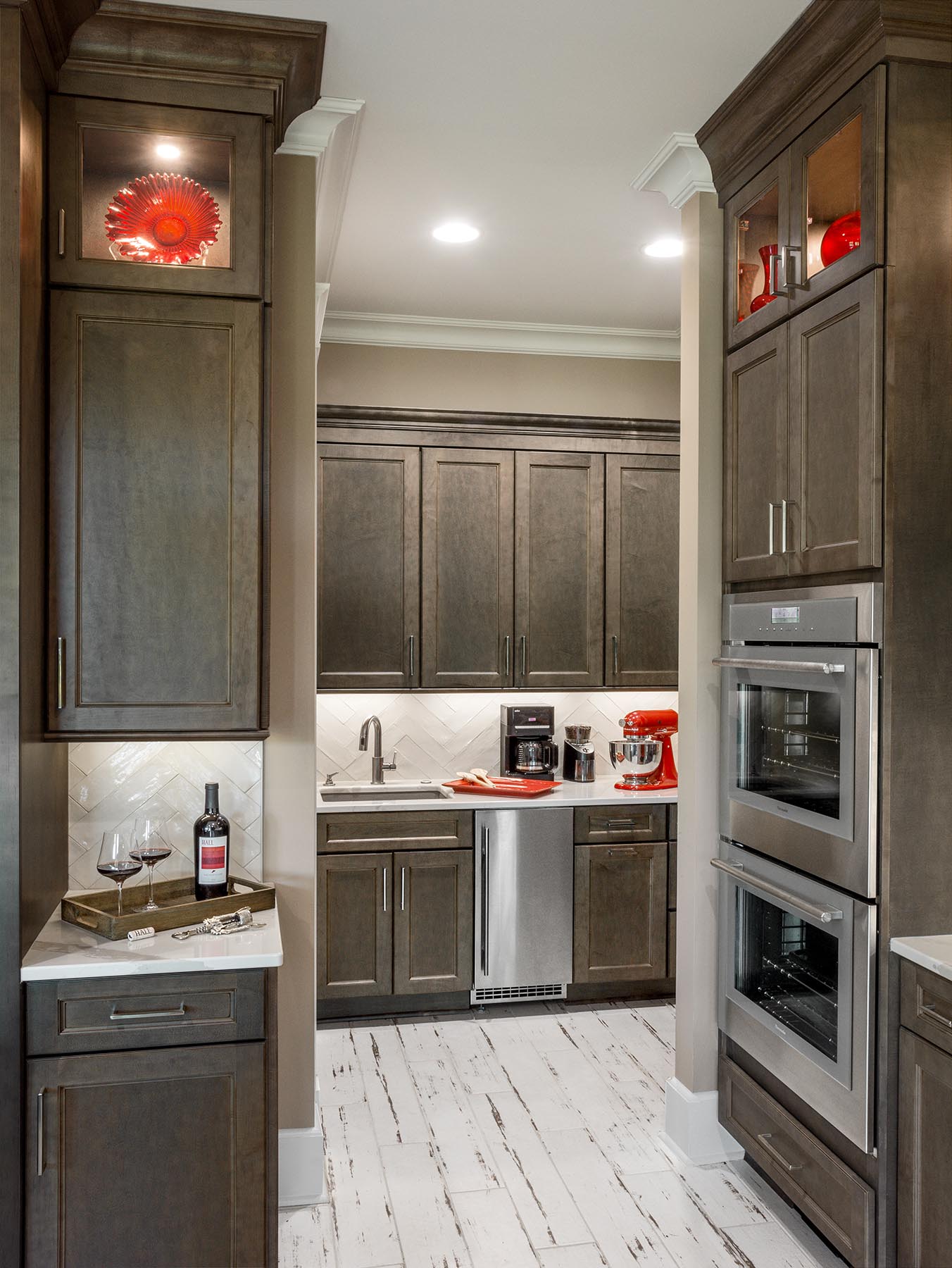 Remodeling is never easy
I've just listed a few of the common older kitchen deficiencies. But let's not forget that every remodeling project is filled with unknowns. You know, like the water damage that was under the sink or behind the wall. Then there's the inevitable delays. Like when one of the new cabinets was damaged in shipping. A new one needed to be fabricated and shipped grinding the entire project to a halt. A three week delay means three more weeks of eating out, making coffee in the bathroom, and over-relying on the microwave in the bedroom.
Remodeling can certainly be a good idea if you are willing to invest the time and money into making your house work for you. Who doesn't love to see a remodel that turns an old cave of a kitchen into an expansive and beautiful heart of the home? But it isn't for the faint of heart, and sometimes the return doesn't offset the initial investment enough to justify the stress.
Overcoming higher interest rates
To overcome higher interest rates, we need to educate our buyers on all the reasons to buy new – including the changes in kitchen design intended to make our lives easier. Too bad buyers can't test drive the lifestyle of a new home to seal the deal. Remodeling may be a great solution for some, but few fully appreciate the hassle and underestimate the costs.
Categorized in: Uncategorized
This post was written by Housing Design Matters