Evan and Amy moved to Florida last year from Boston. Short term, they moved into Amy's parents' house. Now, they are looking for a place of their own. At first, they were going to buy a place. Turns out they haven't saved enough, so they are looking to rent a house.
Unfortunately, that's not going so well either. Evan and Amy, like many young couples, have a dog. His name is Fenway, and he's not what you would call dainty. At mom and dad's house, that's not a problem because they have a big yard. But the rental market in Orlando isn't fond of big dogs, and now there is a sense of urgency to get out of the parents' house as their second child is on the way.
What Makes a House Pet Friendly?
Being in the business of designing for sale and for rent houses, we know the importance of catering to the pets and their owners. 2020 saw a record number of pet adoptions, so this isn't a passing fad. Let's examine what makes a pet-friendly house.
K9 turf
Dogs need a yard – preferably fenced. To avoid constant maintenance for your rentals, you can have a relatively small backyard and cover it in K9 turf. Dogs like to bark at other dogs as they walk by. Perhaps the fence in the backyard should be opaque. Cats, however, still like to bury their business so perhaps adding a planter bed along the fence might be a good solution for our feline friends.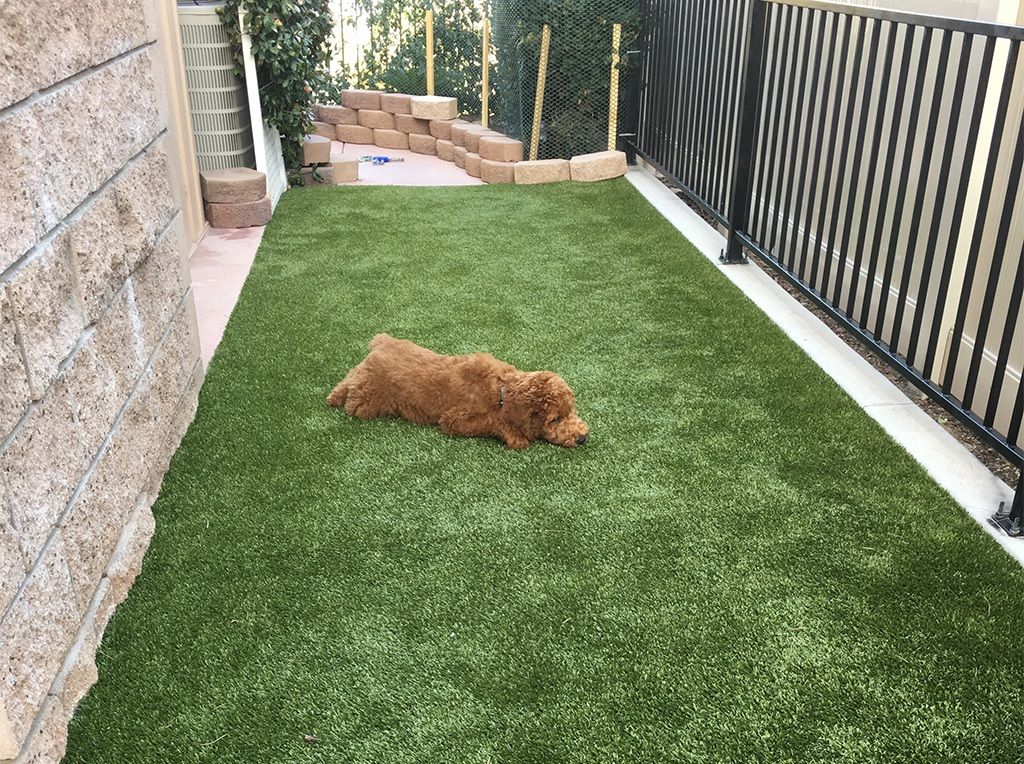 Pet door
We have pet door in our screen enclosure. The dogs and the cats can go through the door all day long. When the weather is mild, the back door of our house is open so the dogs can come in the house without having to bark and be let in. But beware if you happen to be building in a more suburban area. We have learned to keep the door to the house closed at night, as curious racoons have discovered they too can fit through the pet door and steal food. I'll never underestimate their intelligence again. Putting a pet door directly into the house or apartment could be trouble. Not only can the uninvited critter come in, but also pets with muddy feet. K9 turf can help the latter problem.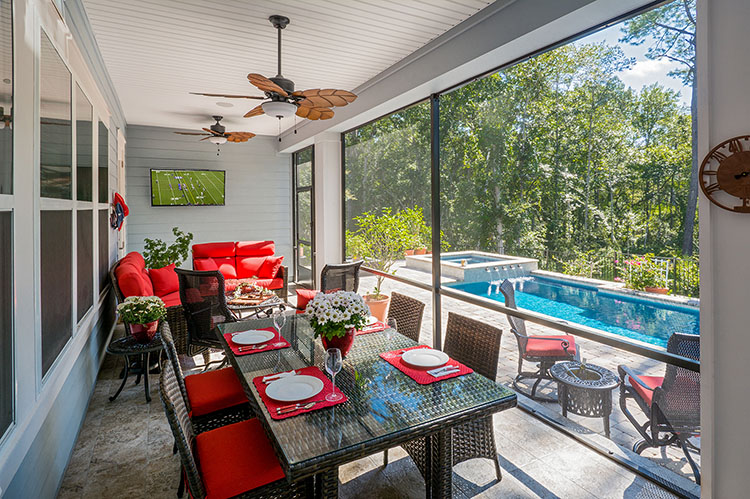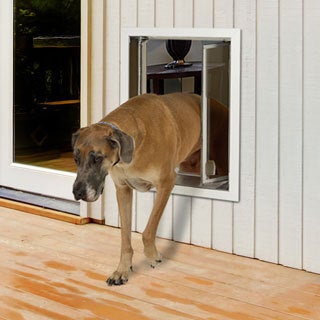 Flooring
Muddy paws, dogs' claws, sloppy water bowls, and pet accidents wreak havoc on floors. Luxury plank vinyl flooring is dominating the new homes built for rent. Dogs' claws don't scratch vinyl like a wood floor. Vinyl is water resistant and cleans up easily. It is also more affordable than tile and doesn't have the issue with discolored grout like tile floors. Built for rent homes are even putting LVP in the bedrooms.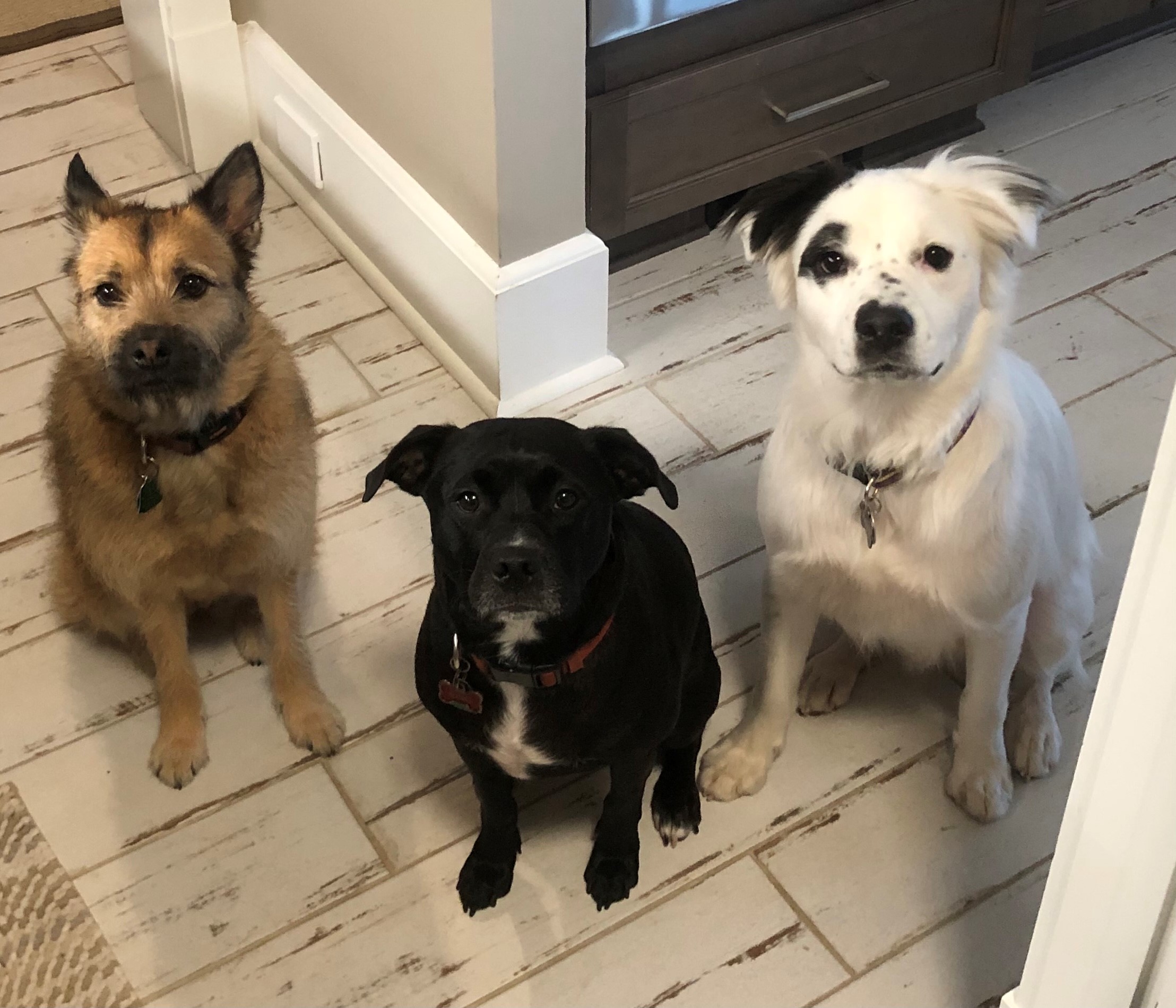 Pet Room
Depending on the size of the home, a small pet room – say 6' by 6' – might be appropriate. Big enough for the dog's crate or the cat's litter pan, along with a place for their food and water. For those wanting to save on precious square footage, we often utilize the space under the stairs for a pet room. This would be a great place for the dog kennel, except most crates are big and bulky and ugly. However, they are now making designer dog kennels (is anyone still shocked at this point?), nice enough to be in your foyer.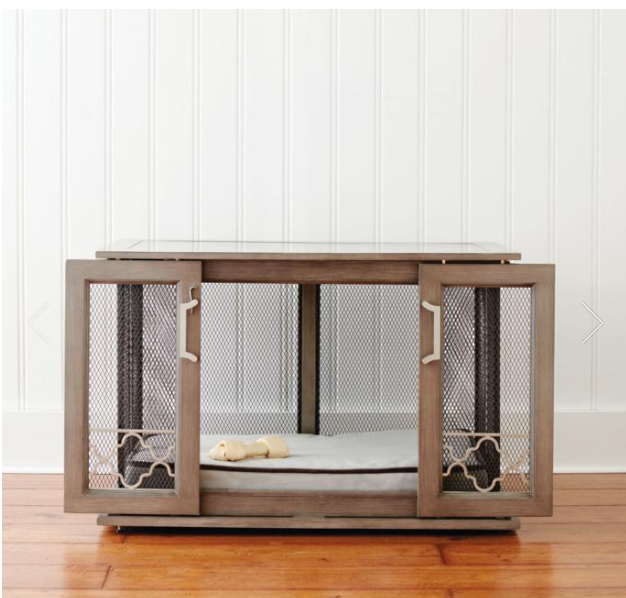 The Dog Shower
Dogs need to be bathed, there is no way around it. One of our dogs hides under the bed when it's bath time. And we all know what a dog does when they are wet. So, including a dog shower in the garage is the perfect place for this to happen – at least in warmer climates. If you use a shower pan and can back it up to plumbing wall, its really not that expensive. Raising it up 16" to 24" is convenient for the humans if you have room in the garage. But keeping it along the floor would be acceptable for an after-market solution or a garage that's not oversized. The handheld shower head is the a must along with a slightly larger drain for the dog hair.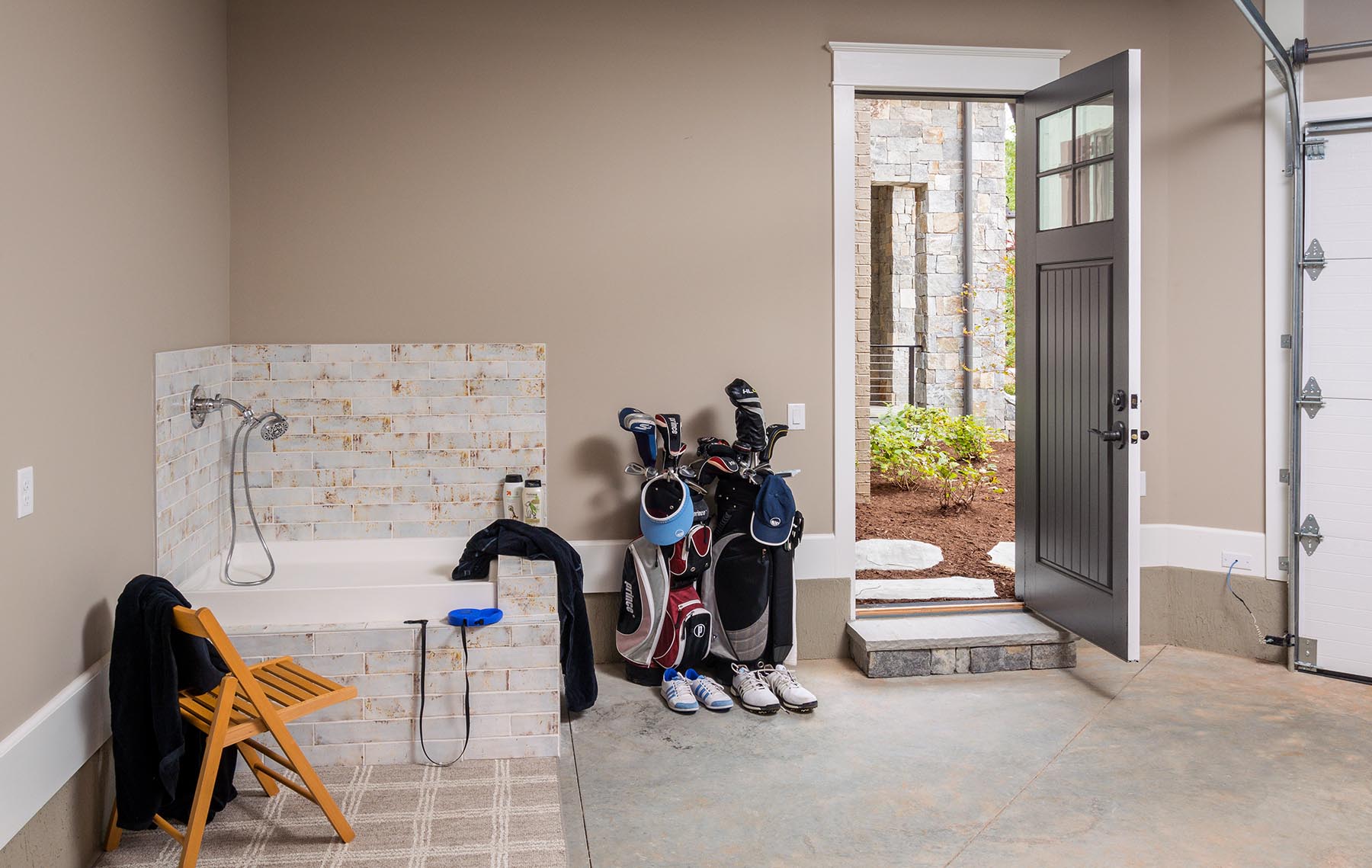 A friend recently installed an industrial dog shower behind the half wall of his service area for his German Shepherds, complete with hot water and a blow dryer. He says this has made bathing the notorious shedders a much quicker and less stressful ordeal. To his surprise, they don't even mind being in the bath! This heavy duty piece of equipment could be a good option as a community dog bath. Now that's a selling point!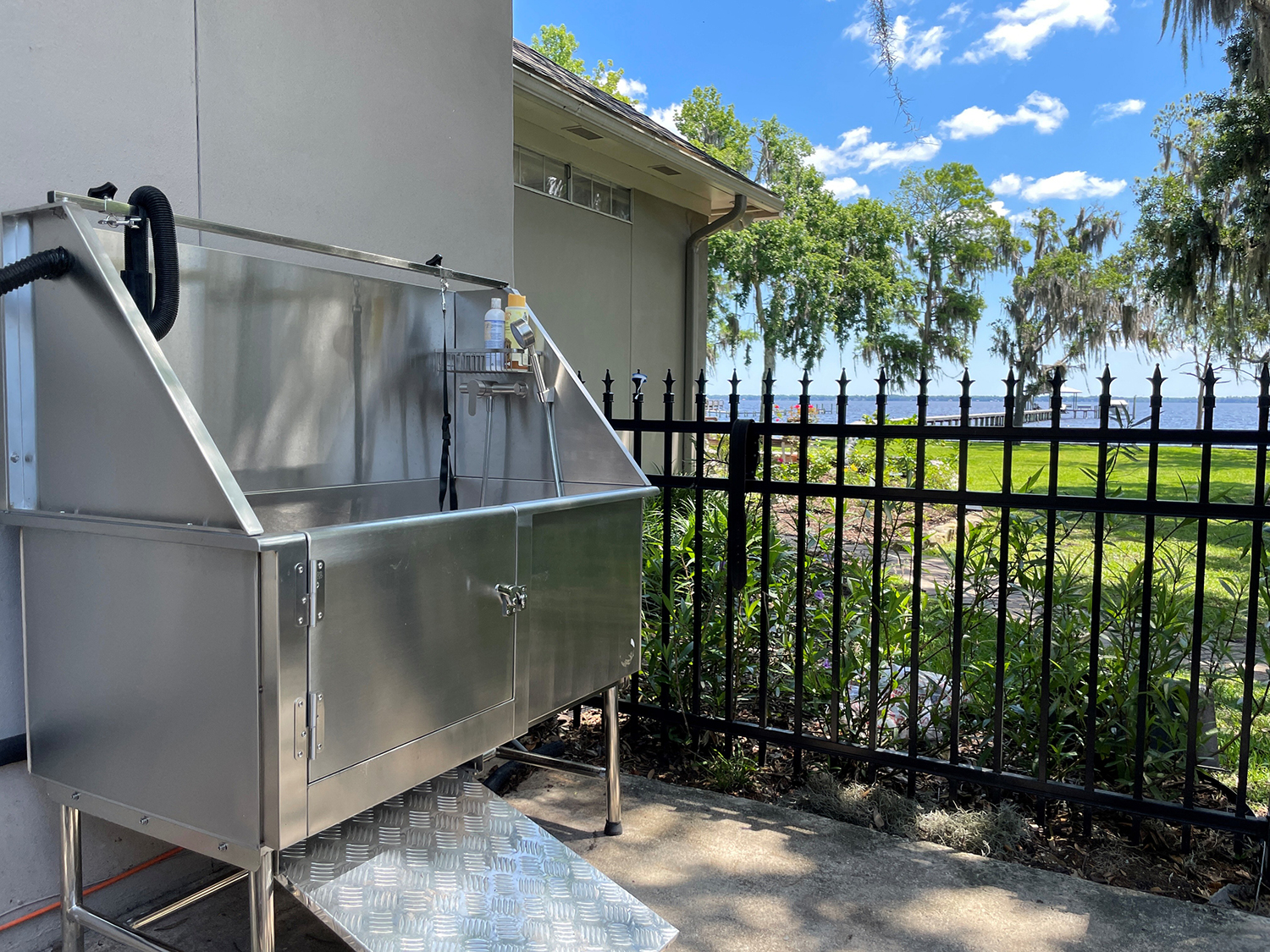 Too often, potential home buyers walk away from a community that doesn't accommodate for their four legged loved one. There are a variety of options to make houses more pet-friendly, and buyers are willing to spend the money on these features. Hopefully, Amy and Evan can find a place for their growing family that will include their dog soon.
Have you found or used any clever pet features lately that would make pet ownership easier? I'd love to hear about them, and you know I love pet pictures!
Categorized in: Uncategorized
This post was written by Housing Design Matters