The Beverage Center, when placed near the kitchen, provides much needed additional storage in our kitchens. If well-placed, the Beverage Center can also relieve congestion in our kitchens during food prep.
You know the scene, you come home, late from traffic and are trying to get your family fed before they start revolting. That's when the kitchen can become an intense workplace. But that's also when everyone wants to absent-mindedly gaze into the refrigerator for their favorite juice or beer. Traffic jams in the kitchen can lead to catastrophe! We definitely want to avoid spilling the spaghetti sauce on top of our child's head! Ouch!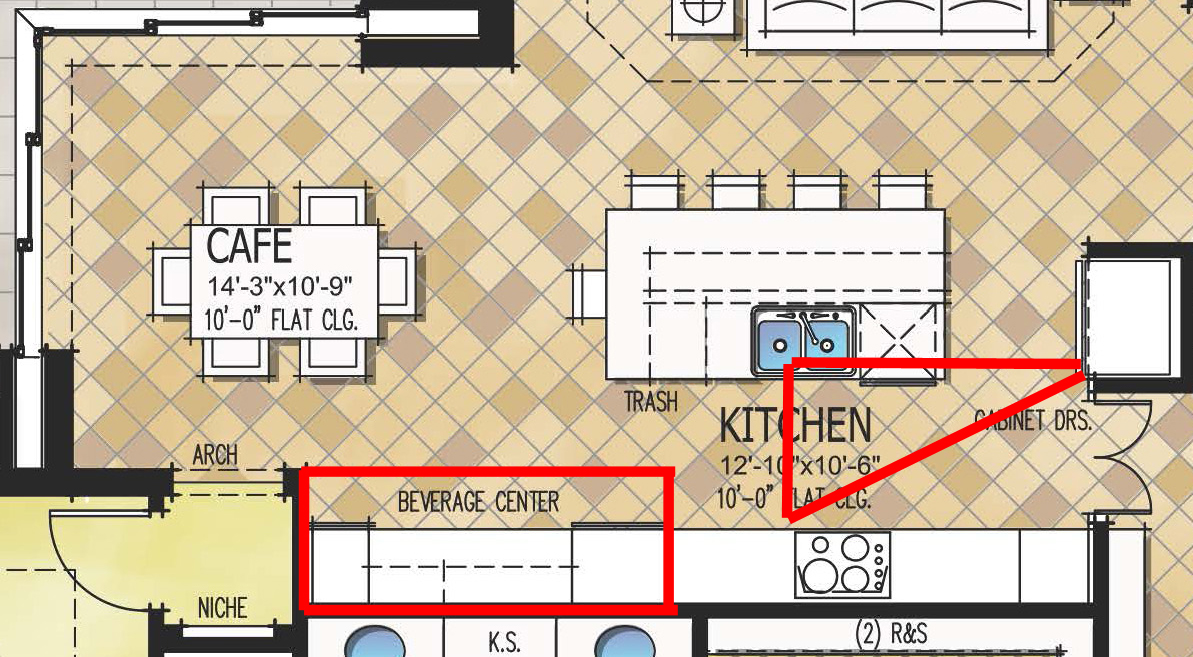 Placing the Beverage Center outside the kitchen's work triangle is not only safer but also more enjoyable for family members and guests.
Beyond the Kitchen
But who said drinks are only for the kitchen? One fun trend is to include a beverage center in the upstairs man cave or adult game room. We're designing a mountain family retreat and have included a Beverage Center upstairs to help out of town guest feel welcome. This Beverage Center includes some favorites from the local distilleries, a K-cup coffee maker, an under counter refrigerator for chilled beverages and wine glasses. It even has its own dishwasher drawer so upstairs cups and glasses stay upstairs.
So, why should builders be incorporating more beverage space? Frankly, because buyers are willing to pay for it! This is a huge opportunity for builders to include as an option. Indeed, addressing our obsession with beverages has become a huge sales tool. In a recent 55+ community, we included a wine display that sold the house – even though the buyer confessed they didn't drink wine, they loved the welcome and festive feeling it created. One of our own team members designed a wine lounge that includes a climate-controlled cellar.
So don't be afraid to showcase your homes' beverage potential. It just might be the difference maker for a buyer!
Categorized in: Daily Lifestyle Solutions
This post was written by Housing Design Matters