Americans love their pets and this love spans across many buyer demographics. In a recent survey, millennials listed their pet as the 3rd reason for buying a single-family home – before kids or marriage. There are numerous studies listing the health benefits of pet ownership for 55+ buyers. And of course, having a pet is an integral part of raising a family. Bottom line, the number of households that have pets in America is staggering. According to the National Pet Owners Survey, 68% of households have at least one pet, with dogs being the most prevalent (naturally followed by cats).
Even more staggering is the number of households where pet care is an afterthought. Not the homeowners, the homes themselves! Allow me to explain.
Raise your hand if you've ever tripped over the dog's bowl of food or water! I have. My niece used to crate her dog when she went to work and it was a large crate. Where the heck do you put a crate? Do you buy one that matches to décor of your living room? What about the stinky cat pan? Where does that go?
It's time that our homes respond to how we really live today. It's not just about the number of bedrooms and bathrooms in our house, but how our houses can make our lives easier every step of the way.
When it comes to pets, we can use all the help we can get. Thankfully, there's good news! Since most pets are smaller than humans, a significantly smaller space than a bedroom is sufficient. Move over Harry Potter, because my favorite location for a Pet Palace is the space under the stairs. Here you can hide the dogs crate – or replace the crate with a finished room if you trust your furry friend enough.
The laundry room is another logical location for pet care, if planned out carefully. This means that we need more than the standard 6' by 6' room. Consider a larger room that includes ample base cabinets. One cabinet can be omitted for the dog's food, bed or cat pan. What if you have both a dog and a cat living together? (According to Ghost Busters – that's mass hysteria). Now you must keep the dog from eating the cat's food (and litter…). Fortunately, since cats can leap, we can place the cat's food on top of the counter out of reach from the dog. This doesn't work with bigger dogs.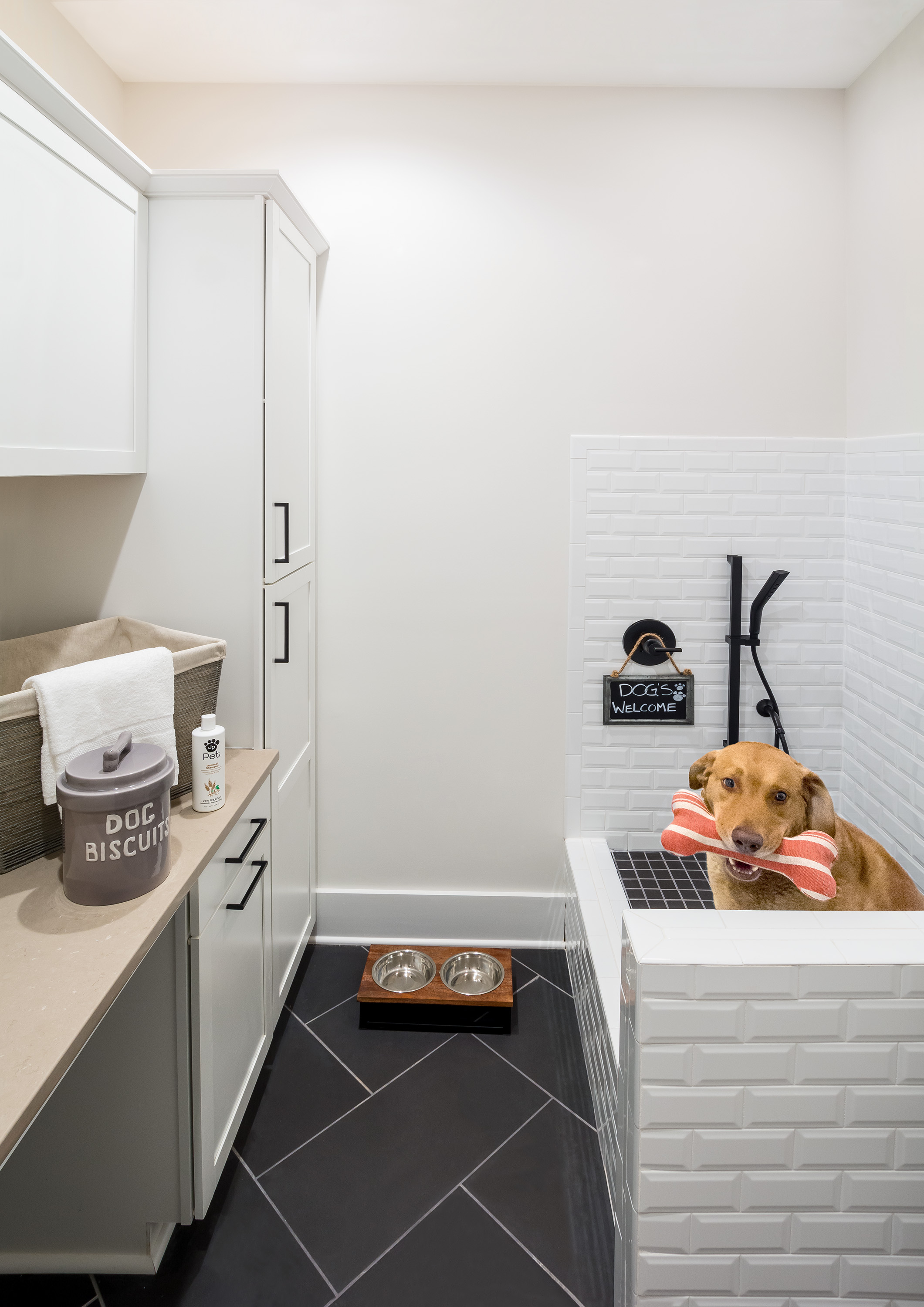 As for the pet bed, our dog Heidi will have nothing to do with it. Oh sure, she'll start out the evening in her bed, but once we fall asleep she finds a vacant bed upstairs to sleep in. What? She's also been known to curl up on the coach when we're not at home, leaving her hair behind as evidence. Who trained this dog anyway?
In larger or custom homes, builders might want to consider a dog bath in the garage or outside. This is a nice option for homeowners with dogs that are constantly making a mess.
Our pets are our surrogate children. What wouldn't we do for them?!
Categorized in: Daily Lifestyle Solutions
This post was written by Housing Design Matters