I'm often required to have the hard conversation with builders by telling them that their plans are – well, bad. Ever the critic, right? But what does an architect actually look for in a plan? This week, I am going to walk you through our own thought process during a plan evaluation.
Step One
Take a look at your existing stock of plans and ask yourself (and your product development team):
• Are your current plans compelling?
• Do they have the new features that buyers crave?
• Are they cost-effective to build?
• Have you been building so long that you're now competing with your own resales?
I know change is hard. Especially once you have a plan that is fully priced and have negotiated great pricing from all your subs. So, when is the right time to refresh or retool a plan from your existing library?
Step Two: The Basics
Let's get the obvious problems out of the way. Looking at your lineup, run through these preliminary questions:
Do you enter the house from the garage through the laundry room?
Does the plan have a living room?
Do you have a bat wing island/peninsula?
Does the master bath have a tub that's bigger than the shower?
Is your Outdoor Living a lackluster afterthought?
If you answered yes to any of these questions, sorry – your plans are dated. Let's not confuse that term "dated" with merely an old plan. Even new plans can be dated if they are developed with an old set of values or lifestyle choices. It may be time let a fresh set of eyes review and retool your existing lineups. I know, it sounds painful, but like child birth, some pain is worth it! (Only a woman architect would say that… Hey – I had three kids and yes – they are worth it!)
We work with a lot of builders who are understandably reluctant to change their plans. Believe me, it can be an awkward conversation to tell a builder that their baby, their pride-and-joy plan, is ugly. We take great care in ensuring that our plan review process is constructive. Thankfully, builders rarely get defensive and are good sports when we show them a better way. To ease the pain, we have a step-by-step process that highlights the positives of an existing plan and then identifies area for potential improvements.
Step Three: The Nuances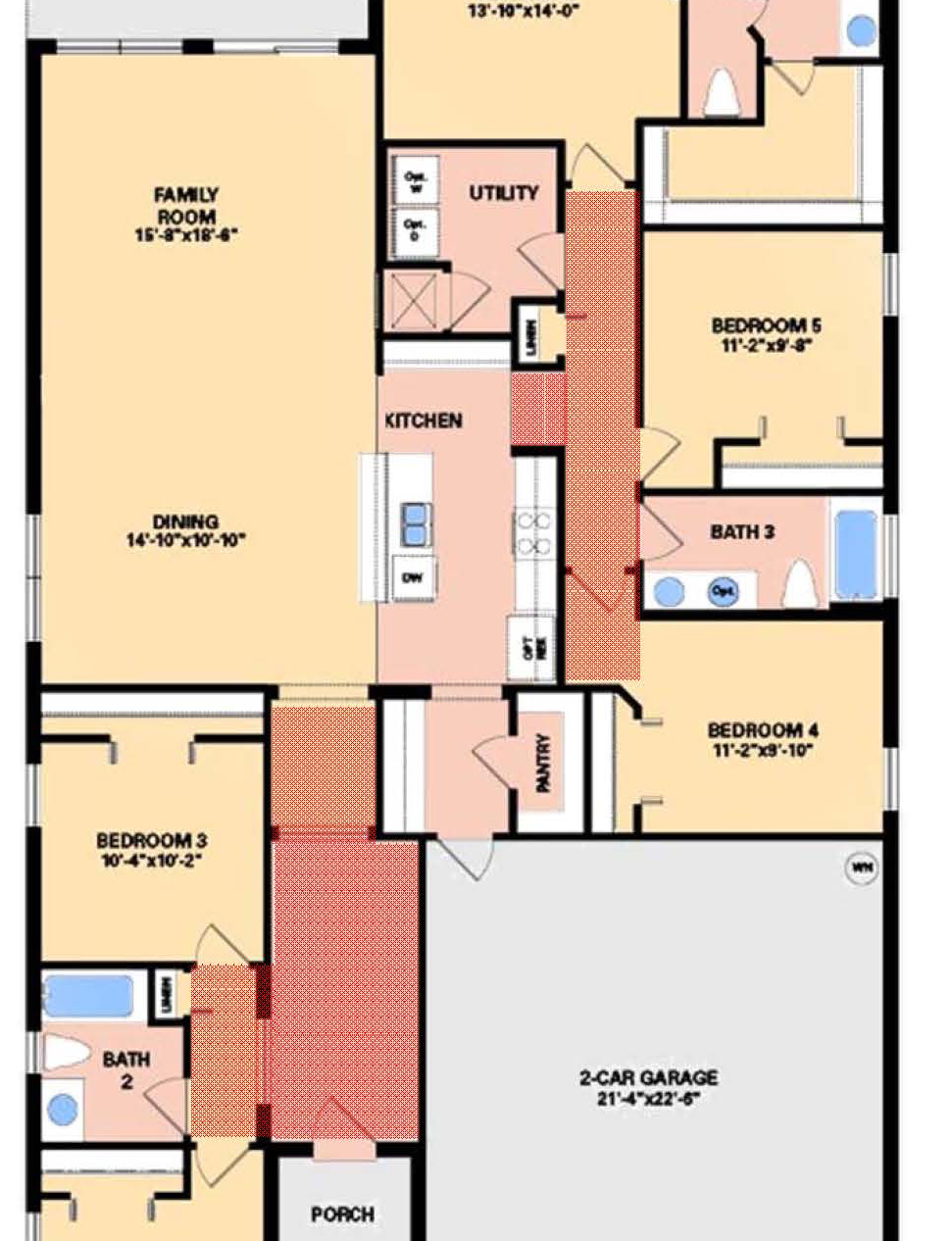 In addition to the preliminary questions, we highlight how much circulation exists in the plan. Why is this a big deal? Because buyers don't value hallways. We examine critical areas like the amount of hanging in the master closet for the size of the house, the amount of kitchen cabinets and if there is enough natural light where it counts. And what about the building envelope? Is it cost effective or loaded with tons of corners and long spanning beams?
Step Four – Compare and Contrast
But it's always easy to find fault with someone else's plan, isn't it? To drive home the point, we then take one of the plans and retool it. We try to fix the problem areas while adding the new features today's buyers crave. A side by side comparison allows us to demonstrate our improvements.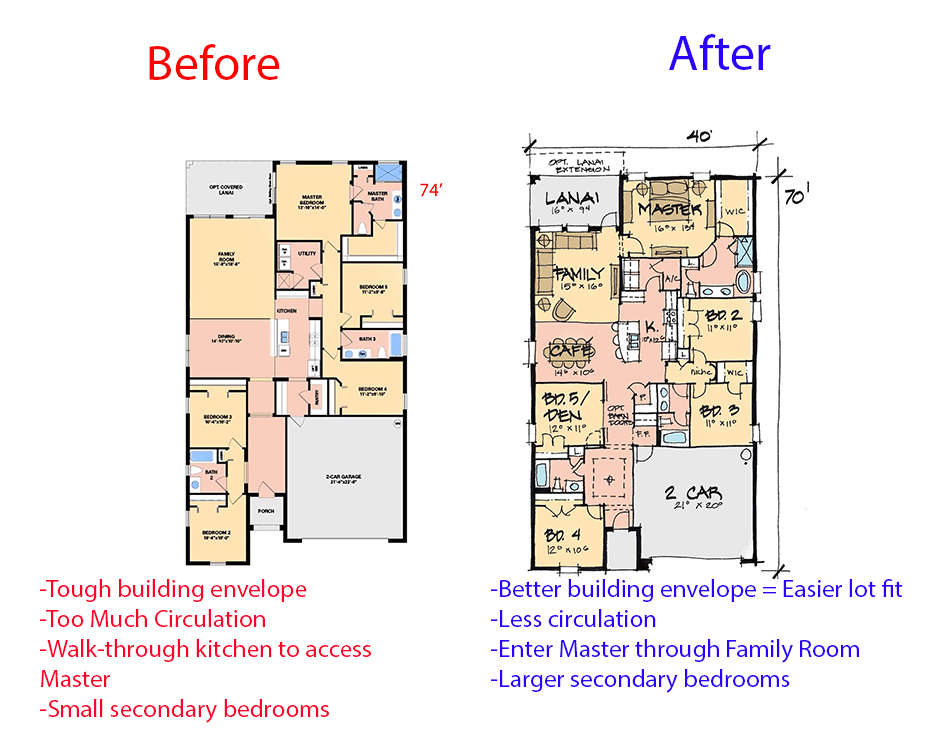 Features to look for in today's plans:
Entertaining kitchens with focal point islands
Messy Kitchens, Beverage Centers and large walk-in pantries
Welcome Home Valets
Places for our pets and their food, their bathing areas and their litter boxes
Rejuvenating bathrooms that feature showers as opposed to tubs
Connected laundries and Parcel Delivery Vestibules
Jump in With Both Feet
While change can be uncomfortable, increased sales with compelling plans that are more cost-effective to build will quickly ease the plan. Perhaps the best way to conclude a successful plan retool is to let the architect share their vision of plan highlights with the sales team.
I hope you will look at your existing plans with this blog in mind. Or better yet, let us take a look. We will make certain you will be glad you did.
Categorized in: New Design Options, Value Engineering
This post was written by Housing Design Matters