There is so much misinformation regarding 55+ home buyers – both on the buyer side and the builder side. Many assume the only 55+ builders are the ones that build in age-targeted or age-restricted communities. But if you ask a custom builder what the typical age of his buyers is – chances are many are over 55 years old. There are many buyers who are older than 55 and have no desire to live in an age-restricted community – yet they still have the need to age in place.
When should home buyers start thinking about age-in-place design? It's not a topic that people like to dwell on, but it's worth considering before the need arises. Even if the buyer is younger, they likely have older parents that will want to visit or need to stay at some point. What is necessary for both buyers and builders to know about aging in a home?  I believe there is a lot of fear surrounding what an aging adult will need. "What if I end up in a wheelchair?" On the other hand, no one wants to live in a home that feels institutional or makes them feel even older than they are. Is it possible to design a home that will not only allow a buyer to age gracefully but will also bring them joy and delight? The answer is yes!
Overcoming fear
Often, there is an overwhelming fear they will be "confined" to a wheelchair at in the future. The key word is confined. Sure, as we grow old, our aging hips, knees, and backs may make walking through airports challenging. Wheelchairs are a great aid for those folks. But these same aging adults can stand and walk short distances – say from their bed to the bathroom or from the jet bridge at the airport to their seat on the airplane. About 35% of adults over 70 have mobility issues of some sort including needing a cane or help rising from a seated position. The percentage of seniors confirmed to a wheelchair is far less. Reasons could include stroke and arthritis. Only 11% of the entire population over 75 years of age is confined to a wheelchair. Remember, use of a wheelchair isn't just an aging problem.
This may sound like I'm splitting hairs, but the way you design for wheelchair confinement is very different than how you design for mobility challenges. Too often, the focus for design is only on wheelchair accessibility while other important aging challenges and features are ignored.
Let's create a list of issues and concerns around aging in the home.
• Egress into the home
• First floor bedroom
• Aging friendly bathrooms
• Aging friendly kitchens
• Lighting
• Aging Friendly features
Egress into the home
If you can have one entry into the home without steps, you've created a win-win scenario. You've eliminated a tripping hazard, you've created access for folks in wheelchairs, and you've made an easier way to get into a home. Ramps are simply easier because you don't have to look down while you walk. Ramps are great for all things with wheels – from chairs to suitcases. Be sure to add a handrail for longer ramps.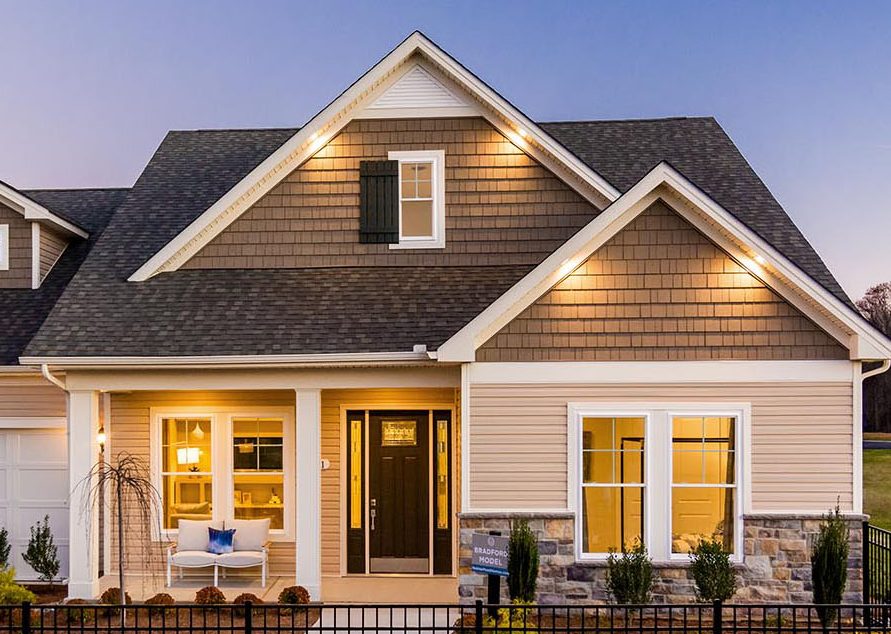 First Floor Bedroom
Locating the primary bedroom on the first floor is a great way to avoid future accessibility issues. This isn't always possible based on the building footprint. However, having one bedroom on the first floor/main living level would be the next best option. Stairs aren't out of the question for 55+ buyers but make sure they are adequately lit, feature a continuous handrail, and have a landing.
Aging Friendly Bathrooms
Eliminating tripping hazards in a room that gets wet is a great strategy. This includes a zero-entry into the shower. You can add grab bars now – or blocking for grab bars later. Fortunately grab bars have come a long way in design and finish to avoid that institutional feel. Adding a seat and a handheld shower head makes the shower more user friendly and more luxurious.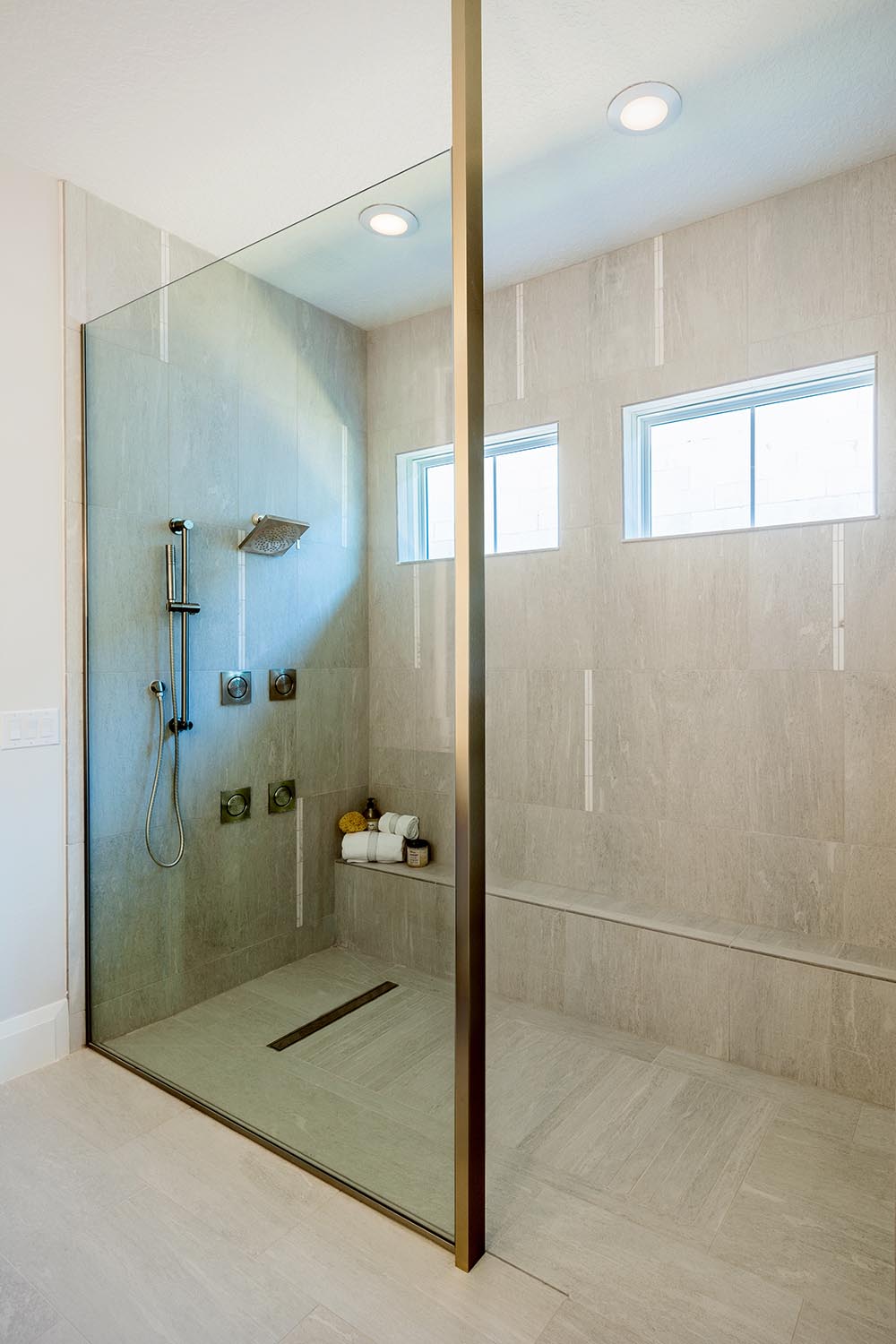 Where you put the toilet in the bathroom isn't only an accessibility issue, but also a dignity issue. I've said it before and I'll say it again – no one looks good sitting on a toilet! So unless you're designing his/her bathrooms, let's put the toilet in it's own room so users have privacy. Make the room wide enough for grab bars now or in the future (grab bars take approximately 3" in width). Having grab bars on both sides of the room works great for someone with bad knees or hips. That means the room needs to be six inches wider. A "comfort" height toilet helps too. The door into the room should be a minimum of 2'-8" and should be outswing. Larger doors – 2'-10" (fair housing compliant) or 3' require more square footage.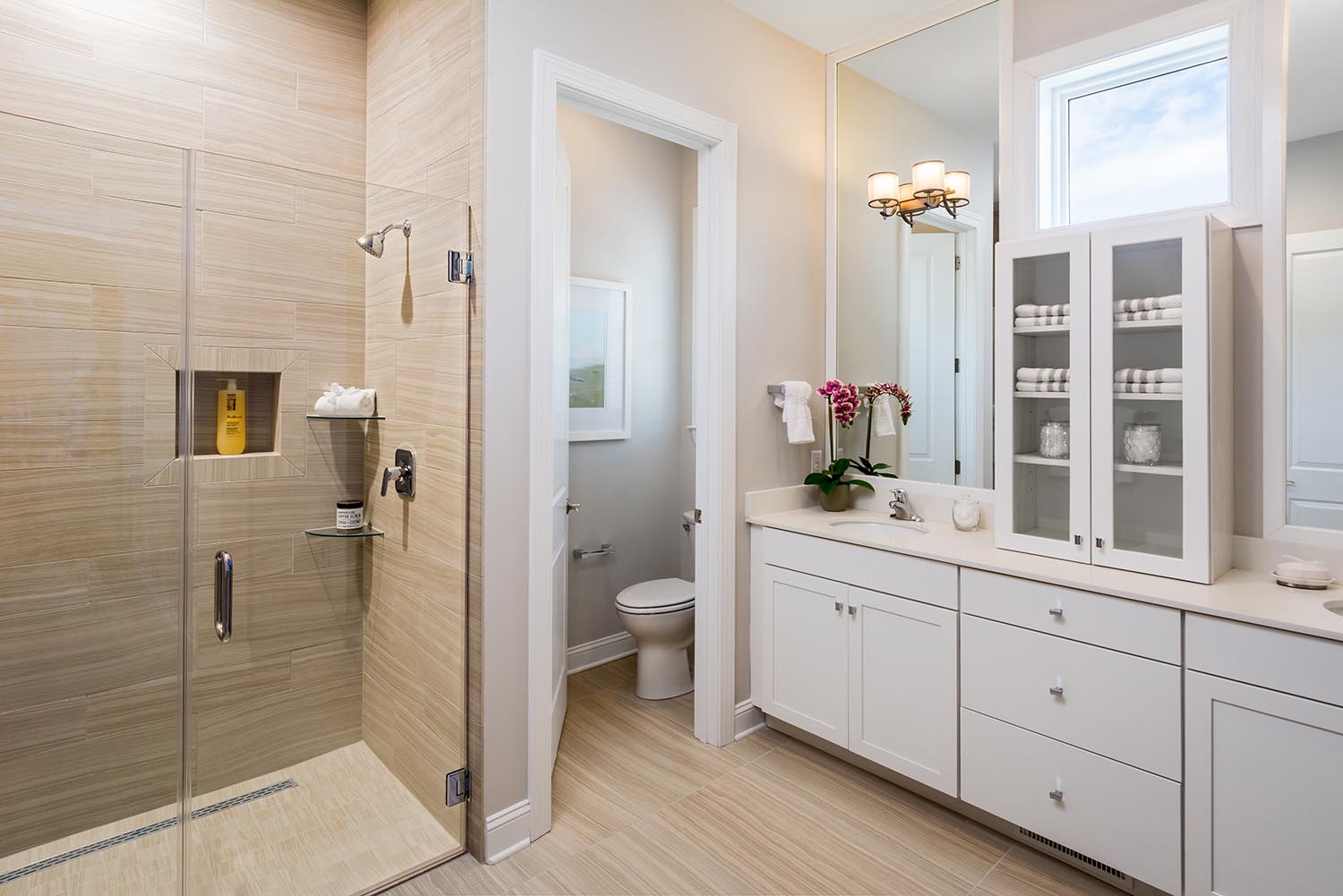 Aging-Friendly Kitchens
Designing kitchens for aging is a bit more complicated based upon the possible issues. If you have a bad back, you may find loading and unloading the bottom rack of your dishwasher painful. One solution is to raise the dishwasher, so the top is 42" above the floor. Great for the back but makes the surface above the dishwasher awkward for someone in a wheelchair to reach. Another solution is the drawer dishwasher – either one drawer or two. Also consider French doors for the oven and a drawer microwave.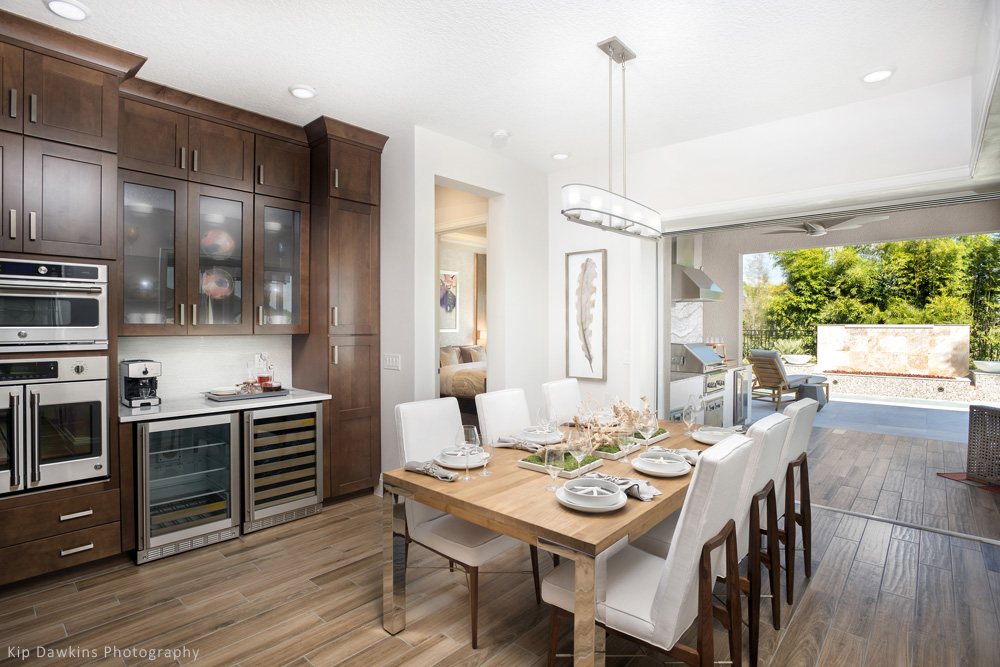 Locating the microwave just below the countertop in the kitchen makes it accessible to small children, shorter seniors, and folks in wheelchairs.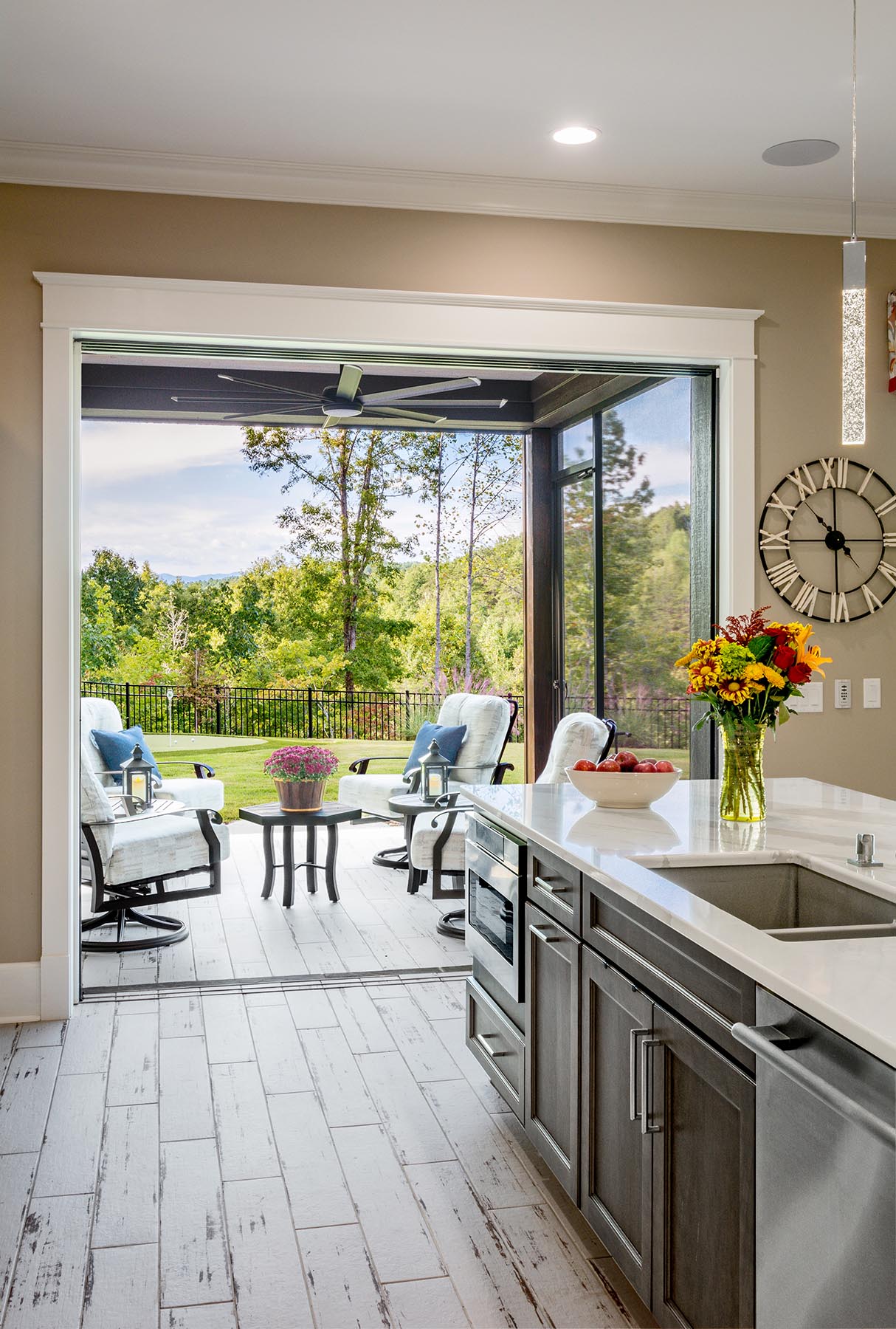 Lighting
One design consideration often overlooked is the need for increased lighting. As we age, the lens of the eye thickens and allows less light to pass through. Since this is a gradual process, most aren't aware of it happening – but a sixty-year-old needs six times as much light as a twenty-year-old. Suddenly, seniors find themselves needing more light to read a menu in a dim restaurant or navigating their way to the restroom. Obviously, we need to add more lights and light fixtures. I recommend avoiding too many dark colors for walls, floors, or cabinets – since dark colors eat light. Consider adding wayfinding light in toilet rooms, bathrooms, hallways, and stairs.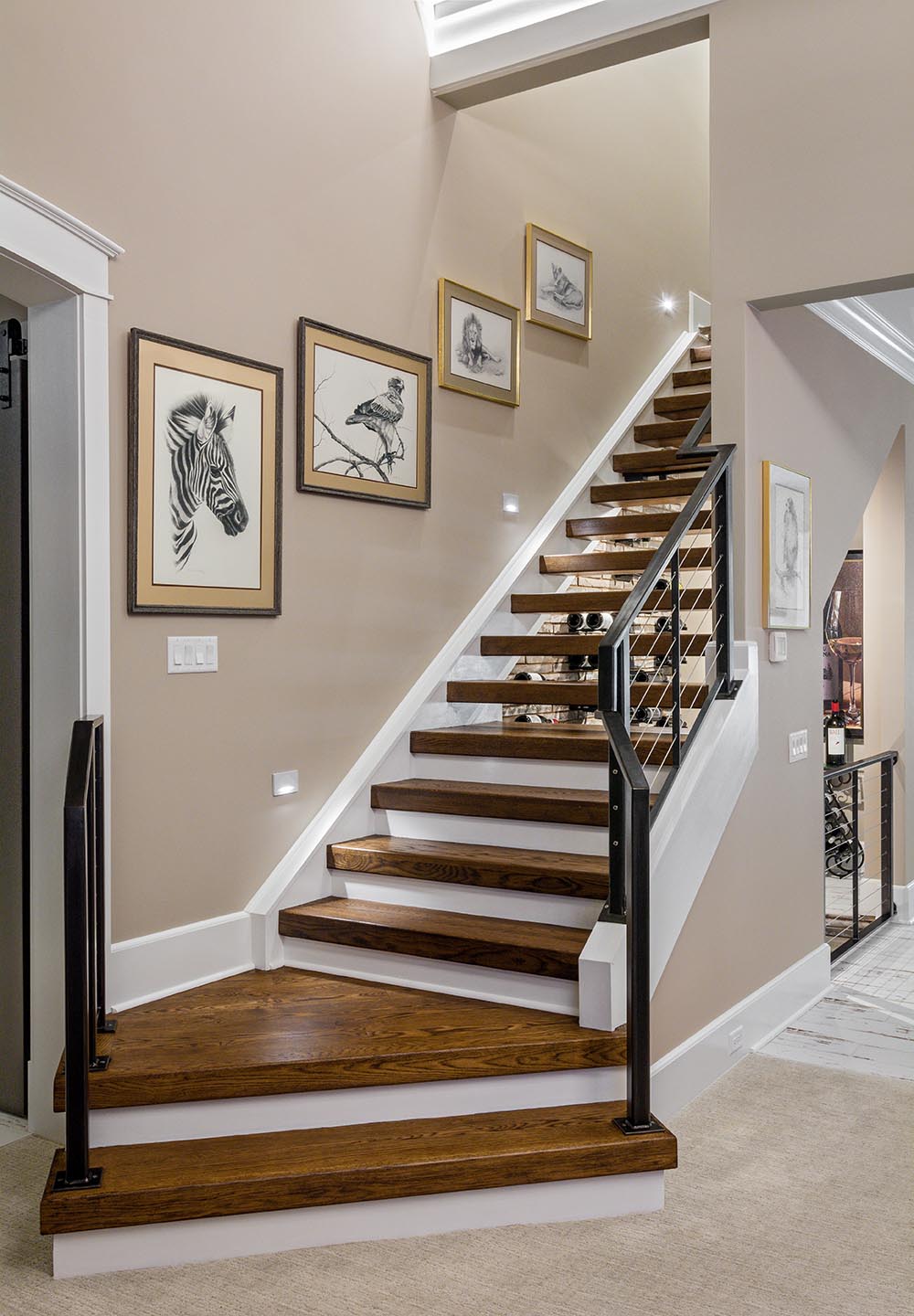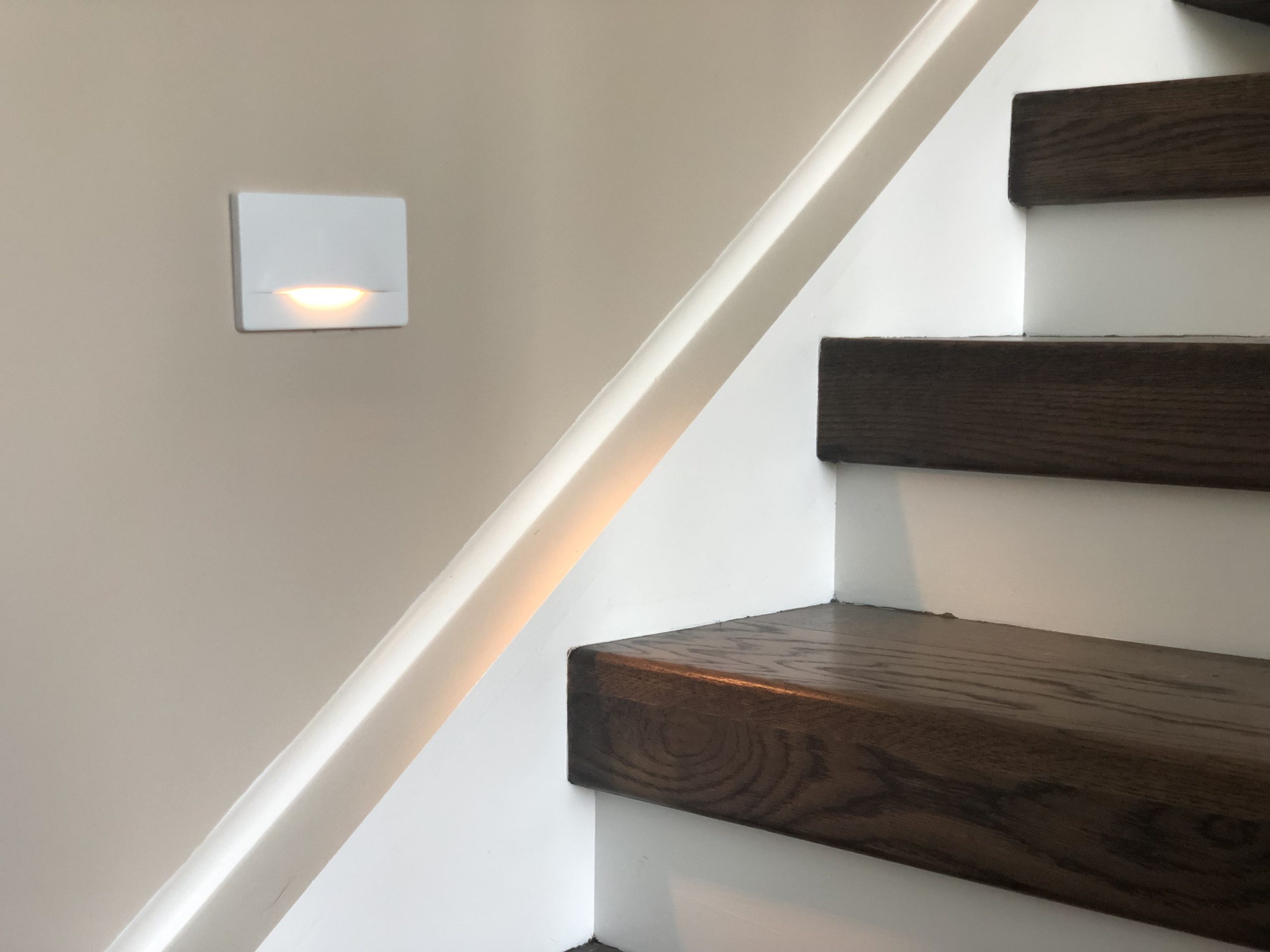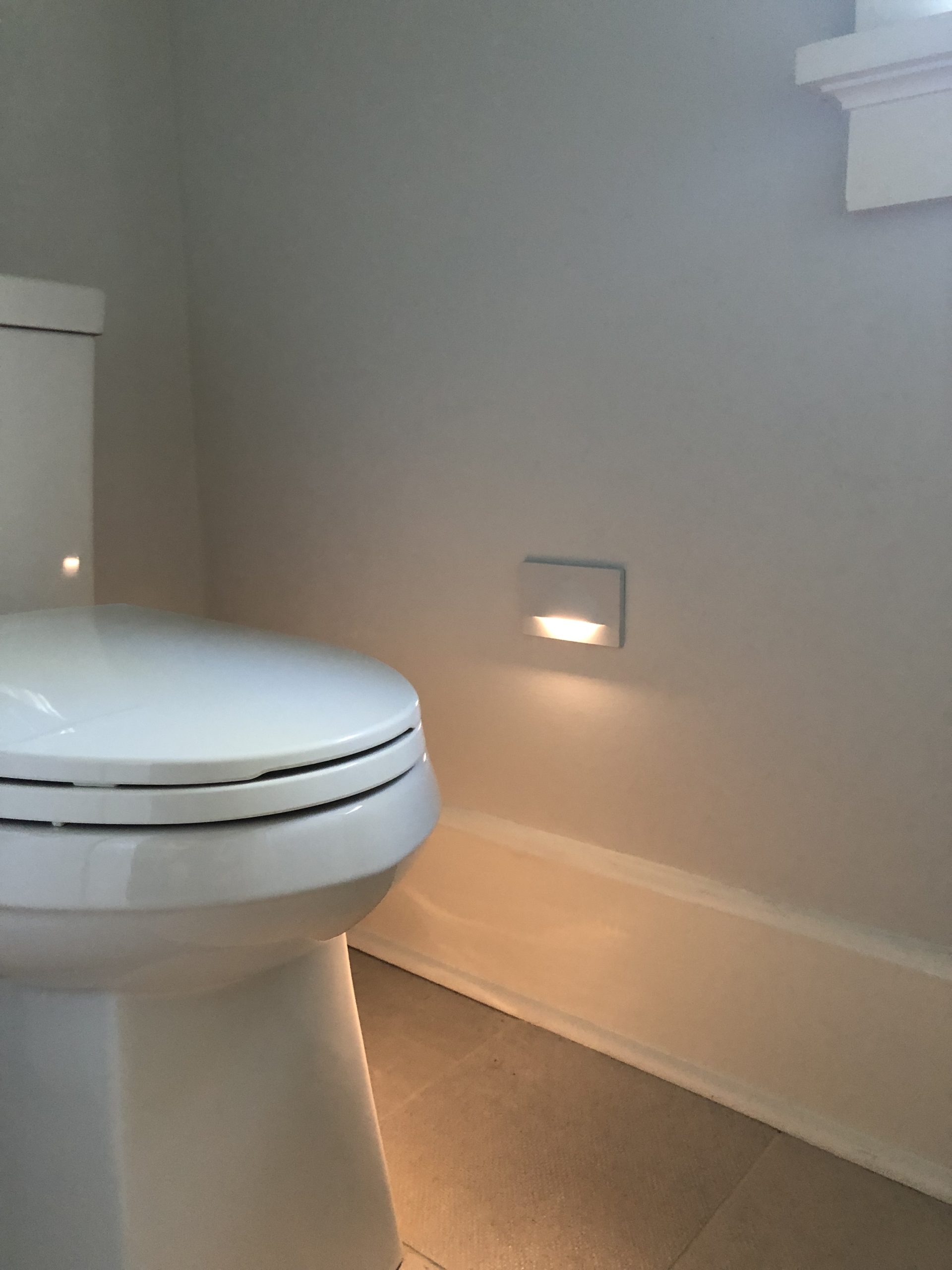 Another tip: I love adding LED strip lighting just above the clothing rod in closets to illuminate colors and clothing.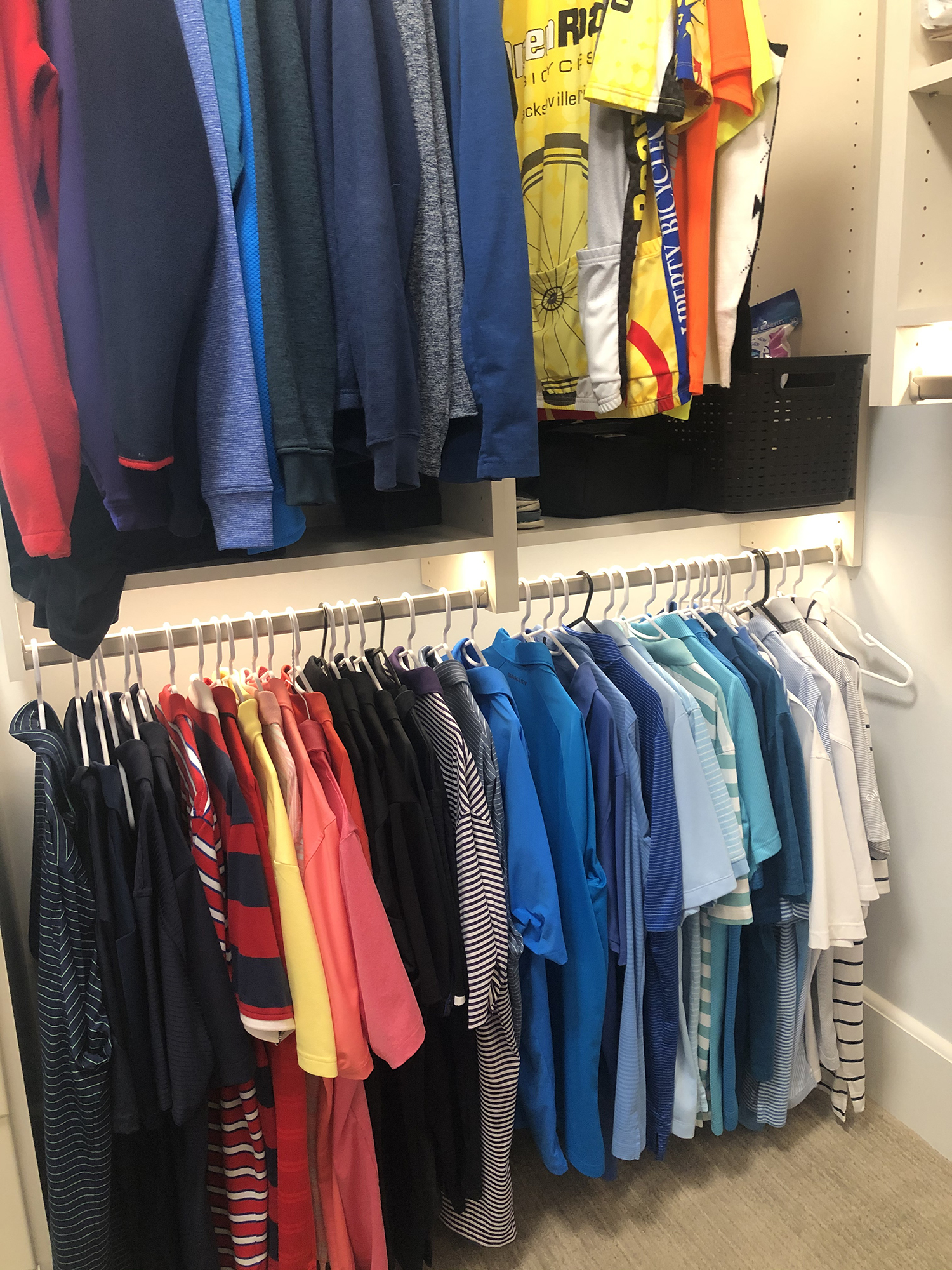 Aging Friendly Features
Making a home safe and accessible is awesome, but let's not forget the little things that enhance comfort and joy. It could be something as simple as a central-vac electronic dustpan. Easy clean up without stressing the back or knees.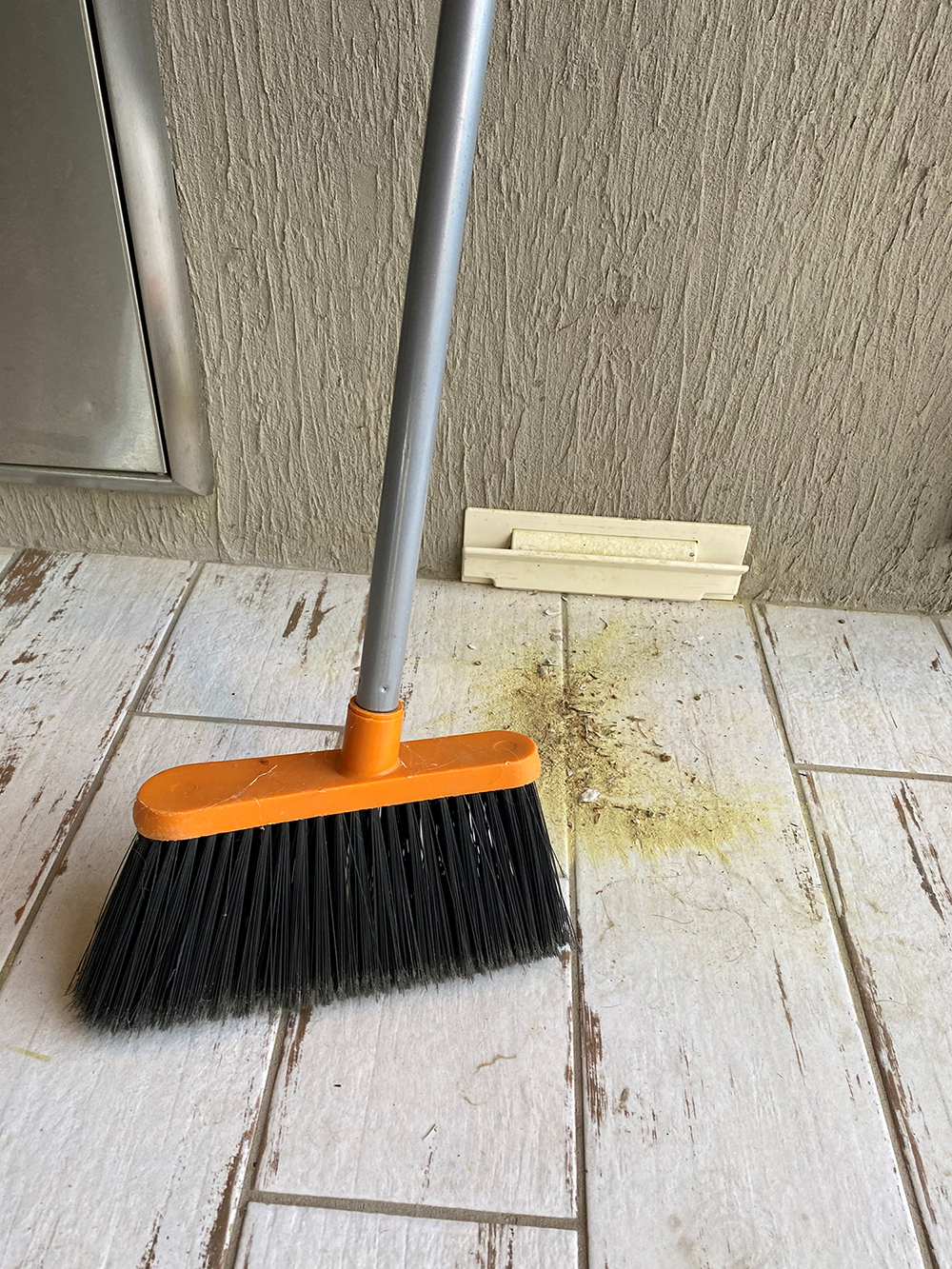 Or it could be the luxury of heated bathroom floors and towel bars.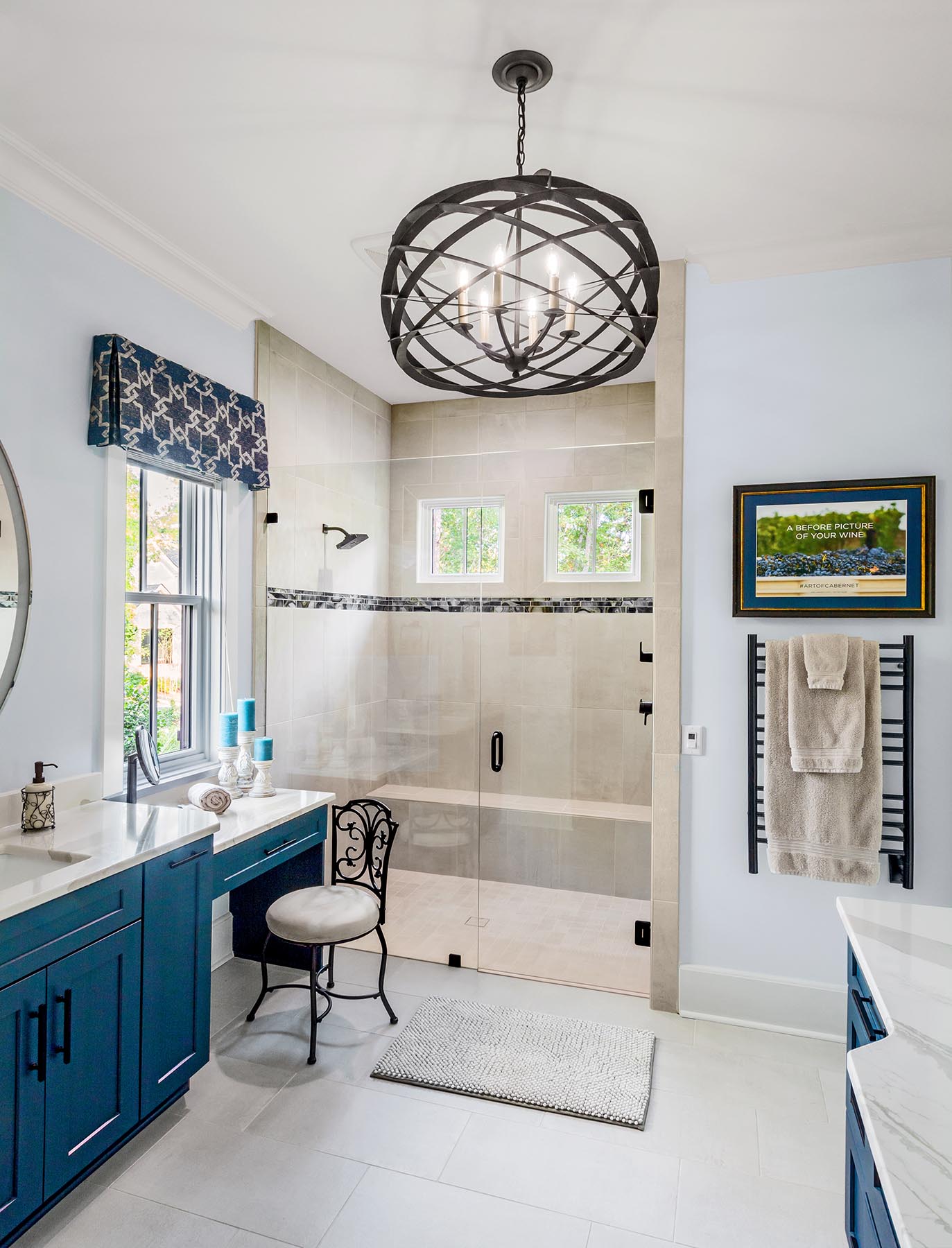 People tend to paint 55+ housing with a broad brush, but this is a highly personal and diverse segment. With a bit of pre-planning and thoughtful solutions, these subtle enhancements go a long way in allowing homeowners to stay in their dream home longer without proclaiming to the world that it's a "55+ home". Who could say no to that?
Categorized in: 55+
This post was written by Housing Design Matters