I am old enough to remember when the mail carrier would deliver mail to our individual mailbox at the side of the driveway. If you're in an older home, you may still have this feature. My son who lives in Charleston in a 100+ year old house has a mailbox on his front porch.
When I moved into a master planned community in the 90's, I was told that the single mailbox on my property would no longer be supported by the US Postal service. Instead, we were directed to a gun metal gray, clustered mailbox. To be frank, it was unattractive and inconvenient. I had mailbox envy!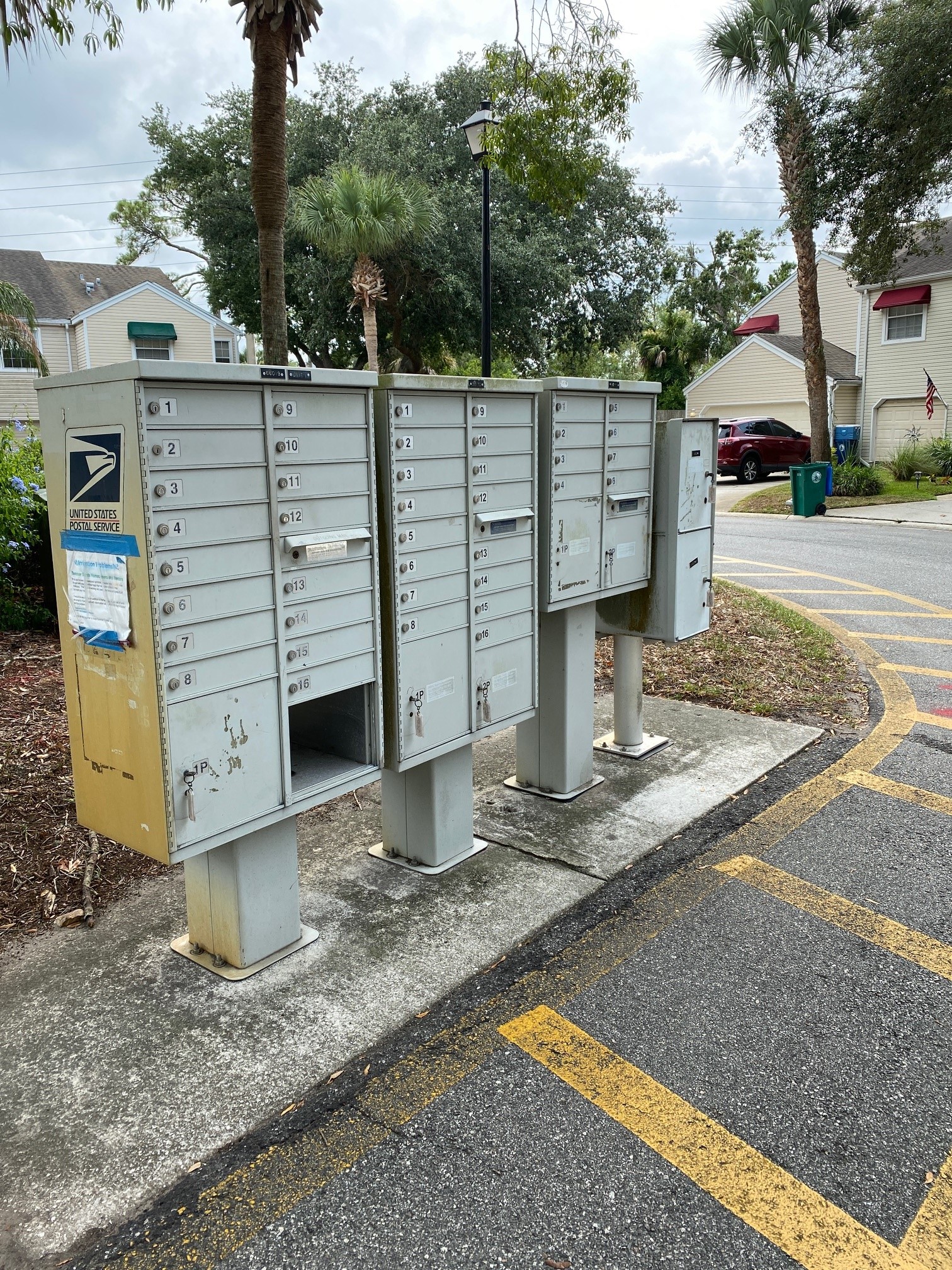 History of the mailbox
Before 1850, home mail delivery did not exist. However, with the advent of stamps, mail could be sent across the country. Prior to home delivery, one would need to visit the local post office to collect their mail. Individual mailboxes became a necessity in 1863, but it wasn't until 1923 that they became a mandate. Enter the mailbox – it featured a rounded top to shed rain, along with a bottom hinged door. The most significant upgrade was the red flag – which could be raised to indicate the resident had outgoing mail. Before the red flag, you had to either visit the post office or find a centralized collection box. And since mail was delivered by a federal service, there will federal standards for the size and shape of the mailbox. It had to be USPS approved. The standard issue mailbox was galvanized gray.
Blank Canvas
Some considered this a gray blank canvas and choose to paint it. Others found creative ways to support it. Sometimes the surrounding structure was a way to keep rowdy teenagers from smashing your box with a baseball bat as depicted in the movie Stand by Me. Or perhaps to protect the box from wayward drivers who too often smashed into the boxes. Some neighborhoods required that the mailbox complemented the finishes of the house.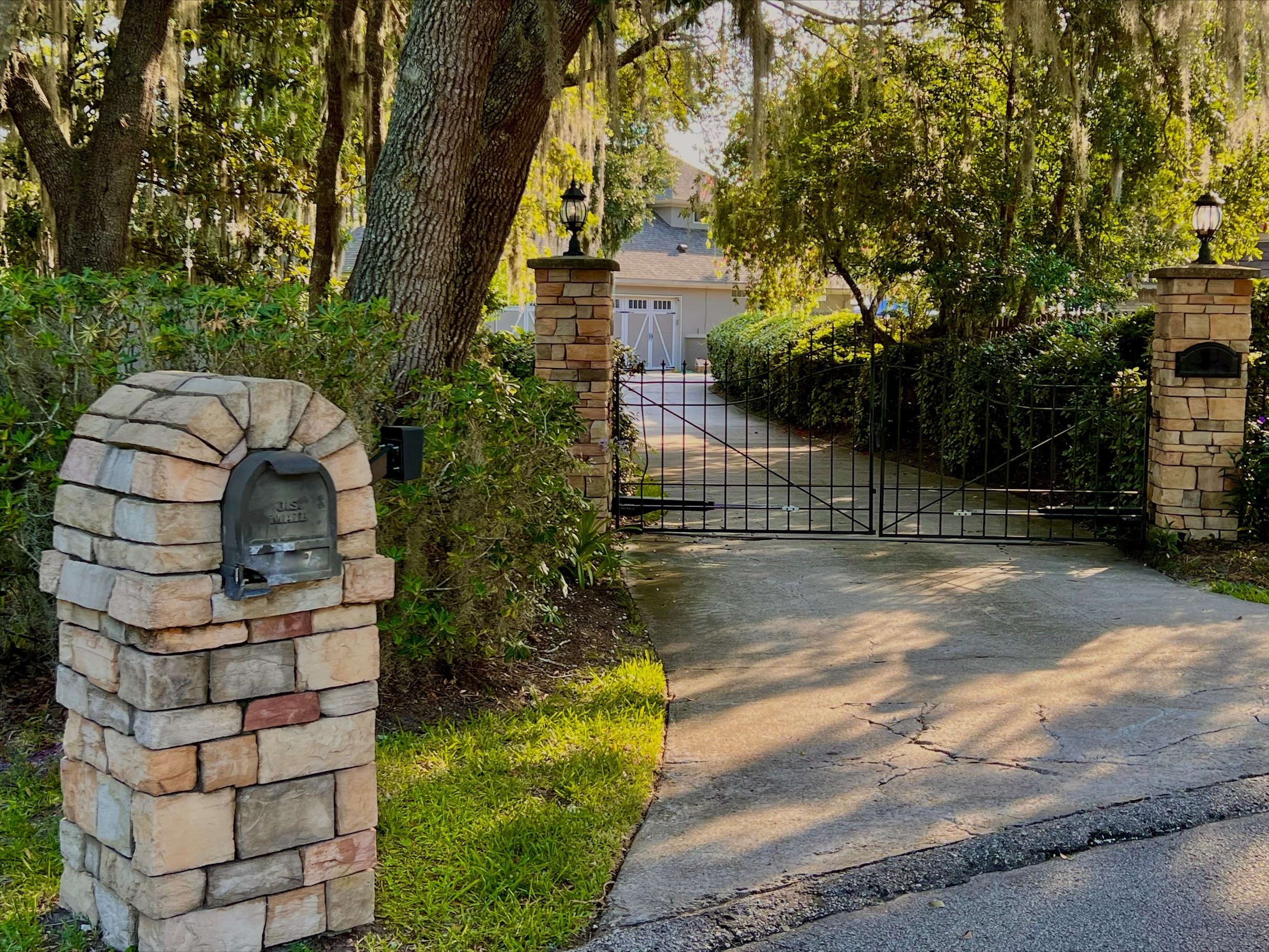 Still others boasted the residence's passion for, well, anything. Maybe they wanted to share with the world their love of fishing, farming, boating, cycling, cars, animals, their favorite sports team… the list is endless.
But the creativity doesn't stop there. Just type in unique, funny, or crazy mailboxes into Google images and you will get a good chuckle. One creative individual showcased two mailboxes – a normal one for mail and a special one for junk mail mounted on top of a toilet.
Limitations of the mailbox
Despite all the creativity of individuals, the mailbox had its limitations. Let's start with the size. What was originally sized for letters became too small for even a shoebox sized package. This was well before Amazon's takeover. Then there was mail theft. Despite being a federal crime to tamper with mail, criminals didn't stop from harvesting mailboxes for checks or credit cards. The thieves didn't need the actual credit card, but rather your credit card bill to steal from you. Lastly came outright identity theft. Ouch! It was at this point that my before mentioned mailbox envy ceased, and my ugly clustered mailbox became more attractive.
Clustered mailboxes
Clustered mailboxes first started in apartment buildings to speed the delivery of mail and wear and tear on behalf of the mail carrier. Can you image delivering mail to each door of a three-story walk-up apartment? I don't know about you, but my quads are burning just thinking about it – let alone the time it would take. This approach made its way into Planned Unit Developments (PUD's) in the 1980s in some parts of the country.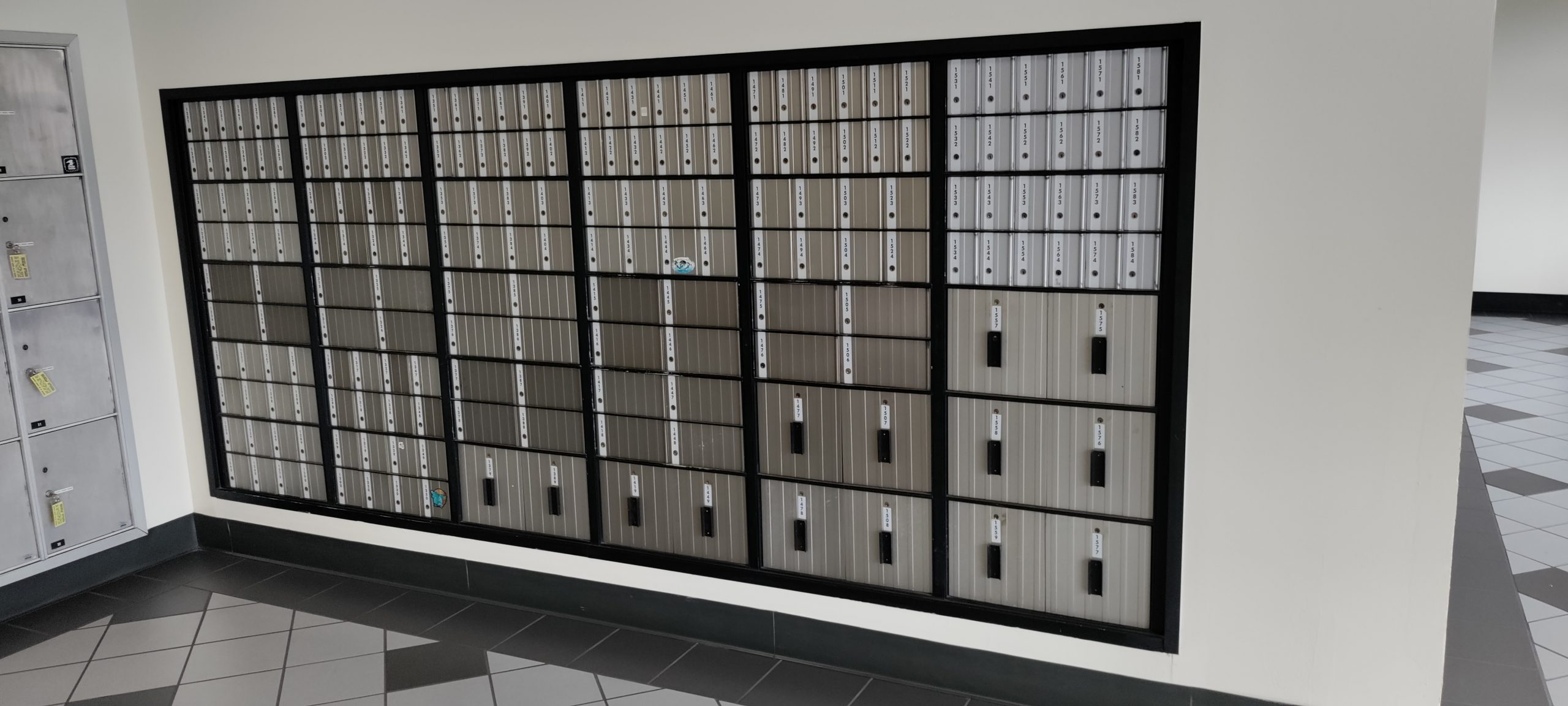 This multifamily clustered mailbox solution became a mandate on April 26, 2018 for new communities. Developers would have to provide clustered mailboxes instead of letting homeowners buy their own. Some choose one central location like in my son Austin's Orlando neighborhood. An elaborate mail kiosk was placed near the entrance to the community.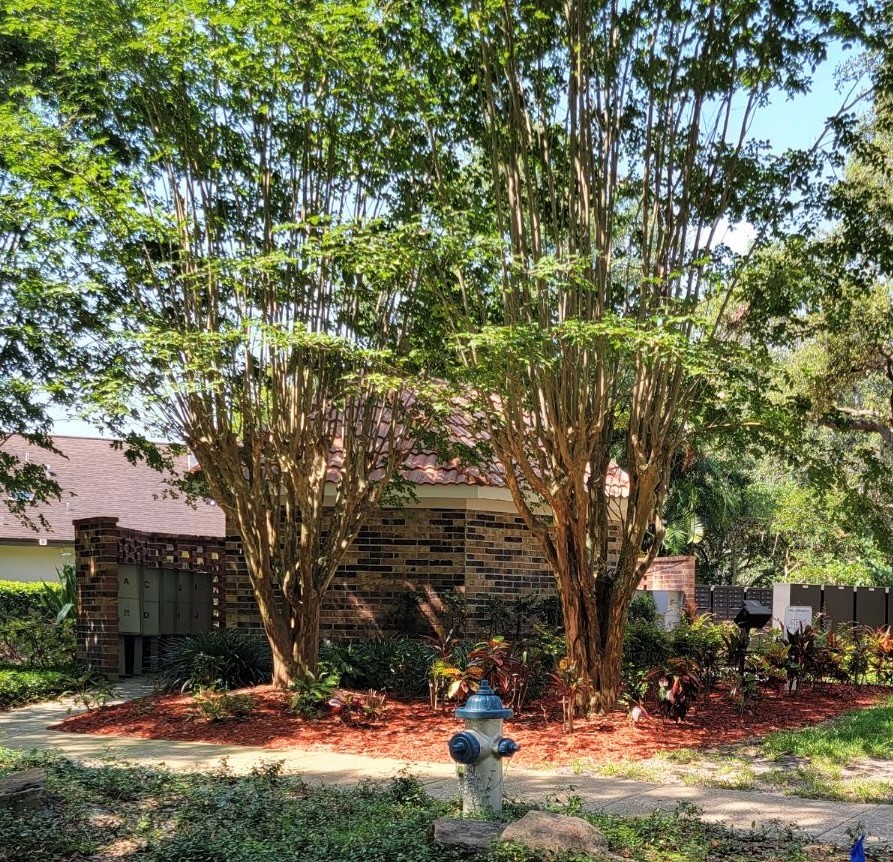 This seemed like a good idea. But Austin tells me the area quickly becomes congested as folks stop at the kiosk on their way home – all seemingly at the same time and without adequate places for the cars to stop. Oh, and did I mention it is on a curve near an intersection? It's downright dangerous.
When my husband and I downsized, we moved into a new neighborhood. Like my previous PUD, this one had clustered mailboxes, but they were much more aesthetically pleasing than our last community's. In this approach, the cluster boxes were smaller – limiting 8 households to each box plus 2 larger parcel boxes. This new neighborhood has smaller lots than my previous one, and most choose to walk to their mailbox instead of driving. Seems the smaller cluster boxes were more pedestrian friendly and green – a win-win.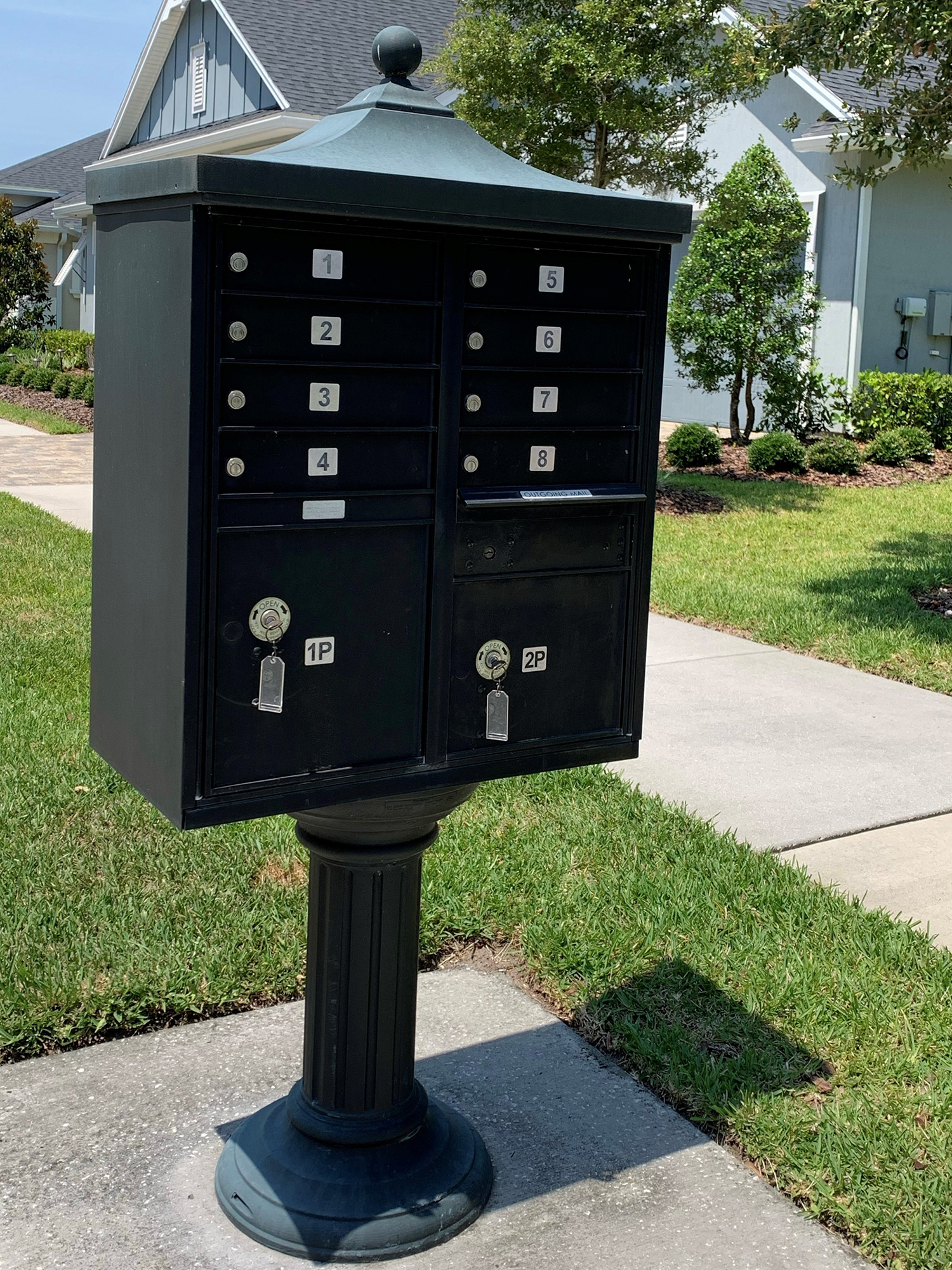 Another common approach to clustered mailboxes is to add them to the amenity site – whether it's a pool or actual club building. In some cases, this solution may be mandated by local officials. One thought is that it will drive residents to use the facility. Perhaps it is just a matter of convenience since we're using an existing building. One 55+ community in Massachusetts wanted a separate community post office. Could picking up your mail become an opportunity to socialize?

Time Changes Everything
I don't know about you, but what comes in my mailbox has changed. We get most bills electronically. Same for our paychecks. My Mother's Day and Father's Day greeting come in the form of an e-card – just ask Hallmark. Indeed, not much interesting comes in my current mailbox except at Christmas. I just love the personalized Christmas cards. But that doesn't stop my mailbox from getting full of junk mail.
Then Amazon revolutionized the way we shop, and home delivery was on the rise. Except most these deliveries don't fit in any mailbox – so where do those large packages, especially the ones that are climate-sensitive, go? This is why we created the Parcel Delivery Vestibule. Great for all deliveries including Amazon, groceries, floral deliveries and groceries.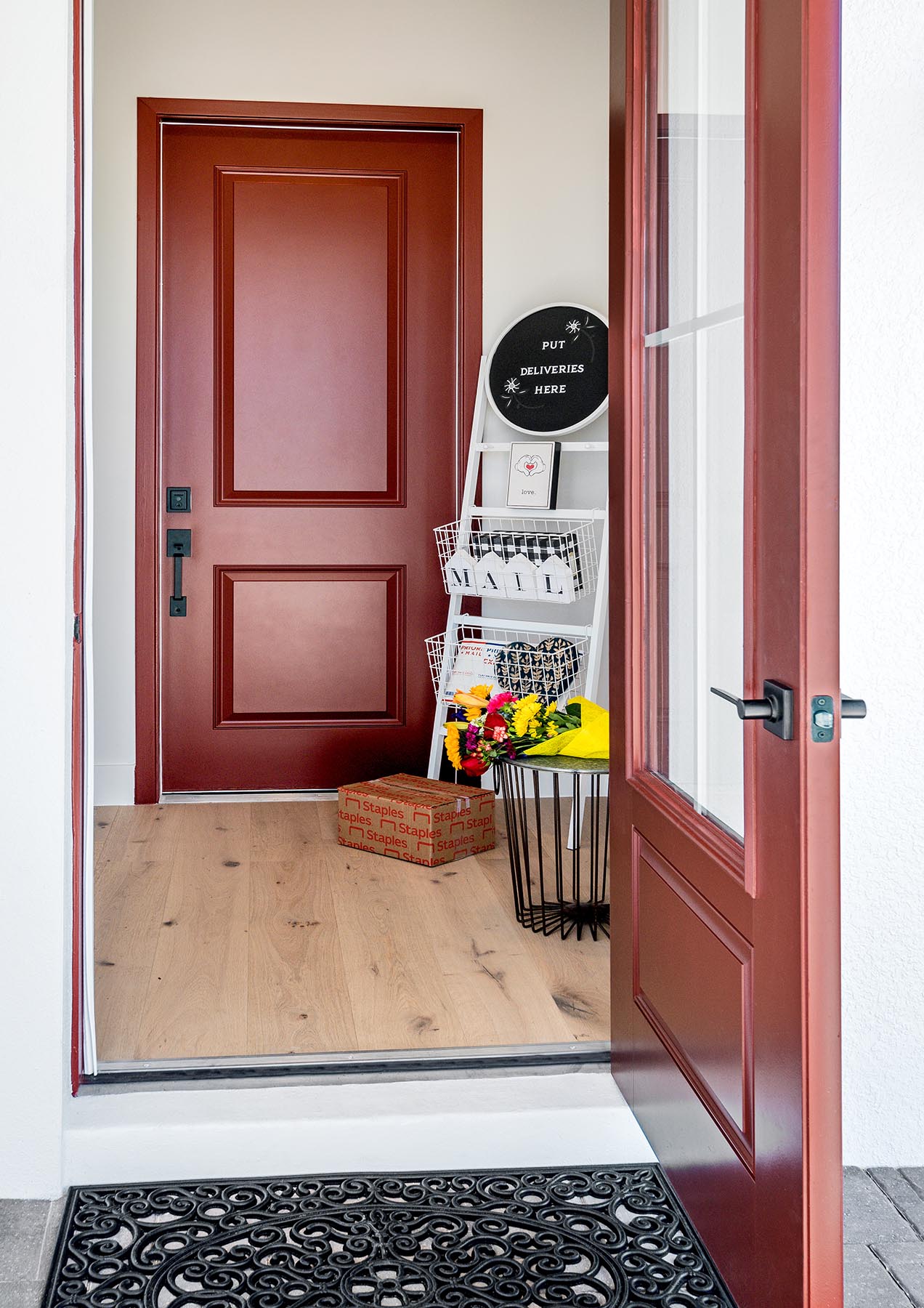 But in one South Carolina community, Amazon has switch all deliveries via USPS instead of UPS or FedEx. Since the mailboxes aren't large enough, packages are delivered to the guard house – a facility that was never intended to hold packages and hence can't handle the volume deliveries. We're guessing the cost of shipping has gone up along with gas prices and the once obsolete USPS suddenly became more attractive.
What's next?
Only time will tell what happens with home deliveries. At one time, there was debate about limiting USPS mail delivery to weekdays – then the pandemic hit, and home parcel deliveries soared. I've seen the USPS delivering parcels to homes on Sunday in our Jacksonville neighborhood.
All of the above is just another added stress to developers trying to please both potential buyers and the powers that be – whether it's the local zoning department or postmaster.
But hey – what's another obstacle at creating an attractive, livable neighborhood affordably? I'd love to hear your thoughts on future of home deliveries. Email me at dpatterson@housingdesignmatters.com or just reply to this blog.
Categorized in: Uncategorized
This post was written by Housing Design Matters