When selling to the 55+ home buyer, it's important to understand what buyers are worried about. It is also crucial to demonstrate how new home features and technology often offer solutions for these concerns.
Downsizing is an idealistic notion for a large demographic that no longer needs so many rooms in their house. It can mean less cleaning, fewer rooms to heat and cool, etc. But, there are quite a few empty nesters who struggle with envisioning themselves actually making the move down. Some questions your buyer might be asking themselves:
Where do the kids and grand-kids stay when they visit?
What about the home office in their current home?
What if I just want a room to escape to?
The solution is the flex room, which isn't news to most industry professionals these days. However, many new homes offer flex rooms that simply look like another empty space to fill. We want them to envision how they would use the space themselves, but perhaps we are leaving too much to the imagination here. The downside to this strategy is that it really doesn't illustrate or demonstrate the possibilities that the space offers, leading some buyers to simply move past it.
One of the main objectives of a flex room is to simplify. Moving bulky furniture in and out of the room to suit the needs of a homeowner is the anything but simple. Modular furniture plays a key role in the flex room and can actively demonstrate why downsizing isn't so scary after all!
The Den
A casual den that allows homeowners to escape and watch the game in peace is appreciated. Last year, during the NEXTadventure Block Party, many attendees noted that it would also be a great yoga room.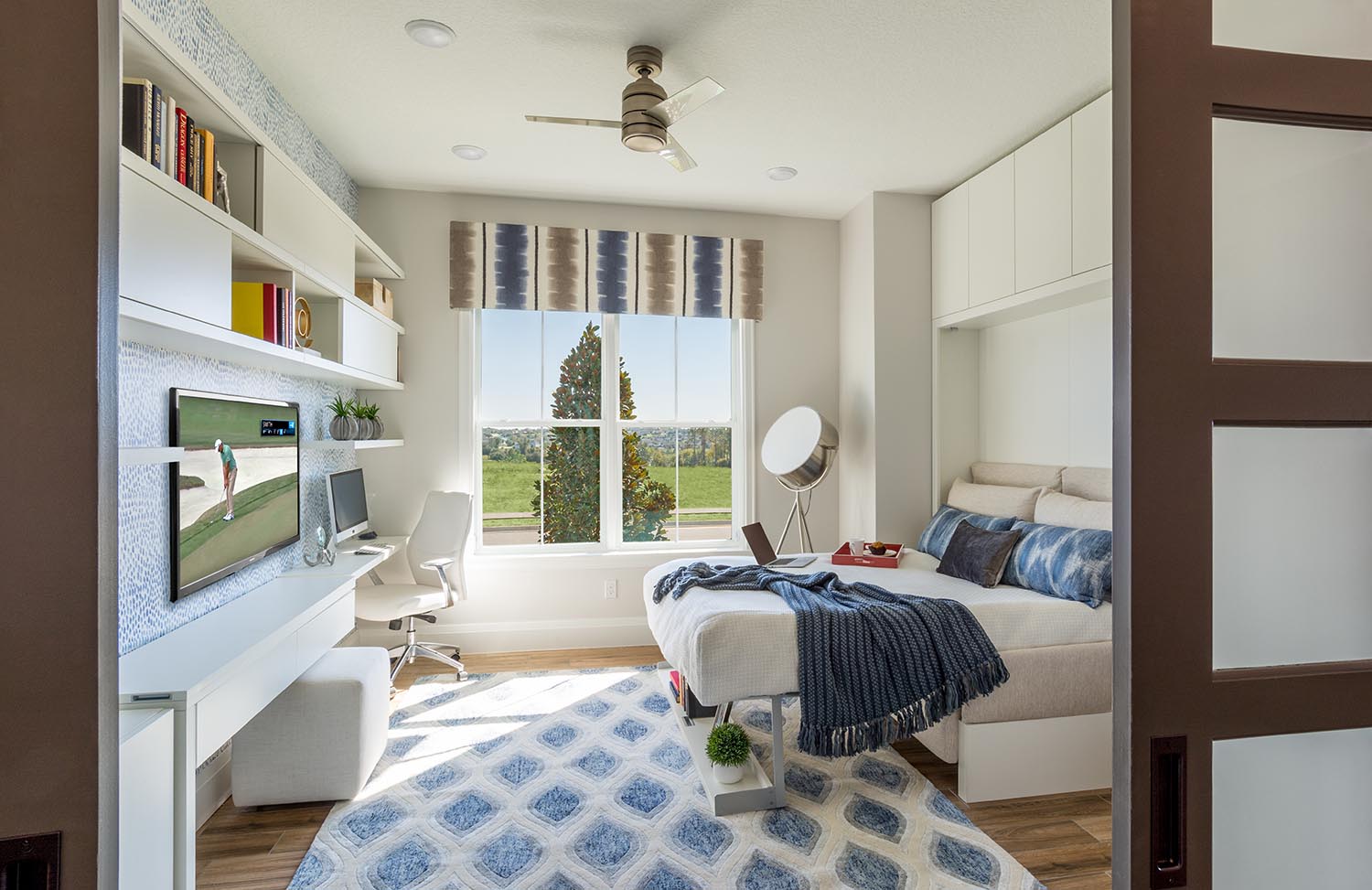 Home Office
Let's be clear: 55+ doesn't necessarily mean "retired" just yet! Even those who are retired tend to find themselves working on something from time to time. A full-blown home office might be a bit excessive (and dated), but an occasional working space is always welcomed. Swinging out the desk is a simple task, converting the room into a productive home office with minimal effort.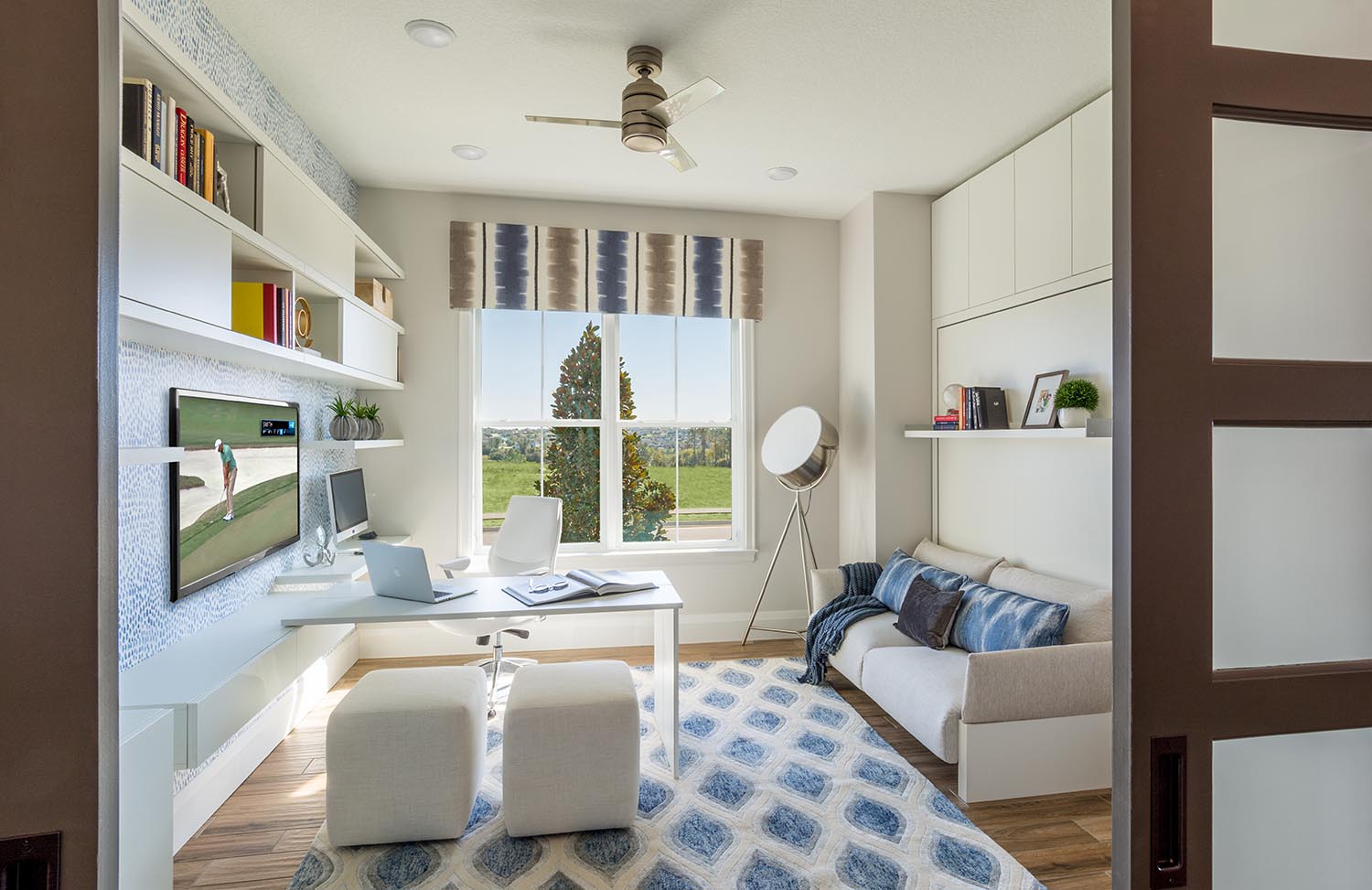 Occasional Spare Bedroom
The typical homeowner entertains overnight guests only a handful of times throughout the year. For those times, the flex room's wall bed easily converts the space into a spare bedroom. Pull down the bed and the room easily transforms into a guest room. Let's face it, a traditional foldout couch bed is not as comfortable as a real mattress. The benefit to this particular wall-bed is that it can accommodate a true queen-sized mattress, so there is no sacrifice on comfort or functionality.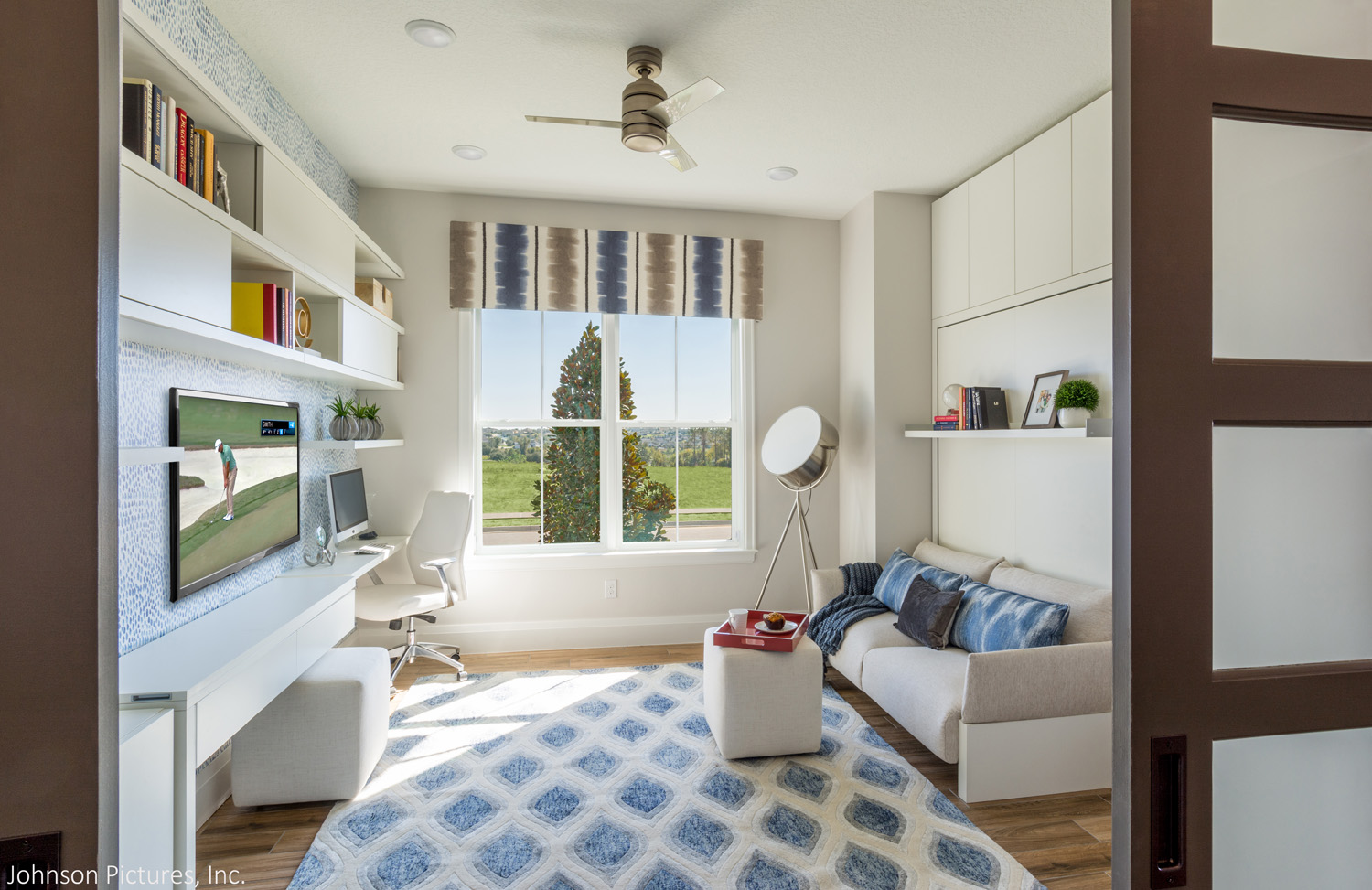 Flex rooms have been around for some time now, but advances in technology and design mean that it might be time to re-evaluate how you are selling the space. Let potential home buyers play around with it, and they will envision their own uses for the room. The beauty of the flex room is that we are capturing its benefits while allowing a home buyer the freedom to decide how the space works for them. Demonstrating this flexibility to the consumer will blow them away and alleviate concerns about a lack of accommodations.
Categorized in: 55+
This post was written by Housing Design Matters