August 06, 2021
Small Spaces, Big Impact
Let's face it, when it comes to home design, all the focus is on the kitchen, great room, and owner's bath. Of course, there's a reason these rooms get the most attention: These are the spaces that sell – magazine cover spaces.
But what about the small, overlooked spaces and features? The ones that make living in the home easier. Just because they are small doesn't mean they aren't important. In our office, we often consider adding and improving these spaces as the last 10% of the design – the refinement stage. In today's frantic market, it is often tempting to skip over that last 10% and move onto the next house. Chances are some buyers may not discover these shortcomings until it too late. Then they will blow up their builder's phone, text, email, and social media with their complaints.
So, what are these small but impactful spaces?
Powder bath
Laundry room
Garage entry
Linen and coat closets
Powder Bath
Including a powder bath is a programming decision. Once you've decided to include it, let's make the most of it. Too often, you'll find the smallest, cheapest pedestal sink, a recessed can light over that sink – to make you look as dreadful as possible in the undersized mirror – and a toilet. Hopefully not one you see from the front door or foyer! Oops.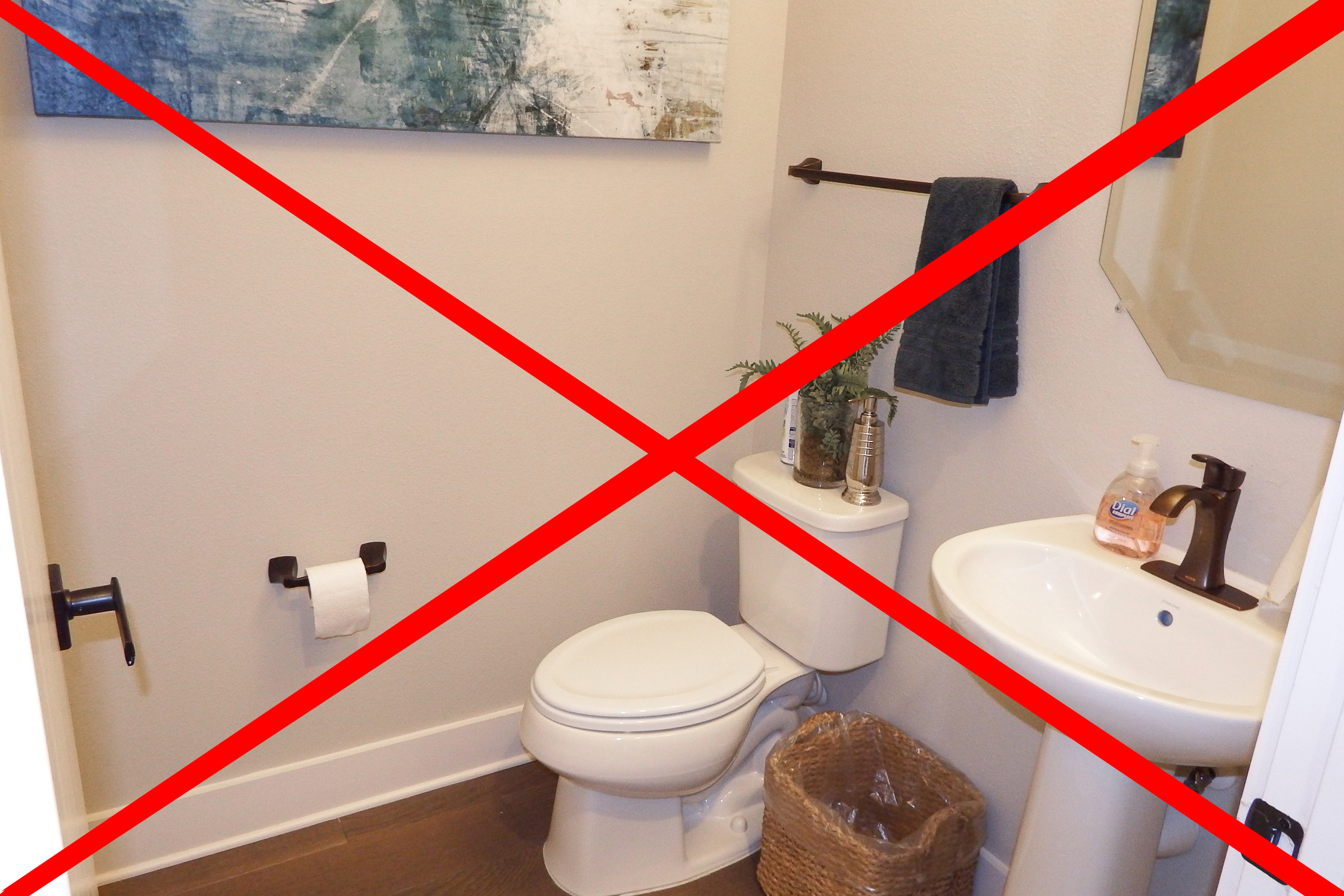 Now let's think about how to do this small space well. First, having a powder bath is a huge benefit. Ask any mom who has sent guests to her kids' bath in horror. The floor is covered with wet towels (at least the one's the kids didn't leave wet on their bed), there is tooth paste in the sink and on the counter and oops – NO TP!
The powder bath should be a small momentary, uncluttered respite. Unless your guest is Cruella de-Ville (or your mother-in-law), you want to make them feel welcome and at ease. Interior designers recognize this and relish the opportunity to make the most of this small space. It can be a statement room and one that may get remembered!
Laundry room
After the kitchen, the laundry room is the most used chore space. Just because doing laundry is a chore, doesn't mean the space should add to the misery. Honor those who slog through piles of dirty laundry by giving them adequate space to sort and folder clothes. If you can include a window – even better. Instead of that cheap fiberglass "tub", why not offer a large farmhouse sink? The take rate on that option may surprise you.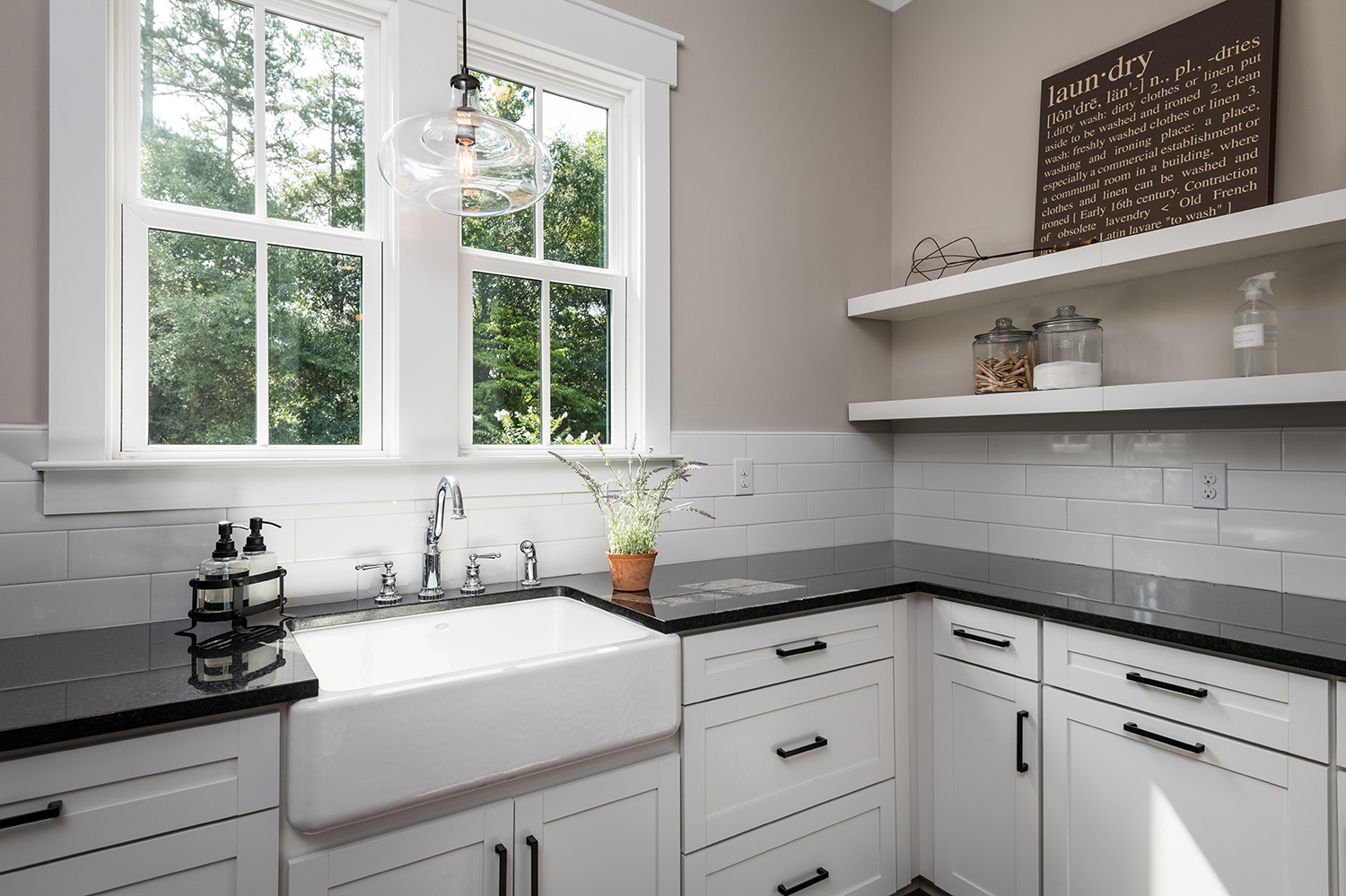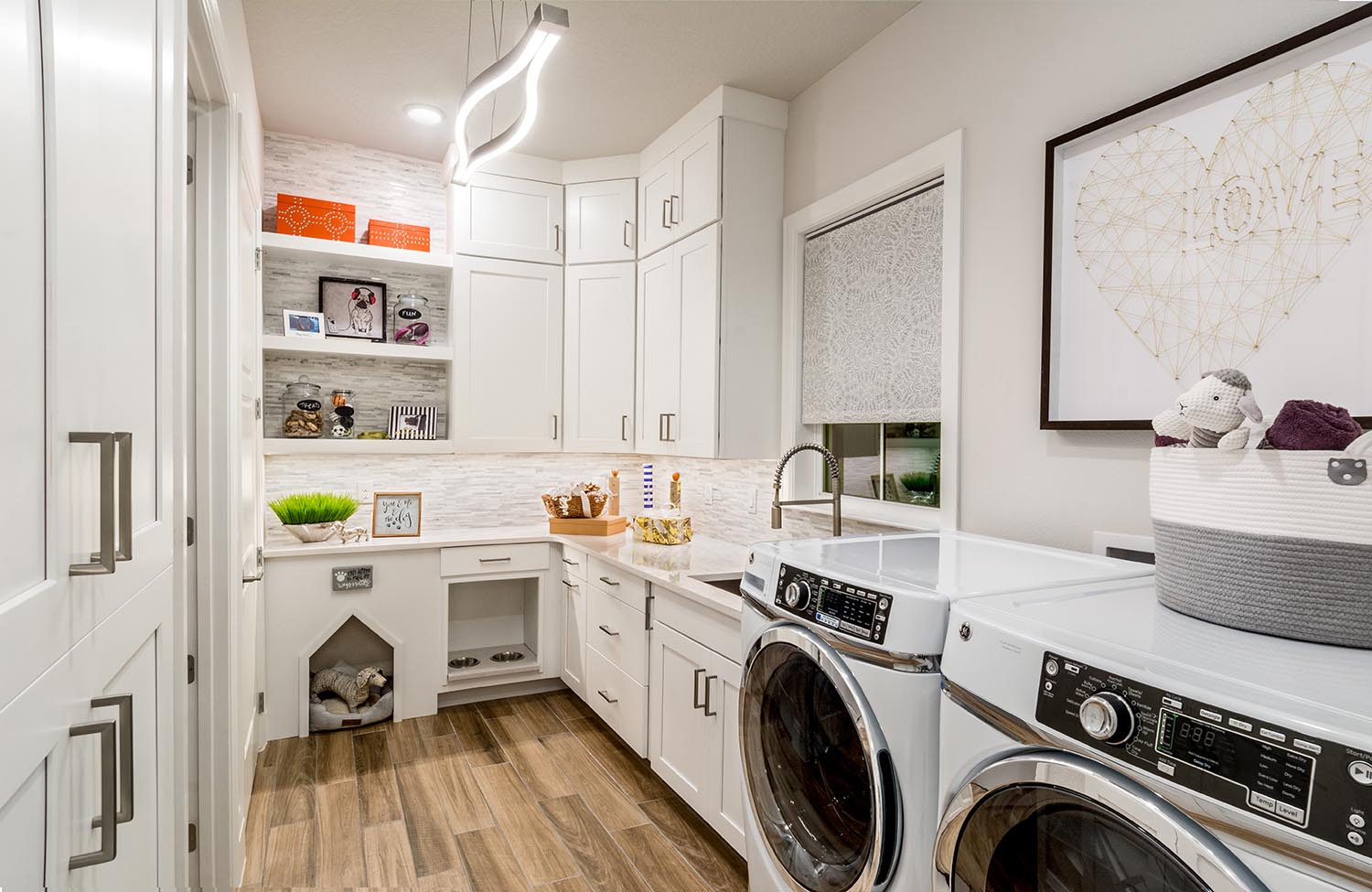 I am also a huge fan of wet hanging space – since I don't like to put my yoga pants in the dryer. A simple rod and shelf can make a huge difference in the usability for laundry geeks like me. Add a ceiling fan and you're golden. Lastly, don't forget to include more than enough storage for laundry supplies and other cleaning supplies as well.
Of course, where you locate the laundry room is key! Shouldn't it be close to where the clothes live? If you can connect the laundry room to the owner's closet, you have just cut the travel distance for dirty clothes to be washed and hung back in the closet. Now, let's talk about where NOT to put the laundry room.
The Garage Entry – Welcome Home Valet
Years ago, it was considered acceptable to enter the house from the garage through the laundry room. All the focus and attention were given to the formal foyer. But ask yourself: Are our guests more important than the home buyers who live in the house? Do our guests only come through the front door? If they were riding in the car with you, do you make them walk through the front door or walk in through the garage with you? Do you really want you and your guests walking through your chore space? What about the wet hanging? In addition to yoga pants, most woman do not put their bras in the dryer. Is that what you and your guest should see upon arriving home?
Coming home should be a special event – whether after a long day at work, fighting traffic or even a long business trip. Create a space that honors and celebrates coming home. It should be light, bright, and welcoming. If there are kids at home, consider adding a bench and place for shoes to be left. Have you ever seen the dirt kids track in from their shoes? Perhaps you can include a place for their backpacks and book bags. When my son was older, he could never find his key and wallet – until we created a designated space for him to drop those in our welcome home valet.
Linen and Coat Closets
A family friend (male) once bought a condo. The price had been reduced and it was on a lovely park. It wasn't until after he moved in that he discovered there were no linen closets. What a mess. He had extra towels stuffed under the bathroom sink. The sheets were on the top shelf in the bedroom closet and overflow stuff was everywhere. He quickly discovered why the price was reduced.
We like to include at least two linen closets per house – one either in the owner's bath or their closet. The other should be close to the secondary bedrooms. And if all the bedrooms are upstairs, consider one downstairs for tablecloths, dishtowels, beach towels, etc. If it is deep enough, it can even fit the vacuum cleaner.
As a Floridian, we like to brag that we don't need coat closets. Of course, that would mean we could never travel anywhere that's cold in the wintertime. We try to include two coat closets – one by the front door and one by the garage entry – especially for our northern clients. If you're ever in a pinch for space, you could include a combination coat and linen closet with shelves on top and hanging on the bottom.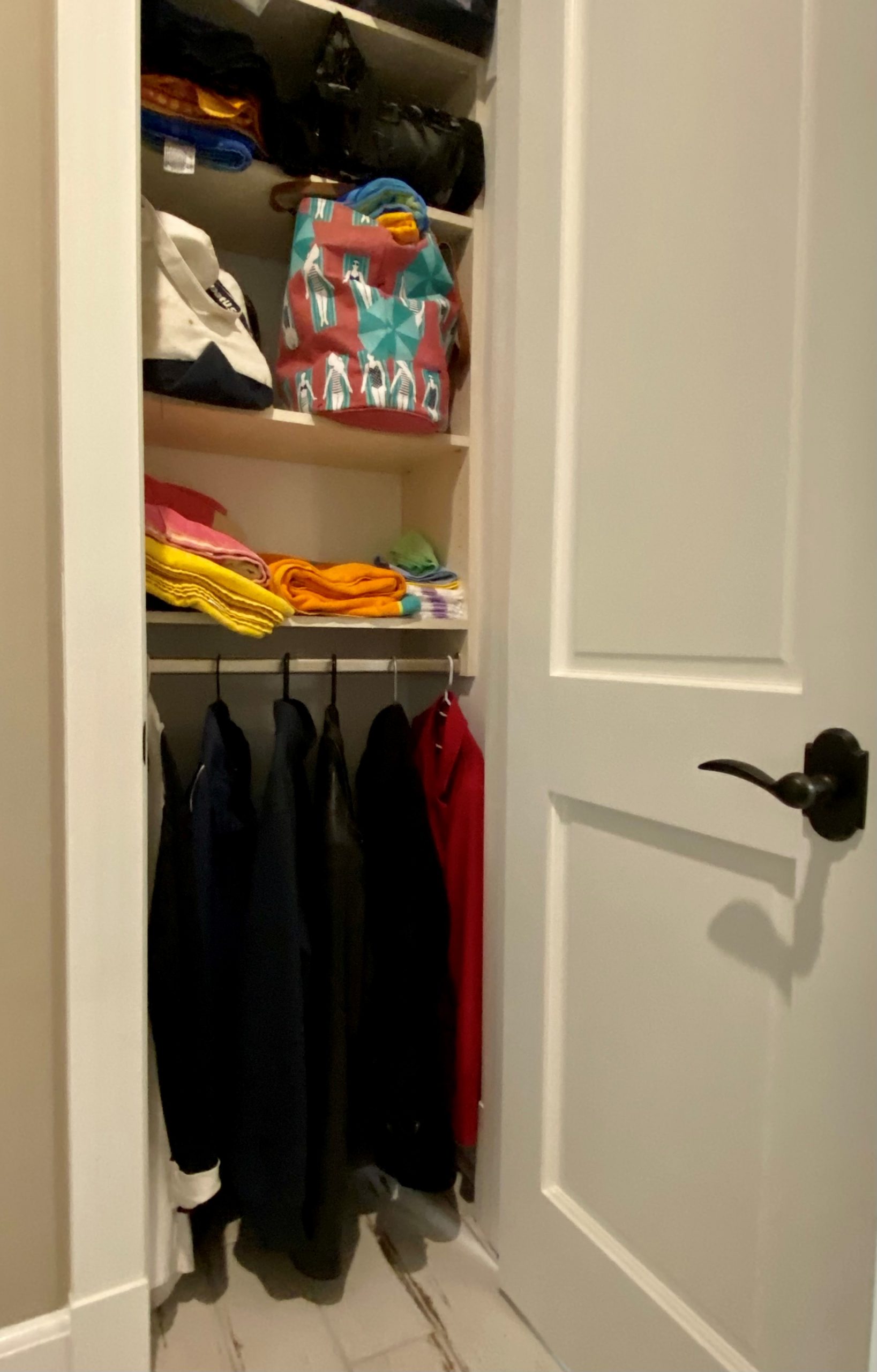 IBS 2022
Next year, at the International Builder Show in Orlando, this very subject has been selected as a speech topic. I don't yet know who the speakers will be but as you can guess, it will be filled with great details and images. And even though these small spaces make up only 10% of the design, without them the design will fail.
Categorized in: Uncategorized
This post was written by Housing Design Matters