What's the secret to a successful master-up plan? If you ask some builders in Texas, the "secret" has always been not to bother with them. I remember a similar attitude here in Jacksonville. If you asked any realtor, you couldn't sell a master-up plan. Why? This was Florida, the state where folks went to retire. Land was cheap, so naturally everyone wanted a master-down plan. That was the thinking, anyway.
Then, two out-of-town builders moved into a new family-oriented community and turned the Jacksonville real estate community upside down. Each builder employed a different but successful formula for selling master-up plans. As you might guess, they sold to families who lived and worked full-time here in town. Turns out, there's more to the Jacksonville housing market than retirees!
One builder focused on the value proposition. He was able to deliver the lowest cost per square foot this town had ever seen by fully stacking the first floor over the second floor, thus minimizing beams along with slab and roof costs. That was back in the nineties, but the formula still works today.
The other builder took a lifestyle approach. He won his buyers over with flashy blowout master suites complete with sitting rooms, closets to die for and lavish master baths. In short, he made it worth climbing the stairs to the second floor for a true master retreat.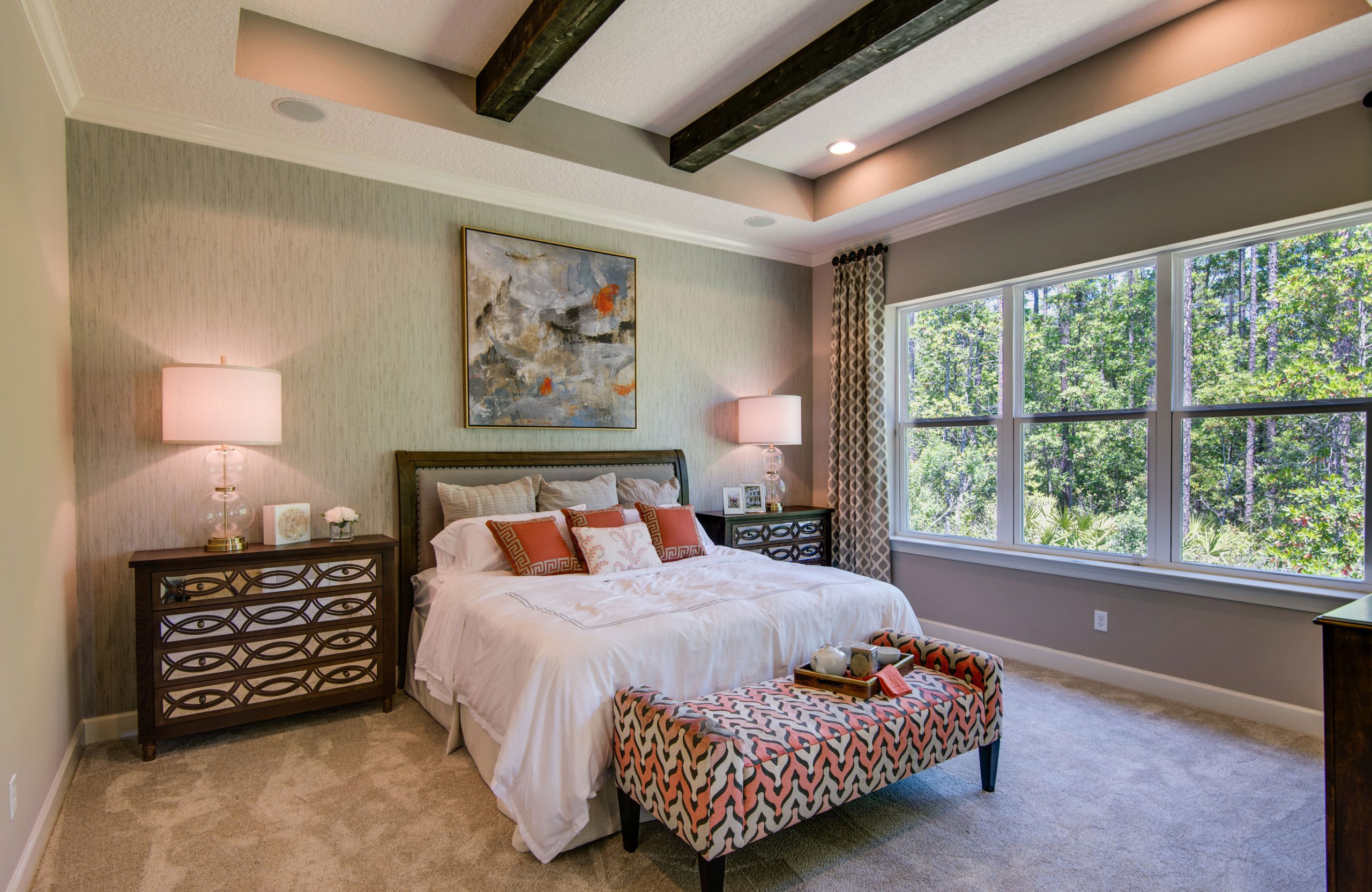 Let's consider master-ups in Texas. They like to do things big in Texas with lots of land and access to cheap labor. Fifteen years ago, large lots were king. Therefore, there was no need to put a master on the second floor. Fast forward to today and builders tell me the times are changing.
While they still have lots of land, it's now so far out that the time to commute to jobs is becoming an issue. Labor, development costs and regulation are all on the rise – even in Texas. To combat all the above, developers are delivering smaller lots. The lots have become so small that it is becoming increasing difficult to offer master-down plans. As architects, we've been tasked with "mission impossible": squeezing a master-down plan into minuscule footprint. Sure, we're able to deliver a master-down plan – but the rooms become so compromised that the plan simply won't work for every buyer.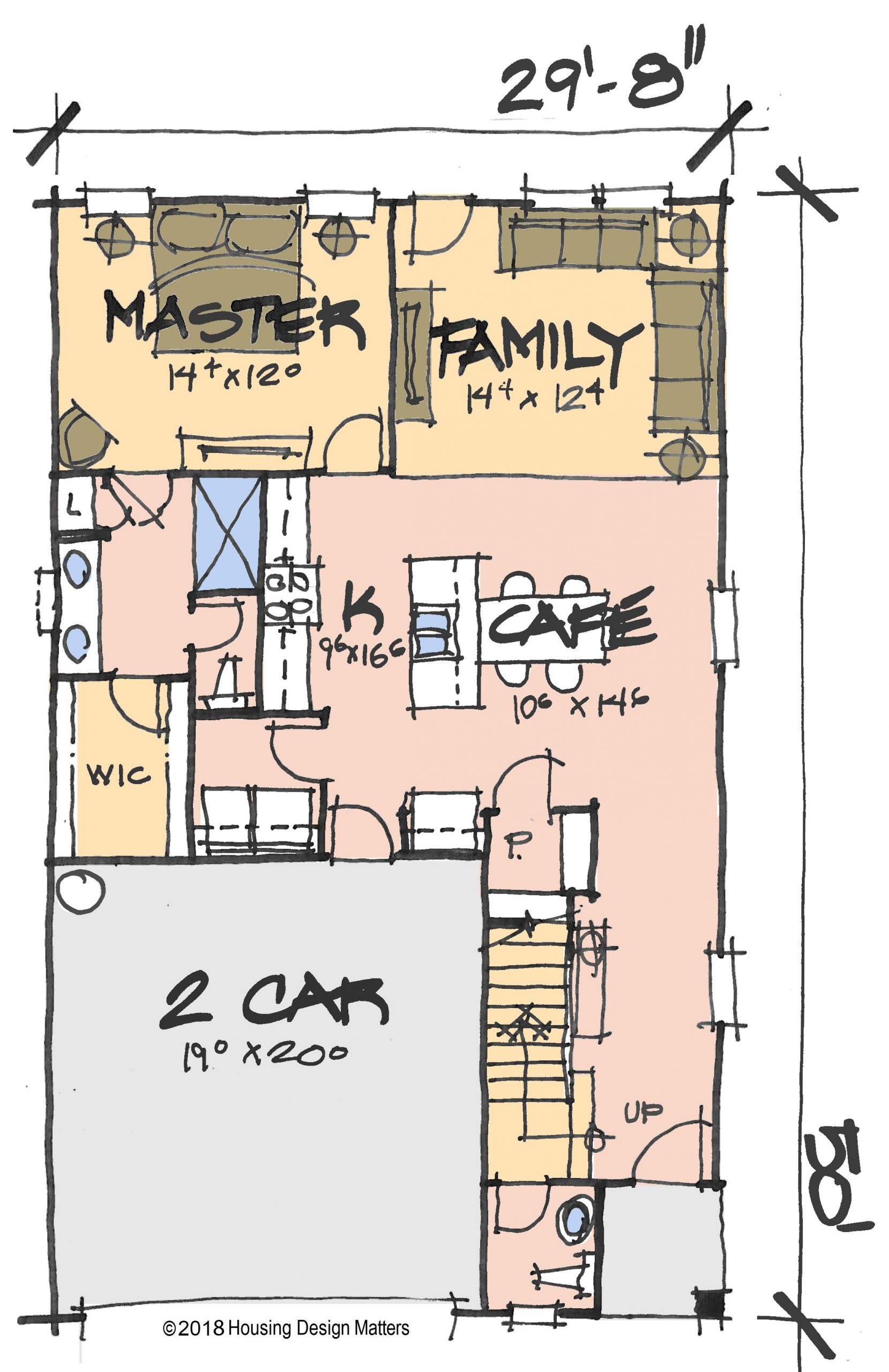 Forcing the master bedroom downstairs eats into the rest of the space. Imagine the possibilities for the first floor if we moved the master up? Or just have a look for yourself!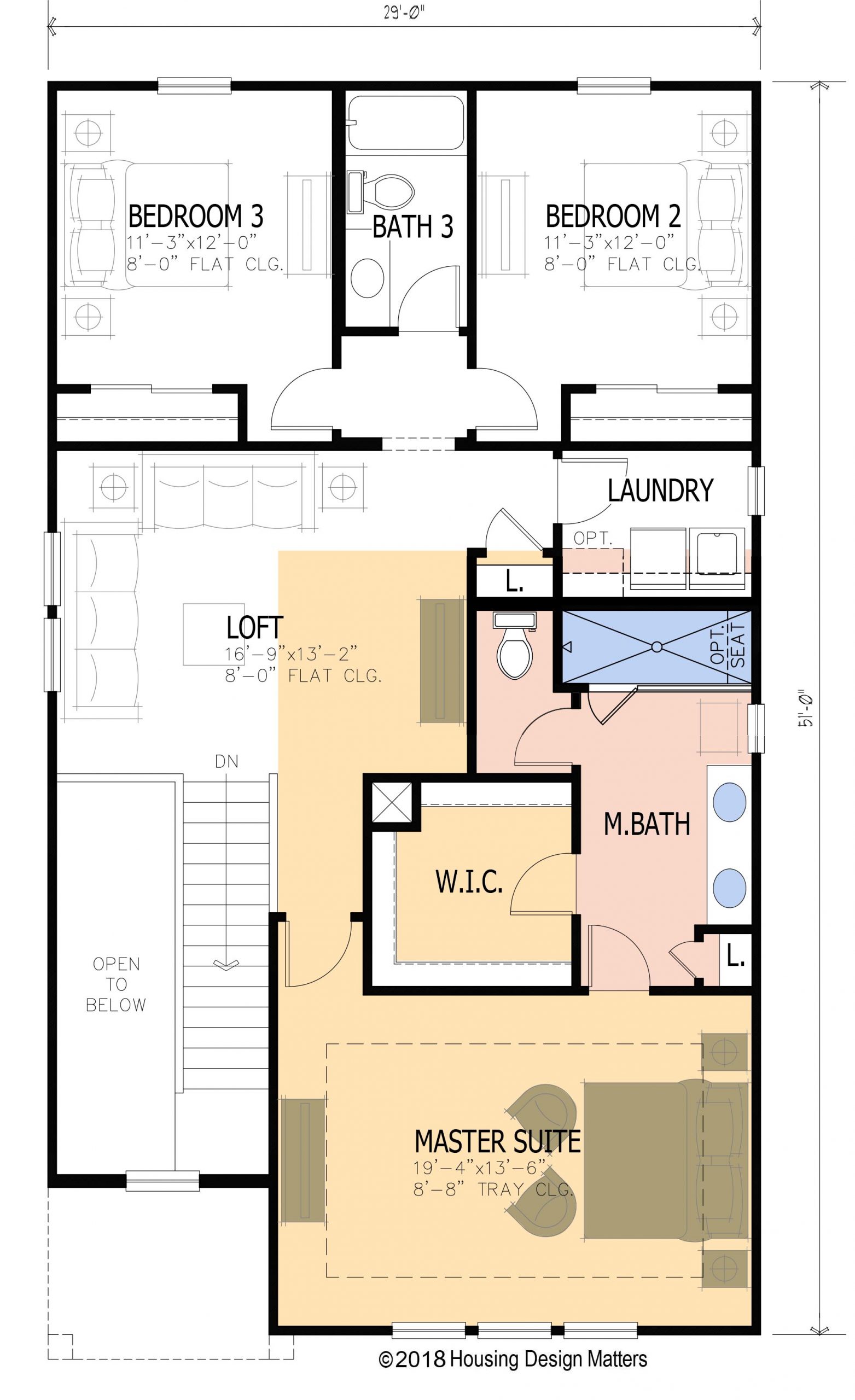 So what did we gain by moving the master bedroom upstairs? Despite the small footprint, this plan lives the entire width of the house! Not only that, but we were able to give the house a small outdoor living space! So when is a master-up plan the better option? There are three things that make a master-up plan acceptable: Buyer Profile, Value, and Wow-factor!
Buyer Profile
First time and young families want their children on the same floor. As a mother of three, I know that things happen at night that require parents coming to the rescue – either in kid's bedrooms or the master. Mom's simply don't want their nightmare-stricken babies too far away and no one wants to have to traverse the stairs before finding comfort. That's a powerful emotion!
Value
First time, family buyers are also looking for value. We all hear the stories how millennials today are struggling with debt. Just convincing them that buying is worthwhile can be a challenge. They are buying the houses on the smallest, least expensive lots. In these smaller lots, the only practical way to get parents and kids on the same floor is with a master-up plan.
Wow-Factor
Now that we've forced families onto smaller lots and acknowledged that parents want to be near their babies, let's reward them with a great master suite. Take advantage of the value of the second floor and give them a big bedroom and an awesome walk in closet. Make them say "Wow – I can live here! I can get used this level of luxury."
Keep in mind that moving the master suite up opens up another opportunity to create "Wow" on the first floor too. Let's let the first floor read larger than life from left to right read, living the full width of the building envelope. If you have room in your building pad, you may consider a guest room downstairs for the visiting grandparent which can double as a home office.
Don't restrict your business from capturing an entire demographic that will glaze over a cramped master-down house. To ensure success, I recommend balancing all three things. Building a master-up for an empty-nester obviously won't work – just as only delivering value or "Wow" factor. Buyers today want it all and they want it for less. Thankfully, good design makes this possible!
Categorized in: Design Solutions from a Working Mom's Point of View
This post was written by Housing Design Matters