The last blog in our recap of the Kitchen and Bath IBS presentation is for Move-Up and Luxury buyers. It can be tempting to say that the two are very similar. Indeed, modern technology has helped blur the lines between Move-Up and Luxury to some extent. But there are quite a few fundamental differences between the two. Let's explore.
Kitchens
Island Living
Just like in the previous two blogs, the Move-up and Luxury kitchens start with the island – just on a grander scale. Whether it's family or friends, everyone wants a seat at the island. Make the island conversational with seating not just in a line but with a seat across from each other. Consider a variety of shapes, sizes and designs.
It is not uncommon to see two islands in some luxury kitchens – one for prep work and one for seating. Just like the space between the island and cook-top counter, I recommend at least 4'6" of clearance between the two islands. If that cannot be accomplished, consider that your cue to stick to a single island.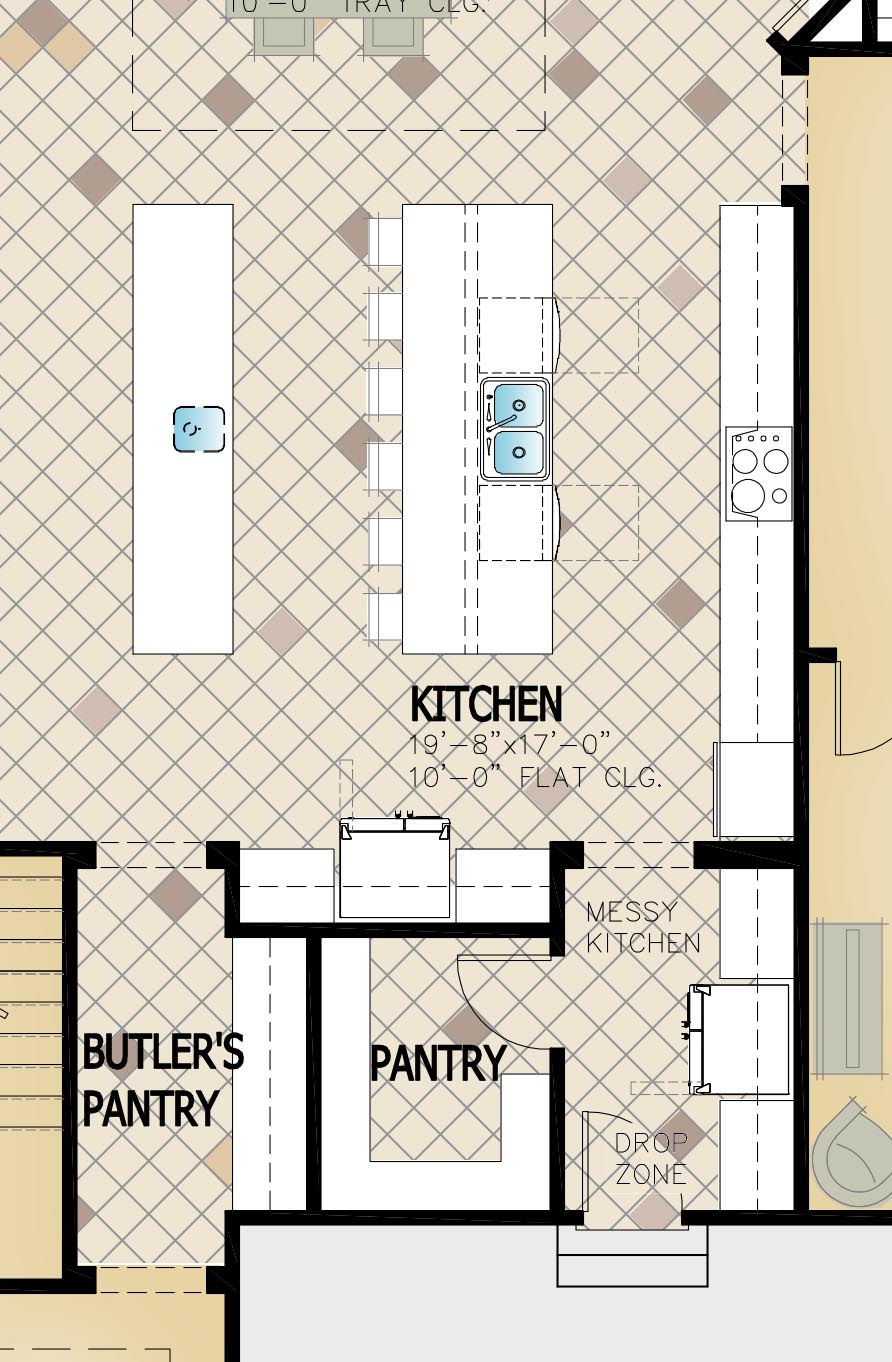 Appliances
Getting this right is critical for a move up or luxury kitchen. I'm often asked at what point a cook top and wall oven should be offered. Our rule of thumb is 2400 sq. ft. and over. Some like to take it a step further with a super-sized commercial stove – keep in mind that these not only takes up a lot of room but also require an commercial grade hood, so plan accordingly.
Next, let's talk refrigeration. Whether you're offering slide in or built-in, you should plan for two refrigerators; one for food and one for beverages:
Craft beer, light beer, soda (diet and regular), sparkling water, sports drinks, 3 different kinds of milk, various juices, white and sparkling wine, etc, etc, etc!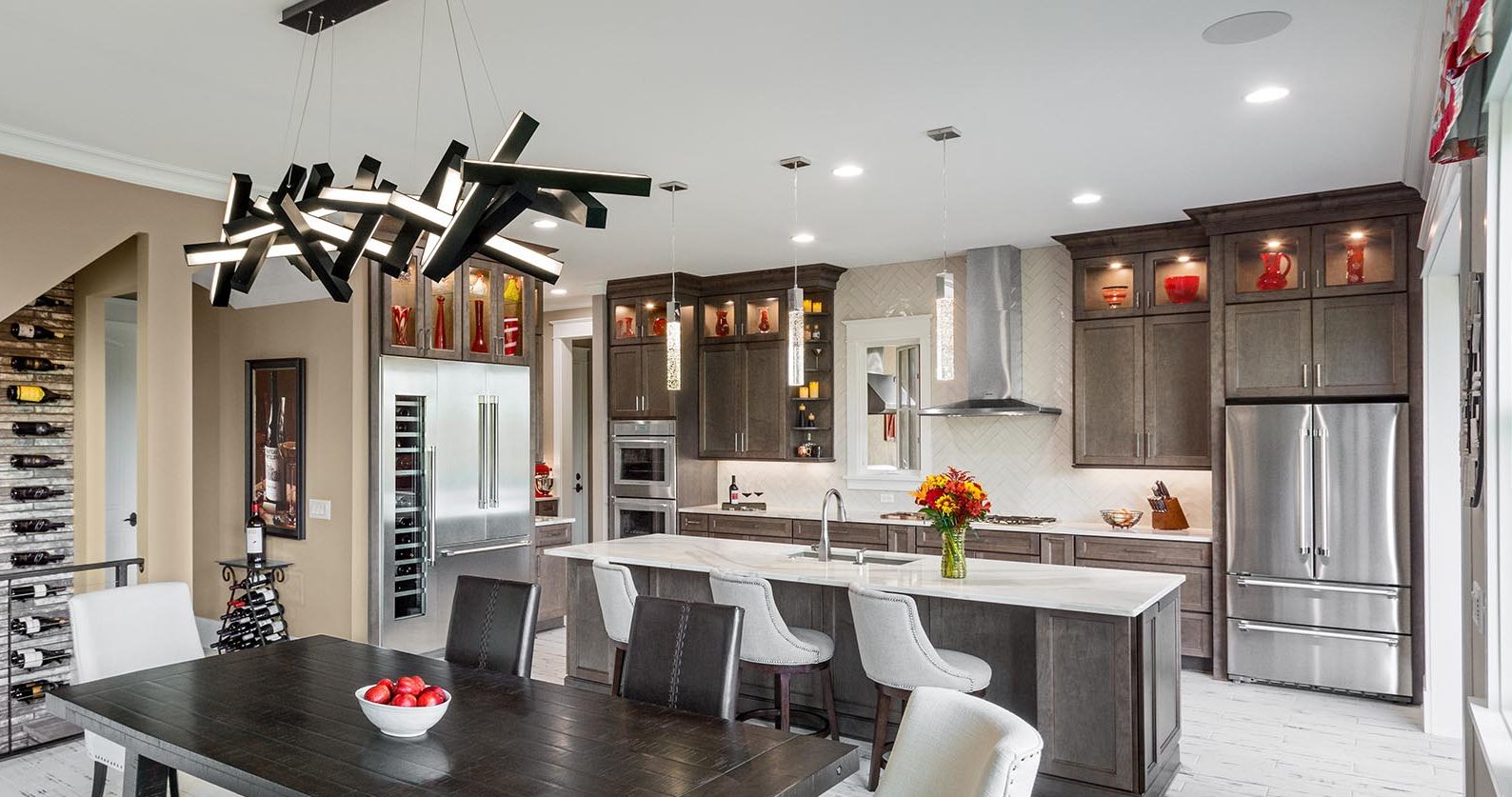 The beverage refrigerator can be in the pantry if it is oversized – but let's move beyond keeping it in the basement/garage!
Messy Kitchen
My next "must have" feature for move up and luxury kitchens is the Messy Kitchen. Ever since our kitchens have become entertaining spaces, we all need a place for the counter clutter like coffee makers, stand up mixers that are impractical to move, toasters, and blenders – whatever small kitchen gadgets that we use on a daily basis. The basic Messy Kitchen might simply consist of additional cabinets and countertop out of the view, or it could include a second sink, 2nd dishwasher or ice maker. If large enough – even the above-mentioned drink refrigerator.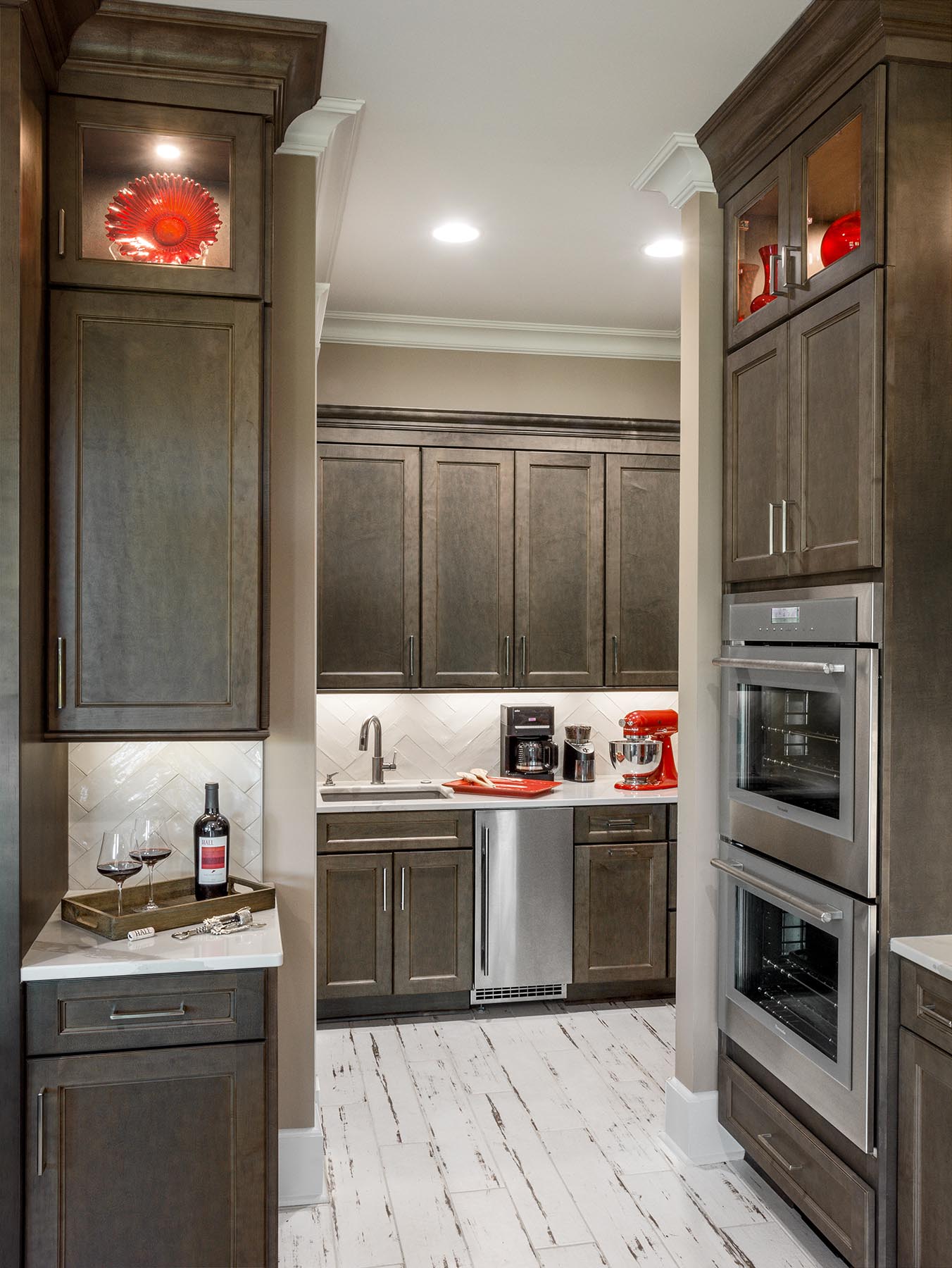 Wine
Ah – let's not forget the wine. It's not just about storing wine but also displaying it and celebrating it. Wine has quickly become the next status symbol – right next to the shiny BMW or Tesla in the driveway. In the luxury market, only your imagination (and budget) is the limit. Consider an under-counter wine cooler, wine display, a refrigerator wine column and complete wine tasting rooms!
Bathrooms
Add the tub
I often talk about the death of the tub in the master, but move-up buyers actually are looking for the bathtub – just not at the expense of the shower. Forget the drop-in or deck mounted tub and the excessive room it takes with its overly complicated tile surround. Free-standing tubs are the way to go! And they come in a variety of shapes, sizes and price points.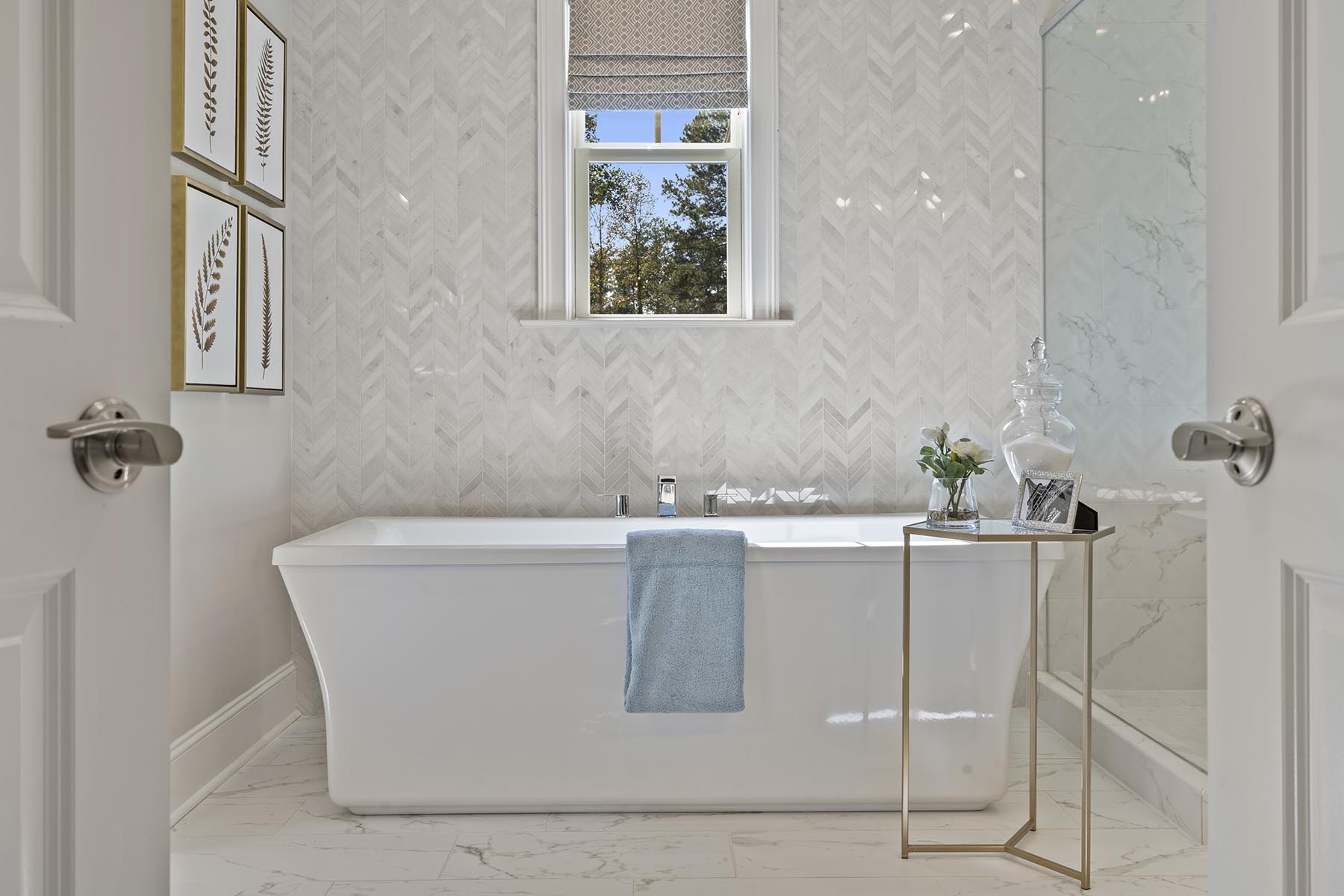 Showers
If there's one feature to go all out on in the bath, it's the shower. Go nuts. Add all the features can (and perhaps cannot) think of:
• Multiple shower heads
• Built-in seats
• Graded shower enclosures
• Endless hot water
A recent trend I've seen is to supersize the shower and add the freestanding tub inside the shower – I guess for folks who can't decide which one they want to use when? I'm personally not a fan, but there's little doubt that "Wet Rooms" are having their moment right now.
Connected Laundry
One of my favorite features is to connect the master bath or closets to the laundry room. Talk about convenience! If the laundry room is on the other side of the house – make room for a second stacking washer and dryer in the closet.
His and hers
Now is the time to start planning for his and her – everything. Its starts with his and her sinks – separate of course so there's no morning drama before coffee. The next logical separation is the closets. And in a luxury market, you may want to entertain his and her toilets. I have seen plans with his and her bathrooms, but I suggest you proceed with caution. Even in a large house, this takes a great deal of square footage and often results in a lack of drama in the bathroom.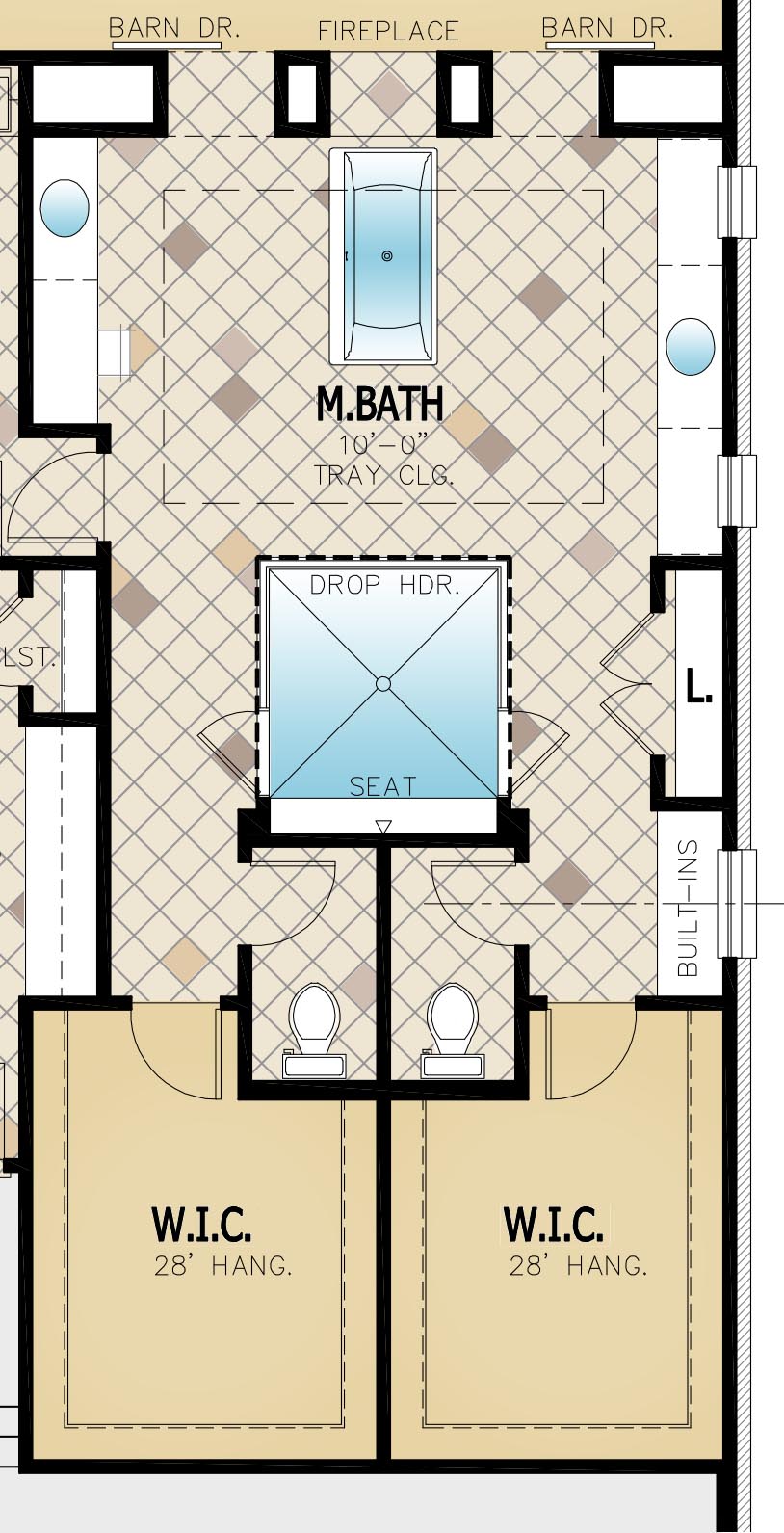 More than a sum of its parts
Speaking of drama, that really is one of the defining characteristics of a good master bath – especially in the Luxury segment. This room is an opportunity to really WOW the buyer. For me, it starts with a well-organized floor plan – not one with the fixtures randomly scattered throughout. Reinforce that drama of the floor plan with ceiling treatments and light fixtures.
Once you have a great floor plan for your kitchens and baths, you can start to add some of the amazing finishes and colors in the market today. As the photos from Marc-Michaels Interior Design demonstrate, this is one area where Luxury really starts to differentiate itself. The choices are endless.
Move-Up and Luxury have quite a bit in common, but perhaps Kevin, our Marketing Strategist, can sum up the difference by looking at the cars that these two might drive. On paper, a nice Ford Explorer offers many of the features that a Range Rover does (including massaging seats!). However, even someone who isn't into cars (me) knows that the two cater to vastly different buyers!
When is the last time you walked into a house that took your breath away? Was it the design? The floor plan? The features? Everything? You know I love pictures!
Categorized in: IBS 2020
This post was written by Housing Design Matters