This week's blog is a little different than the norm, I figured I would keep it lighter given that many are taking some of the week off for Independence Day.
"Improvise. Adapt. Overcome." This is a Marine core motto that I learned from my son. I have found myself reciting it a lot "in these uncertain times" (sorry). It has served me well by keeping me focused on solutions and not dwelling on the problem.
Over the past two months, we have all faced tremendous adversity both in our business and in our personal lives: loss of wages, loss of sales, homes schooling, overcrowded households. And yet, I still find countless examples of creative, motivated people improvising, adapting, and overcoming these obstacles. So many great stories to tell. But I wanted to highlight a few of the more creative and upbeat ones.
By all means, send me your favorite examples! I'd especially love to hear if you and your business figured out creative ways to adapt!
Not-so-ordinary masks
Masks became mandated for many businesses, but there was a time when none were available. So companies that otherwise weren't in the mask industry answered the call. Some have used this as an opportunity to market their brand, others to show off their creativity. And some – well you can't fault them for lack of preparation.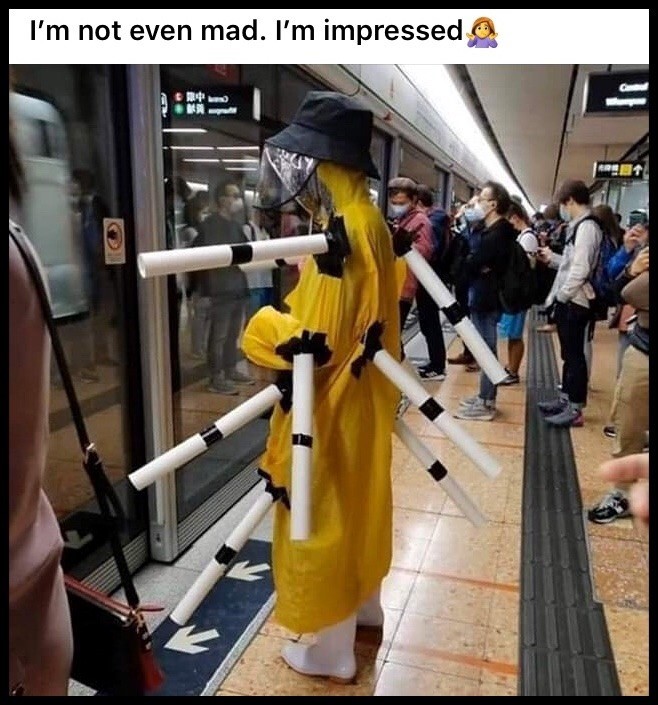 Six feet apart
By now, we have all seen the masking tape lines on the floor urging us to stand six feet apart. It can feel a bit dreary, so incorporating some humor into the experience goes a long way.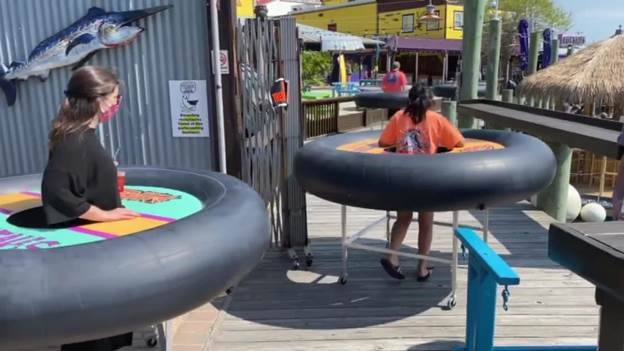 Fifty percent seating
I don't know about you, but after months of abusing my kitchen, I was craving a nice meal out. As soon as we were able, we started frequenting our favorite restaurants again. And just like the grocery store, one burger joint had painter's tape placed across half the tables creating a big red X. Not very friendly if you ask me.
Happily, there are creative people in this world who took this as an opportunity. Seasons 52 (our go-to) placed a wine bottle and two glasses on the tables to remain empty. Simple, elegant, and effective! Another restaurant named Harry's had reserved signs on the tables to remain empty – "Reserved for Harry Potter/Harry Belafonte/ Harry Truman …" You get the idea.
But my favorite was a place called The Inn at Little Washington in Washington, VA. They didn't like the look of a half empty restaurant, so they filled their blocked off tables with dapper 1940s-themed mannequins. Notice that the scene depicts a marriage proposal – what a way to elevate the atmosphere!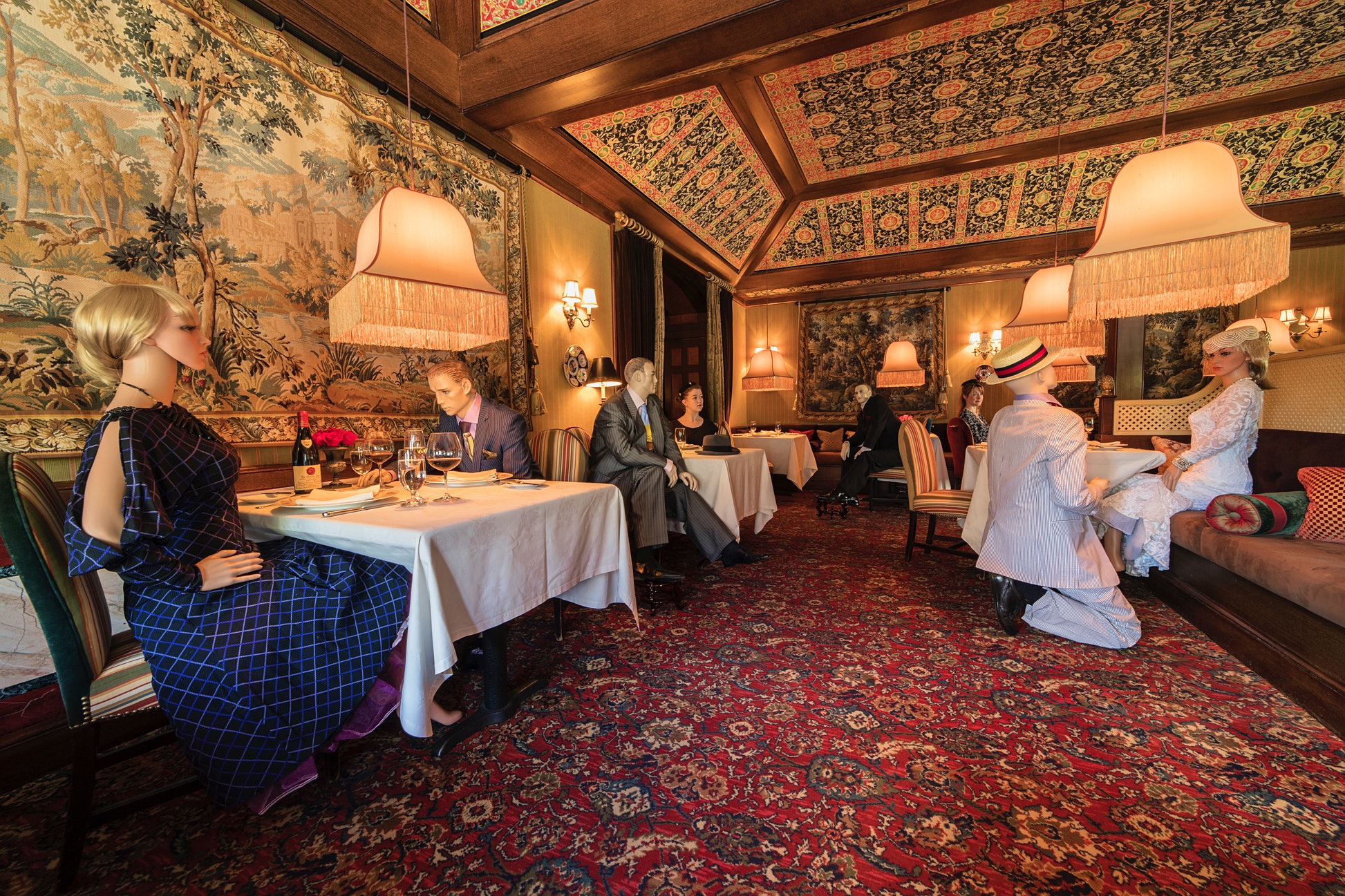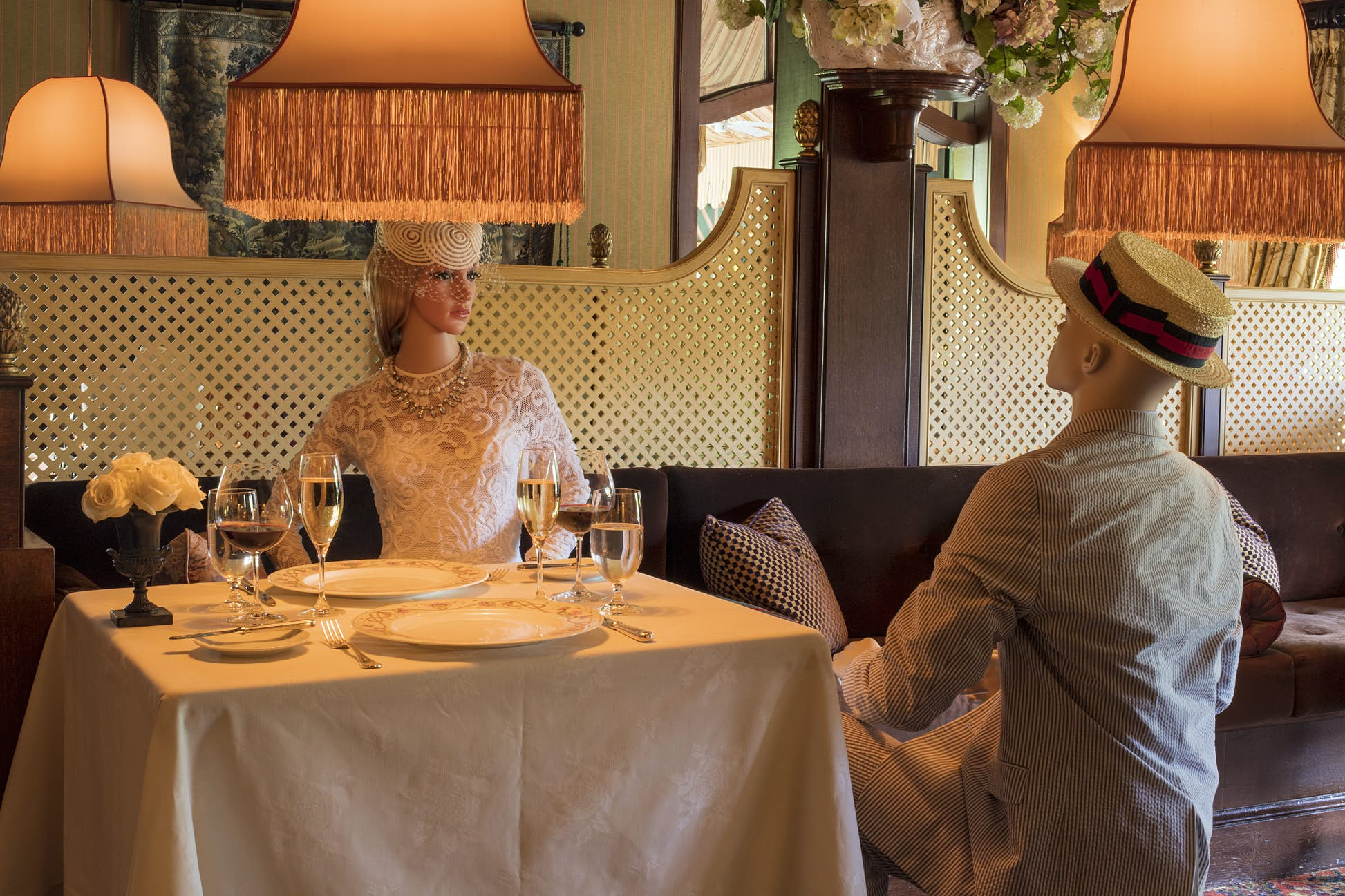 Selling Houses Sight Unseen
Our own industry had to quickly improvise, adapt, and overcome – as did the home-buyers themselves. Can you believe someone would make the most important purchase of their lives without setting foot inside? I have heard numerous stories of this very thing happening. Most were spec homes already built but others were not. This is where an awesome website and sales team is a must. I've even heard stories of new home sales consultants doing a video walk through or Facetime walk-through for those cooped up buyers who weren't able to come out.
Unaccompanied Buyers
Almost unheard of three months ago, but with the advent of remote locking and unlocking front doors, buyers are walking through models without the sales consultant even being there. Of course, there was a limit on how many self-guided tours were possible during the day so models could be cleaned between buyers, but technology has opened doors that weren't possible a decade ago.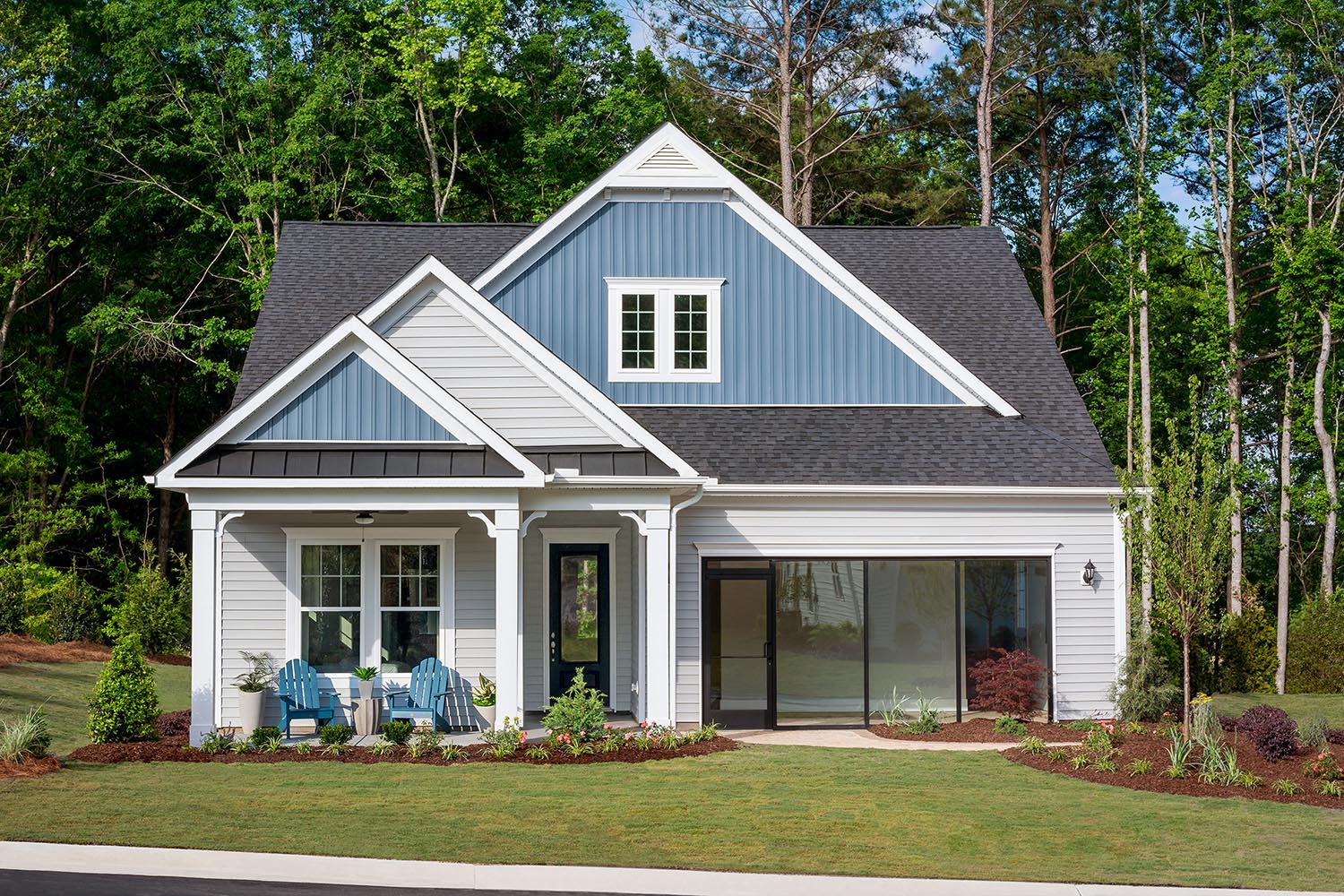 General Real Estate
It's one thing to let strangers walk through a model, but what if you were trying to sell your personal home? Would you really let strangers walk through your personal home? A realtor friend of mine has adapted to this one as well. She tells the seller to open all the doors in their home including closets, have the lights turned on, and the window coverings pulled back (no contact showings). Then the agent takes the masked buyers through the house, armed with Lysol wipes so that if they do happen touch anything, she can quickly disinfect the violated surface. Suddenly the "showing" is less scary.
I would love to hear your stories of Improvising, Adapting and Overcoming your own adversity. We could all use a bit of inspiration!  mail me at dpatterson@housingdesignmatters.com
Categorized in: Housing in the Pandemic
This post was written by Housing Design Matters