The garage door color is a topic I get asked about frequently. The honest answer is… it depends. Sorry, there is no one word answer to the perplexing questions!
The color of the garage door depends upon the style of the home, the design of the home, the placement of the garage(s) and the overall color palette.
The Style of the Home
If the style of your home is rustic, then I like to see a wood toned garage door. This method works great for a Tuscan or Mountain Rustic style. However, if your home is Low Country or Farmhouse, I prefer to diminish the garage doors and go with a lighter, less obtrusive color. By-and-large, you shouldn't be relying on the garage door to make your house look interesting.
The Design of the Home
I subscribe to the design philosophy of "house-forward, garage-back" in terms of the relationship between the garage and the overall design of the home. This is especially critical for houses with three car, front loaded garages. If the home has a snout garage (garage protruding ahead of the main body), then the color should absolutely be recessive to bring the focus to the front of the home that is 20' or more behind the garage. The best solution is to avoid a snout garage to begin with.
The Color Palette
Looking at the overall color palette is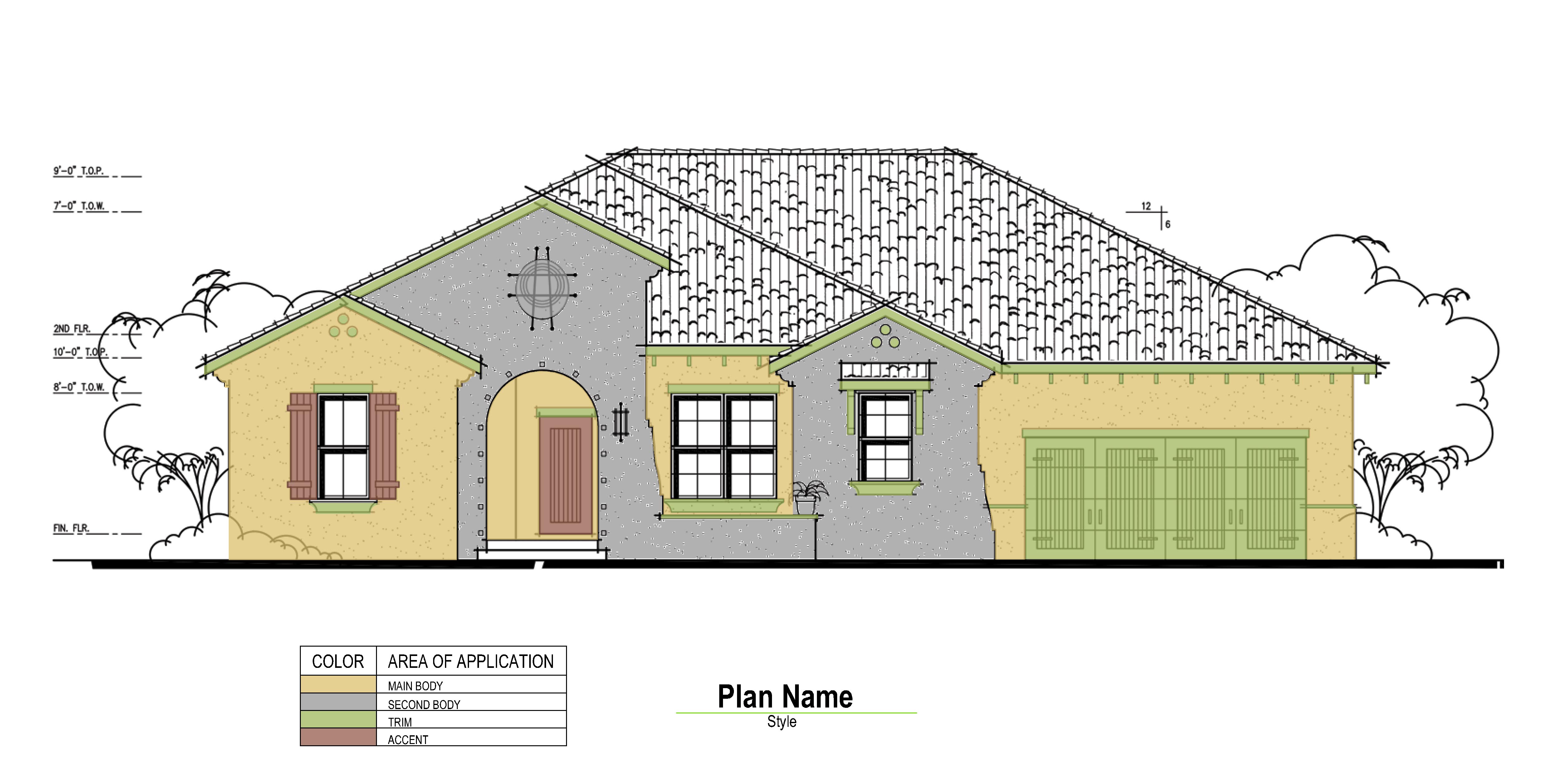 important in deciding how to color the garage door. I like to think in terms of main body color, second body color, trim and accent colors. It is my opinion that the garage door should never be the accent color. The goal of an accent color is to call attention to something – like the front door or the shutters. Therefore, it is not necessary to match the front door and garage door colors. If you're using a light trim color, then this is a great color for the garage doors. Not so much if you're using a dark trim. You could also paint the garage doors the main body color – making the garage door look more like the house and less like garages.
DO NOT, however, use the second body color for the garage doors. This color is used for emphasizing to the center and entry area of the home.
There's no set answer for what color your garage door should be painted, as it is a case-by-case decision. However, there are wrong ways to go about it! Take some time to look at your color palette and decide which strategy works best for your home.
Categorized in: Exterior Colors, Exterior Styles
This post was written by Housing Design Matters