As we discussed last week, this is not a new phrase or phenomena. And with increased cost in land, materials, and labor, it is only getting worse. We covered the density trick as a way of spreading out the higher cost of land. Then we covered what I believe is the builder's biggest dilemma: ceiling heights.
Today I would like to continue the conversation about cost balancing. Simply put – adding what buyers want and trying to eliminate things that they don't want.
Casual Lifestyle Living
Today's buyers want casual lifestyle living. This means eliminating the formal rooms. They also want a very interactive kitchen. One suggestion to save on square footage and deliver a rock star kitchen is to combine the kitchen and café into one space. Consider a large kitchen island with seating on three sides. Super impactful and saves a ton of space.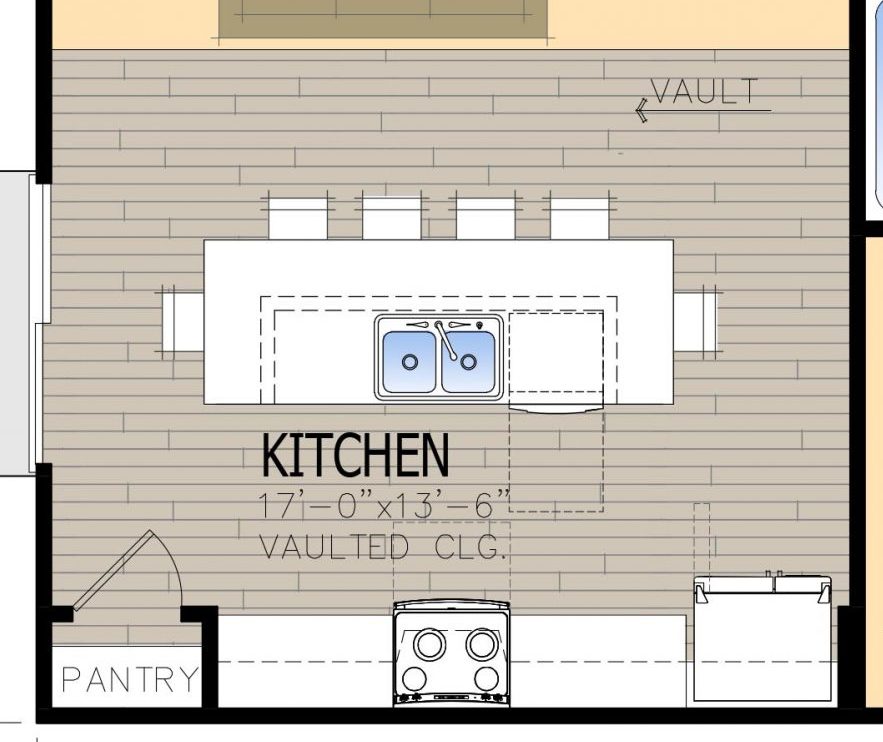 Of course, you could also go with a standard island and slide the café table up to the island as an alternative.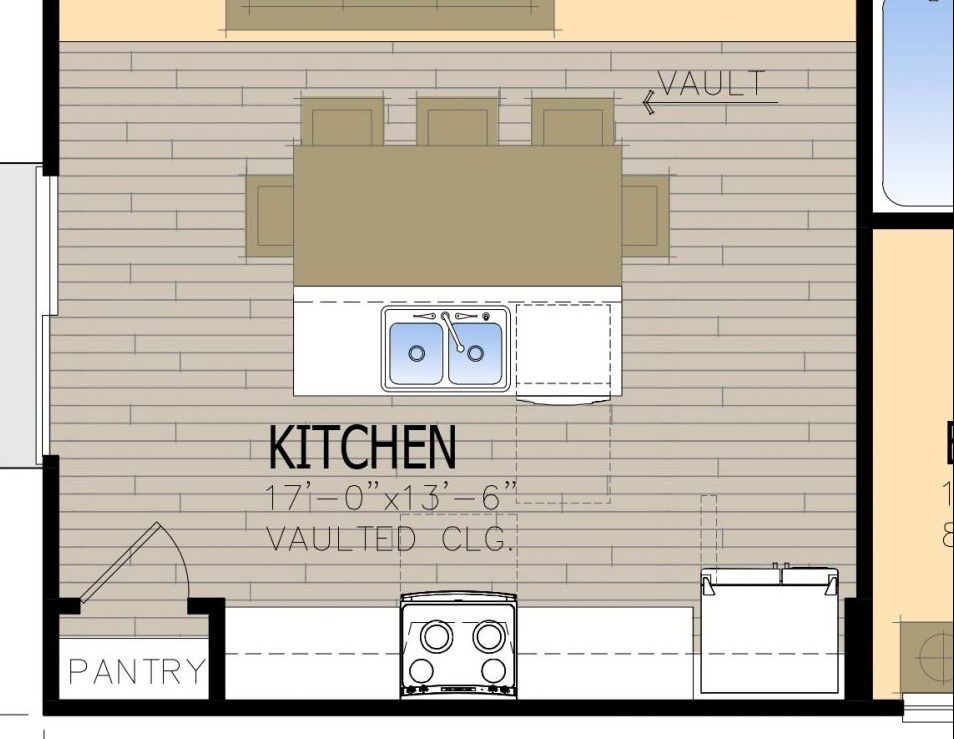 If you're still squeezed for space and dollars, there's nothing wrong with turning your island into a peninsula. This saves money since there's no conduit in the slab for electrical and a less expensive vent for the sink. Keep the counter height at one level and don't be tempted to put the sink on the outside wall. Not only is it less interactive, you also lose precious upper cabinets.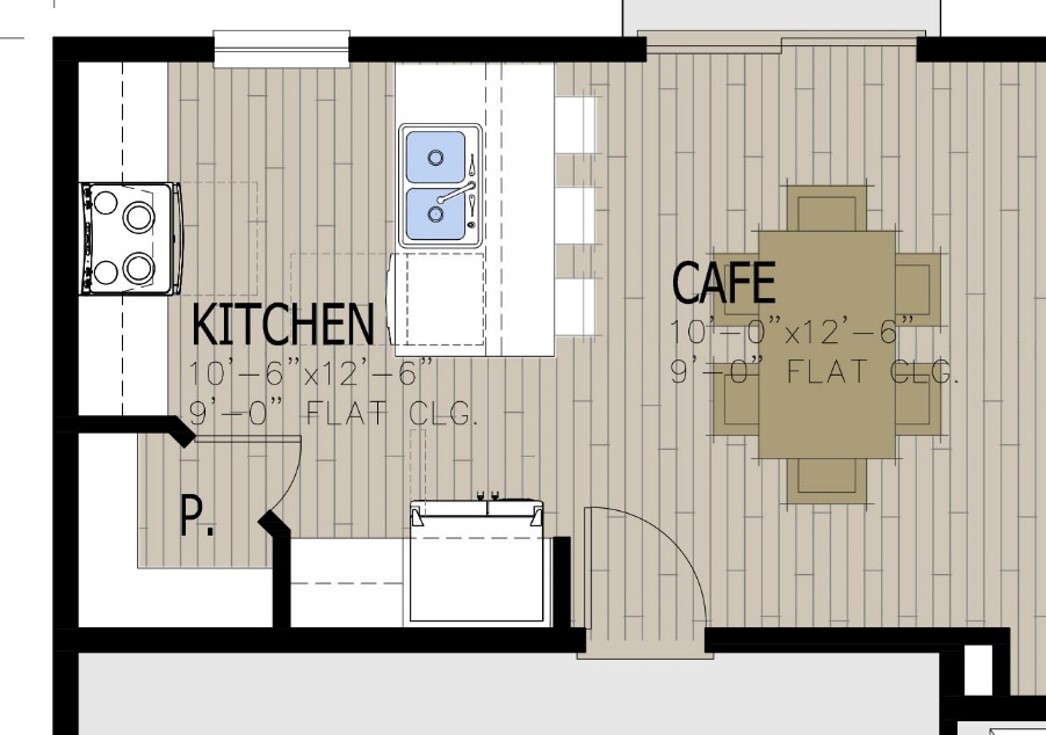 Shower Power
When designing the primary bath, your dollars need to be directed towards the shower! It can be impactful without breaking the bank. Start with a shower pan, add large scale tile on the walls, carve out a shampoo niche, add a seat and a frameless shower enclosure, and you have a whole lot of shower for the money. Two sinks are a must, but so is a private toilet room – because no one looks good sitting on the toilet.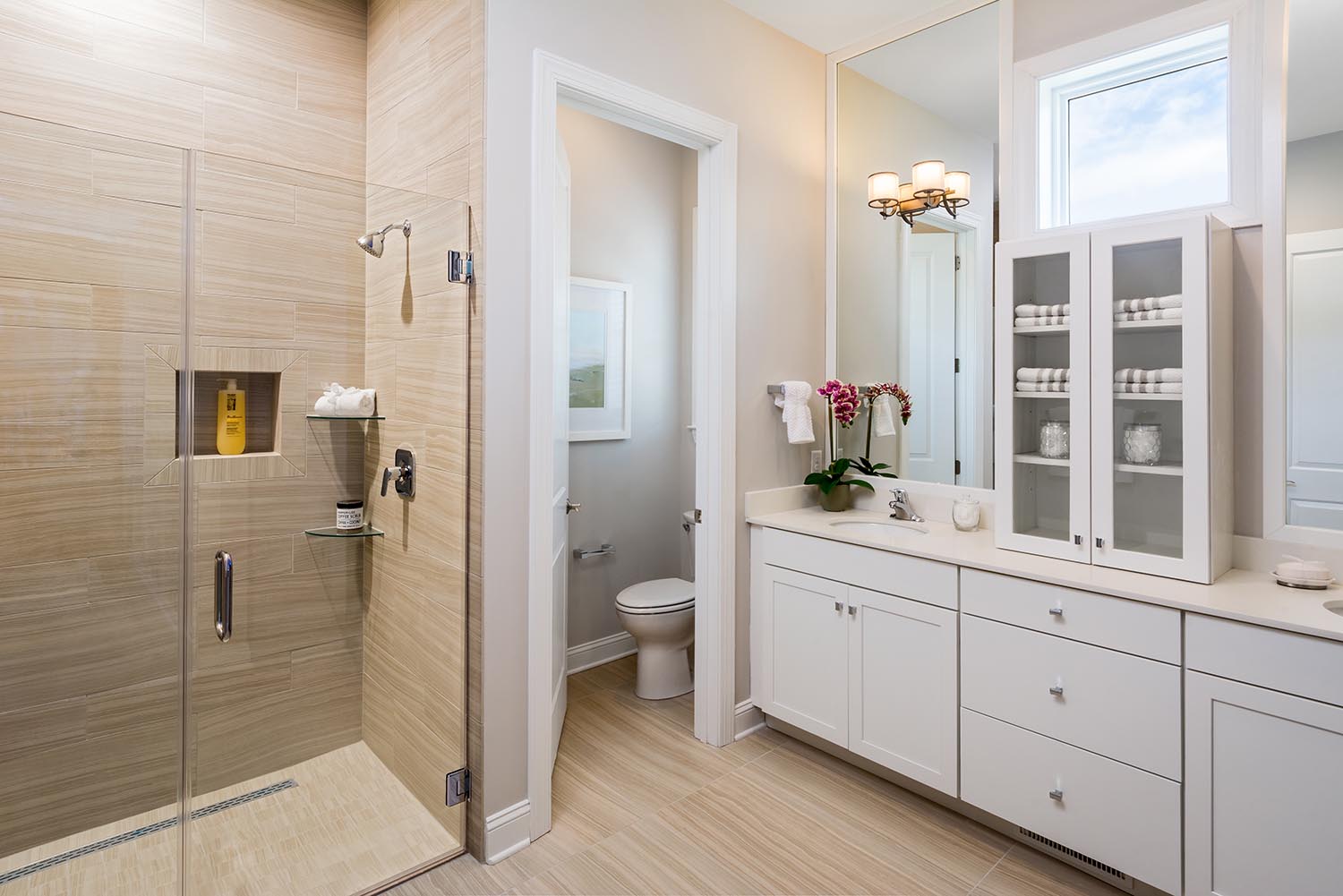 Flexibility
Now more than ever in our work from home lifestyle, buyers need flexibility. It's time to think beyond just the number of bedrooms. Give them a flex room and let them decide what use works best for their current lifestyle. Done right, a great flex room will adapt as homeowners' lives and needs evolve.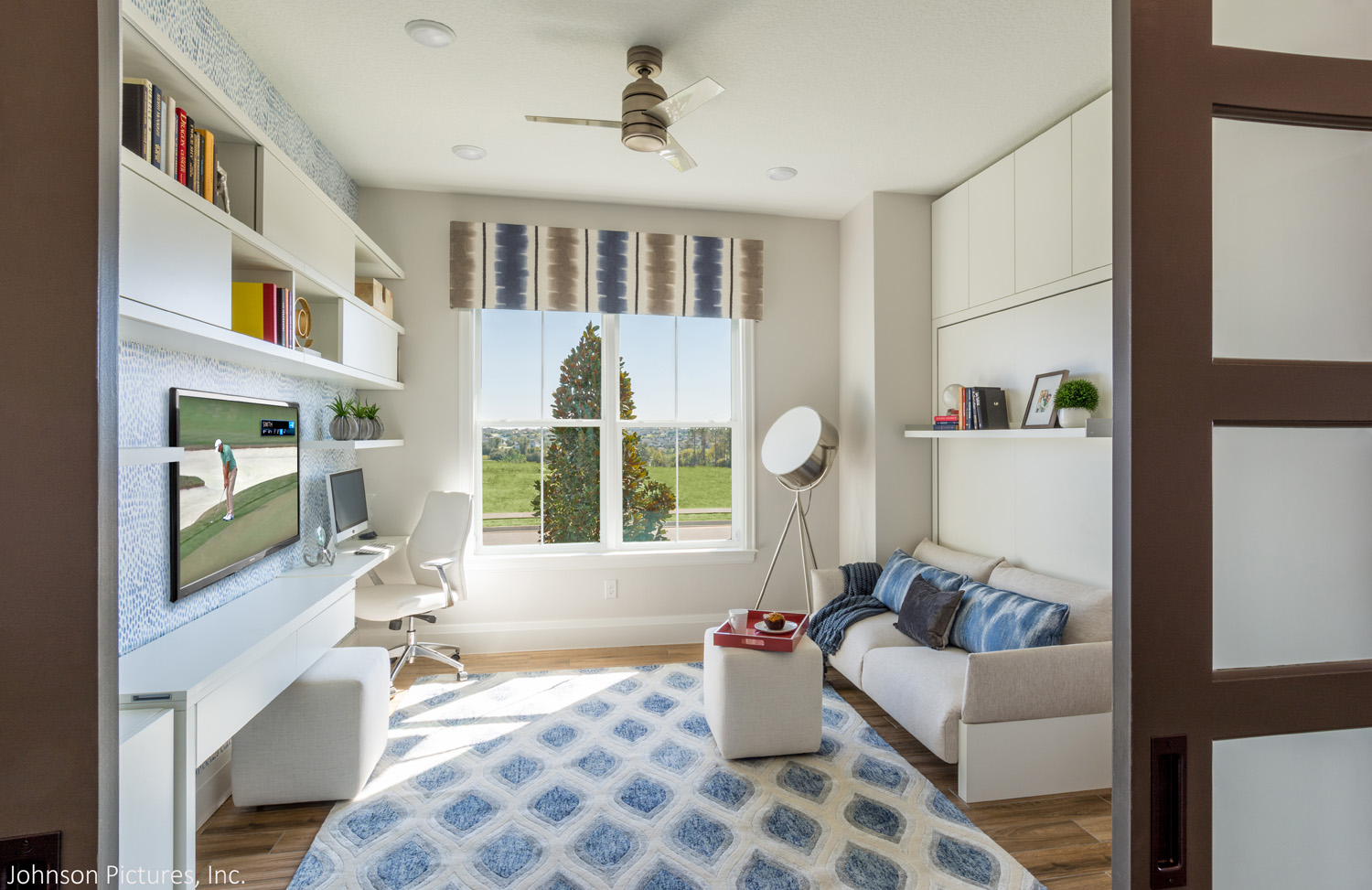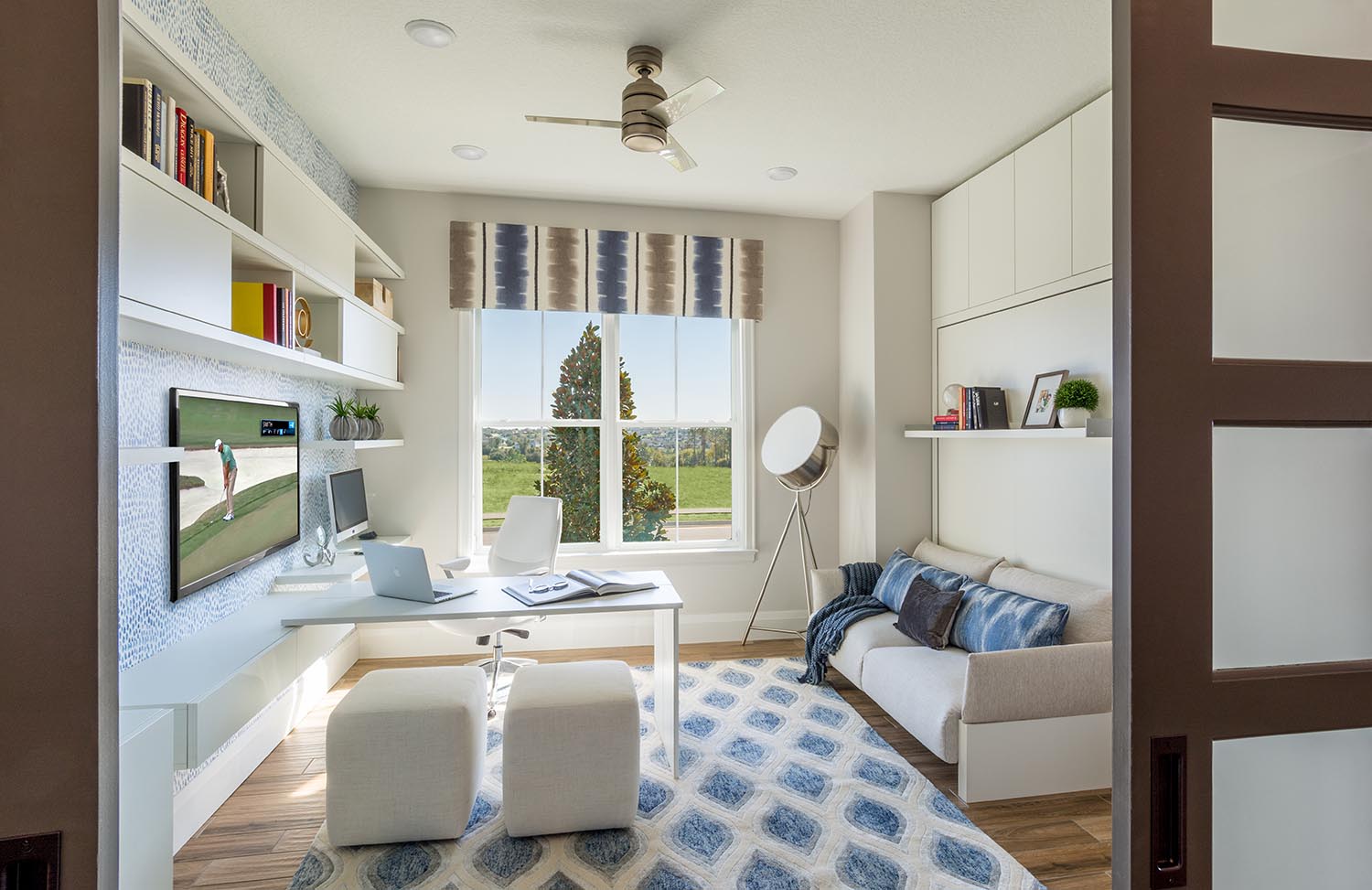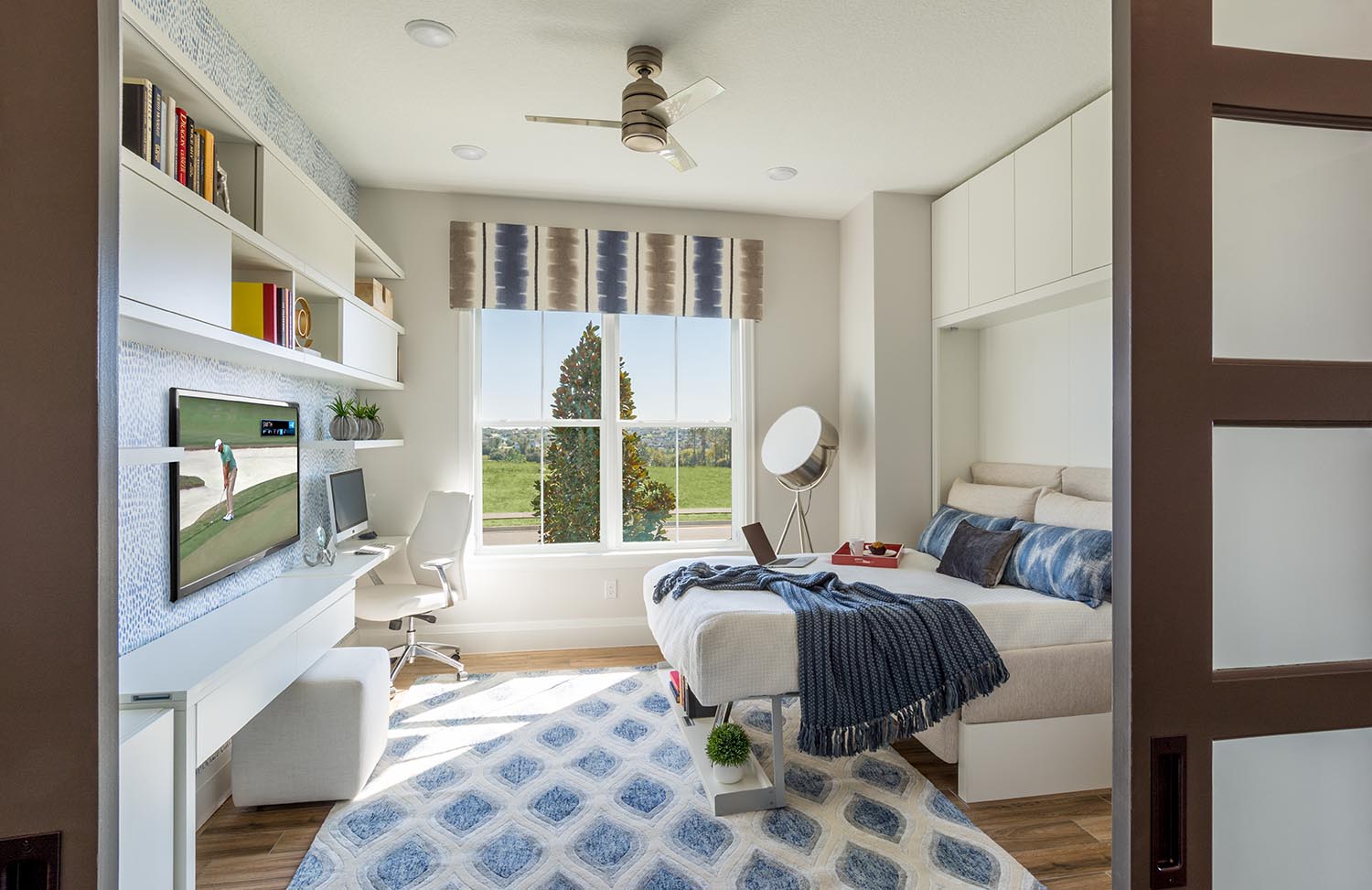 Outdoor living
No doubt, this is not the first time you've heard about the importance of outdoor living. But in a cost-constrained market, this might be the first thing to eliminate. An alternative is to make it a buyer's option that they can select now or add on later, so long as you carve out enough space on the lot from the beginning. Demonstrate both covered and uncovered space and creative ways to use all of their lot.
Avoid Excessive Circulation
Buyers don't want to pay for hallways. Want a quick way to find out if you have too much? Use a highlighter to evaluate how much circulation is in your plans. You might be surprised. There are a couple techniques to reduce circulation:
Focus on circulation through rooms like the great room. But try to avoid floating your furniture in the great room. Instead, nestle the couches into a corner to maximize the space in the room.
Strategic stair placement can cut down on circulation. Make sure the arrive to the middle of the second floor.
Cost Effective Construction
Buyers don't want "snout" garages because they are ugly, and they use up precious backyard space. They are more expensive to build as you end up with more exterior wall with a garage that sits 20' forward of the house.
Speaking of garages, avoid beams that need to hold up the second floor and span the entire width of the garage. Instead, stack the second floor on the garage walls. I know this sounds scary to some, but not if you avoid that snout garage. Better design for less money! We'll go into this further next week.
Windows are not only expensive but in our supply chain strained world, they are more precious than ever. Minimizing your window skews is a great way to save money and save on delivery trauma. See if you can do your entire house in just two or three window types. Also, avoid using tempered glass. Use high glass in bathroom and stairwells and keep window at least two feet away from doors.
As we look for ways to reduce costs, we need to be careful as not to sacrifice good design in the process. That is why we as designers have to be thoughtful in how we balance the two. Next week we will explore compelling yet cost-effective streetscapes. Let's continue to work together to make the American Dream of homeownership possible for as many buyers as possible.
Categorized in: Affordability, Champagne Taste on a Beer Budget
This post was written by Housing Design Matters