I went to the dentist last week, and as the chair slowly reclined, I was offered a new perspective – the ceiling. It was a fine ceiling and even included a TV – almost nice enough to take my mind off of where I was!
This, naturally, got me thinking about ceilings – perhaps the most overlooked and under-utilized surface in our homes. Granted, many of us walk through life without looking up, especially now that we all carry cell phones. By-and-large, the only room where the ceiling is "presented" to us is the bedroom where we lay down. I imagine most new home buyers didn't actually lay on the bed in the model and look up before they signed on the dotted line.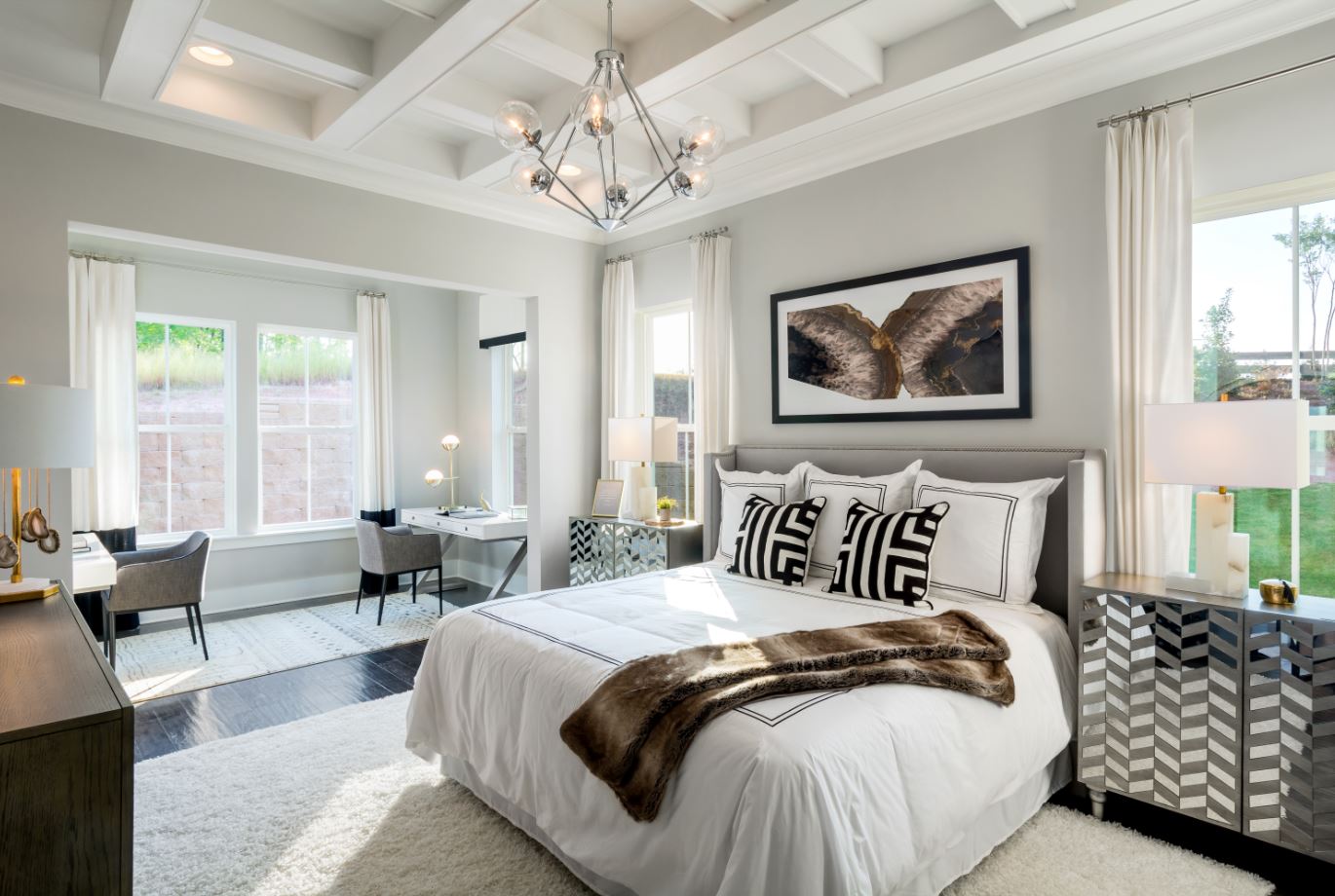 Let's stop a minute and think about what needs to be taken into consideration: finish, material, shape and penetrations.
Finish
Let's consider the finishes for drywall ceilings. Is it that "popcorn" finish that was used in the seventies? It hides all kinds of blemishes, but forget ever trying to repaint it later.
Perhaps you've dragged yourself into the 21st century and are using a "knock down" finish – easily repainted. These days, homeowners can buy knock down ceiling finish in an aerosol can, making repairs a simple procedure. If you know a good drywall guy, it might be the coveted smooth ceiling. Years ago, when I went to the Kobe International Housing Fair in Japan, many of their ceilings had vinyl wall coverings to hide drywall imperfections. An interesting idea, but can you just imagine fighting with a large strip of wallpaper covered in glue while standing on a ladder? No thank you.
Material
After drywall, wood is perhaps the second most used material added to residential ceilings. Whether stained or painted, this is a great way to add warmth to a room. Lately, ship-lap siding on ceilings has become popular. Add beams in an accent color and you've got a great, rich look. If ship-lap is out of your budget, you could use tongue and grove plywood – just make sure you add beams at the seams.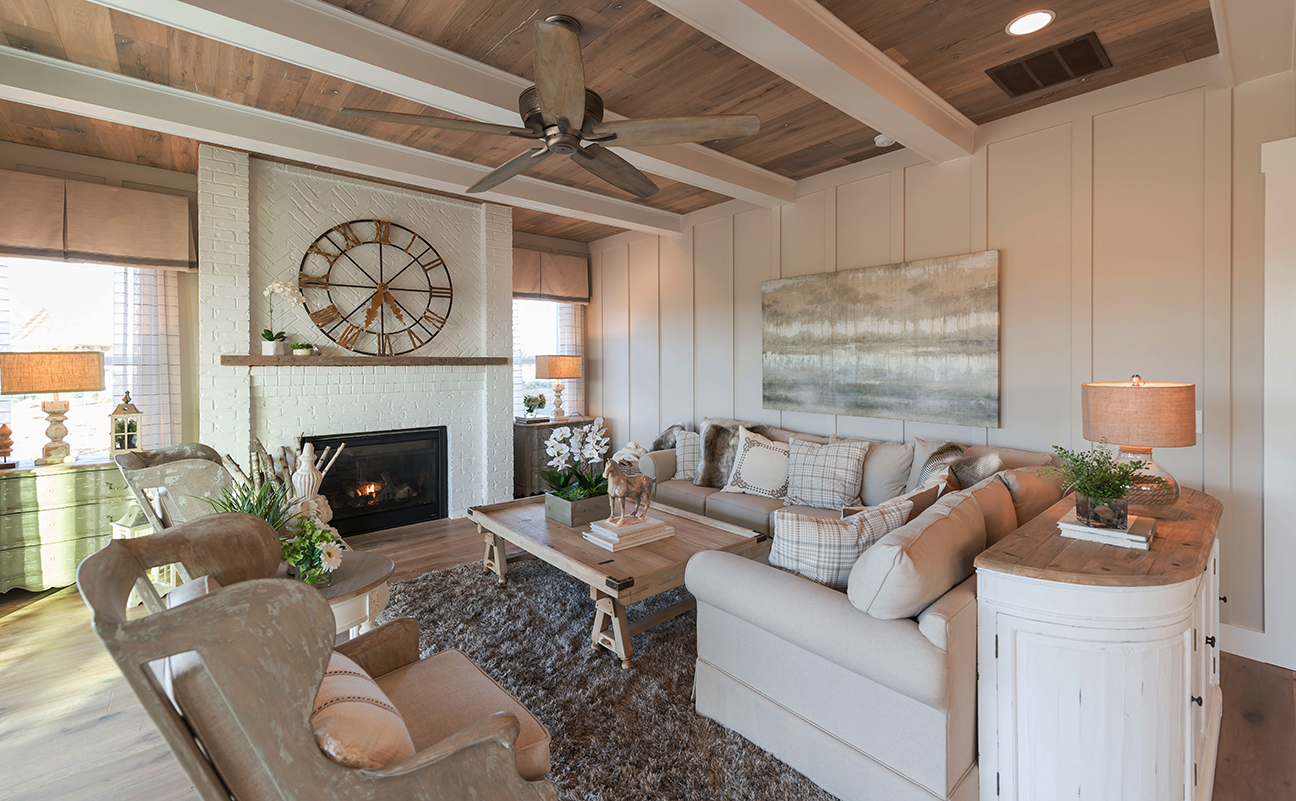 Shape
After flat, the next most common ceiling shape in production housing today is the tray ceiling. We see them a lot in master bedrooms as options. Could it be because this is the room where we are most often horizontal? Trays offer a way to add overall height to the room without having to raise the plate height in that room. Recently, we added a tray ceiling to a remodel with 8' ceilings. Tray ceilings come in a variety of shapes including angled sides and stepped trays. Add cove lighting to a stepped tray – if you've got smooth drywall or wood in the tray.
Vaulted ceilings are also poplar and can be very dramatic. One Carolina builder uses vaulted ceilings to frame the amazing views to the lake. Adding the ship-lap and beams really draws your eyes upward. And of course, accentuate a vaulted ceiling with a fabulous pendant fixture. Nice!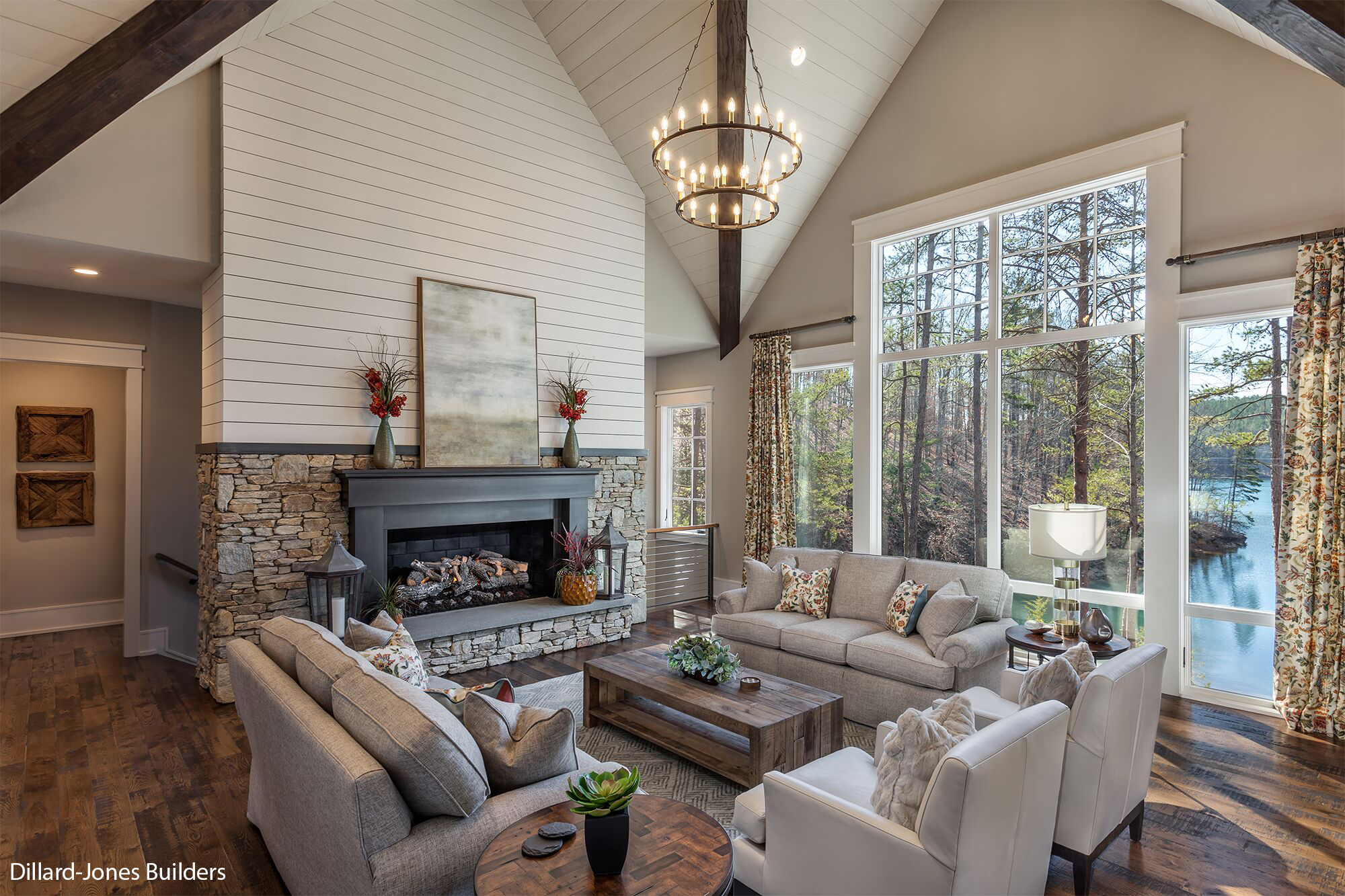 Penetrations
Consider all the things that end up in our ceilings: smoke detectors, burglar alarm sensors, light fixtures, ceiling fans (or junction boxes for future ceiling fans) and speakers. Is the placement of all these elements deliberate and coordinated or does each of the trades decide where they want to place their things without regards to the overall composition of the ceiling? If you're not careful, you could end up with an unfortunate case of ceiling acne.
What Not to Do
If you have a relatively low ceiling, you will want to keep it light in color. If you have a higher ceiling, you can add accent colors to draw the eye upwards. If you have knock down on the ceiling, keep it white and avoid the temptation of modeling to create a "faux" tray ceiling.
There's a local dinner theater here in Jacksonville that has 7' ceilings in the hallways. Because it's a "themed" venue, they finished the ceilings in rough textured stucco to match the walls. It felt like jagged stalactites ready to scratch any tall man's scalp or grab the big-hair-ladies "do". Dinners felt the urge to duck.
What ceilings are you considering? Those that should be overlooked or those that make you want to stop and look up? Could this be a differentiating factor for you or a budget breaker? I'd love to hear your thoughts.
Categorized in: Uncategorized
This post was written by Housing Design Matters