We've talked about the master bath tub, shower and even toilet rooms. How much more can we possibly have to talk about in this space?! And yet, we haven't touched on the lavatories/vanities we rely on to start and end our days on a good note. So let's set a few ground rules when it comes to height, width, what goes in between, what goes above, and whether they should be separated (quick answer: Yes!).
Height
I believe sinks should be 3' high for the master. This is a lot easier on the back for bending over to wash your face. I recently stayed in a resort villa built in the 70s and couldn't get over how short the vanity was. I felt like I was in a kid's play house trying to wash my face. If there is a knee space for makeup, I like to keep it level at 3' because dropping it 6 inches chops up the look. These days, furniture makers have vanity chairs and stools for the higher countertops in the bathroom just like they have for the kitchen.
Between
By and large, there are two schools of thought: Drawer bank or knee space. Which one you should include depends on the buyer profile. When I was younger, I used to half-jokingly say that the most important "knee space" was below the steering wheel because the car is where I would inevitably apply makeup in the office parking lot. Young working moms on the go might appreciate storage over knee space. For smaller spaces, placing the linen storage between the sinks means that you don't have to sacrifice precious square footage for a linen closet.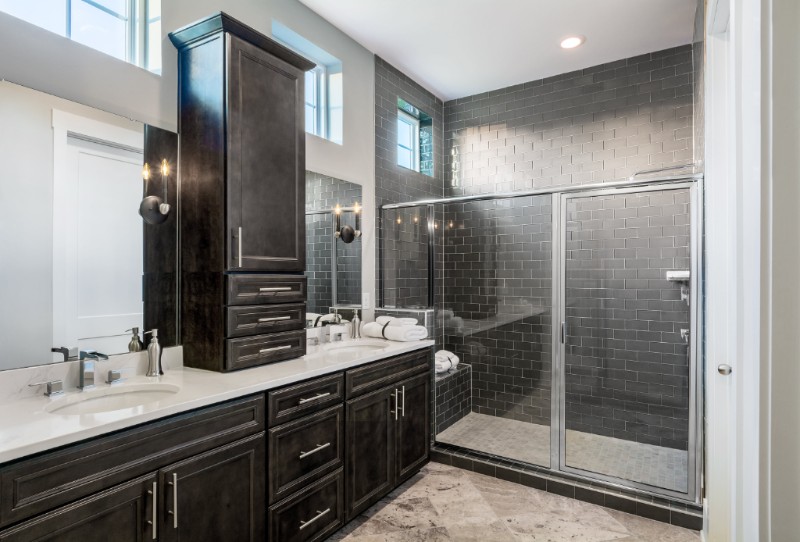 However, as I aged, and the lens of my eyes has thickened, I've needed to get up close and personal with my mirror. Let's face it, the wall mirror two feet away may as well be two miles away for applying makeup. Women need to be inches away from the mirror to apply eyeliner and mascara! A lit magnifying makeup mirror that sits on the counter is the best way to get the job done. Let this serve as a reminder to include an outlet that doesn't require the cord to be clumsily draped across the sink. Yes, these days there are slick cordless mirrors that are motion activated. But blow dryers, straighteners, electric shavers and toothbrushes… We need outlets!
Above the Sinks
Naturally, we need a mirror above the sinks. Is it one big mirror or should we use individual framed mirrors that give the home a more custom feel? The biggest decision comes with lighting, however. The old Hollywood lights (that burned you if you got too close) are a thing of the past. Now, there are various lighting options for above, behind, and inside the mirror.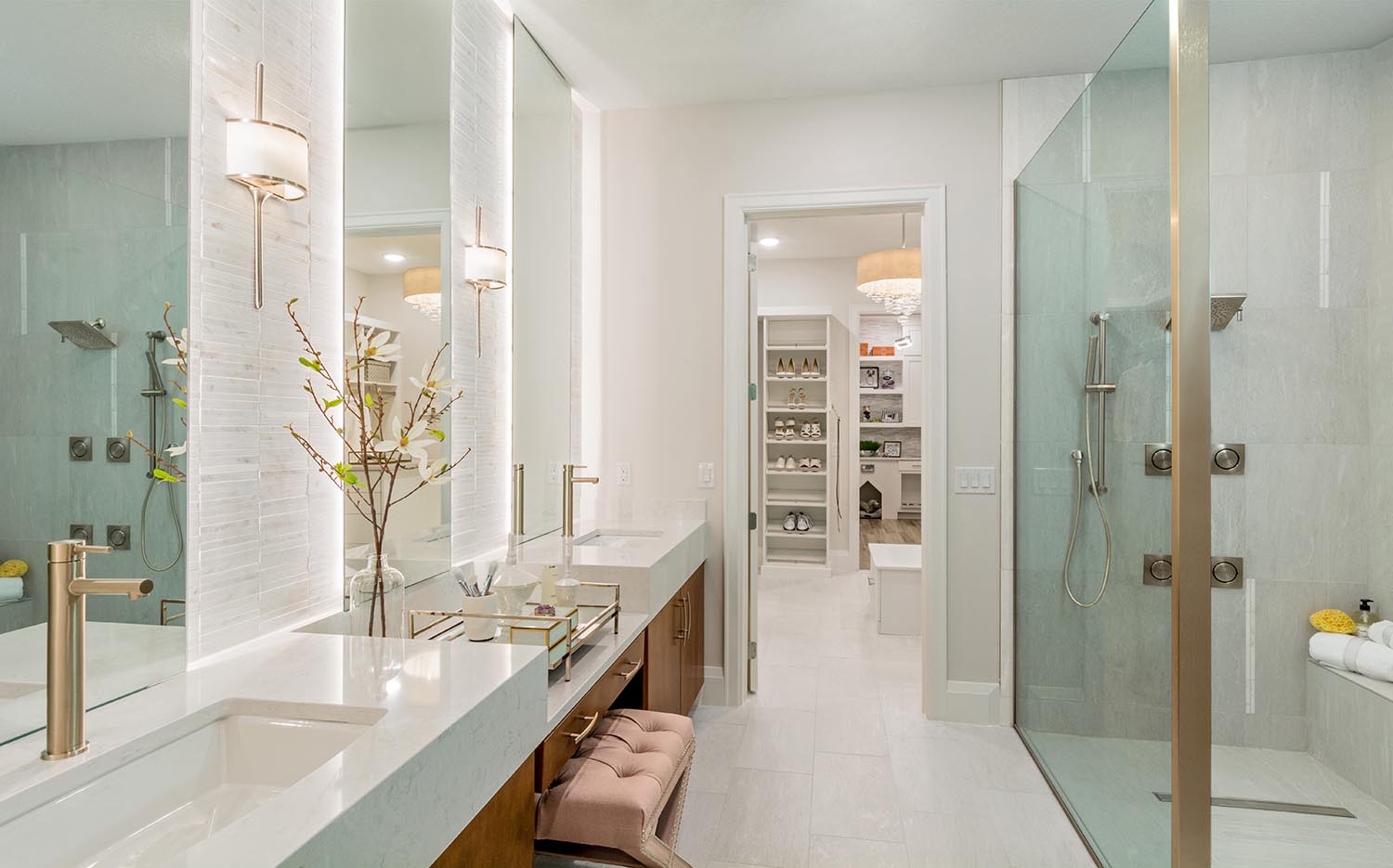 First-and-foremost, keep in mind that light from above can cast unflattering shadows on your face that exaggerates wrinkles and imperfections. This sounds like a minor thing, but women that have over-applied makeup for a nice evening due to bad lighting will beg to differ (see below). Light from straight on softens those pesky wrinkles. Shouldn't your home make you feel beautiful? Five-star hotels have all figured out that we look better with a back-lit or mirror with lights built in. If back-lit mirrors aren't in the budget, wall-mounted sconces at eye level between the mirrors (shown above) are an elegant solution.
Window Between the Mirrors
If you remember my blog on windows, it shouldn't surprise you that I love adding a window in between the mirrors for many reasons. The first is natural light. Finding a place other than the shower can be a challenge, especially since the tub space has often been absorbed by oversized showers. I also like the window between the mirrors because it brings the light straight on and not from above – just like the back lit mirrors.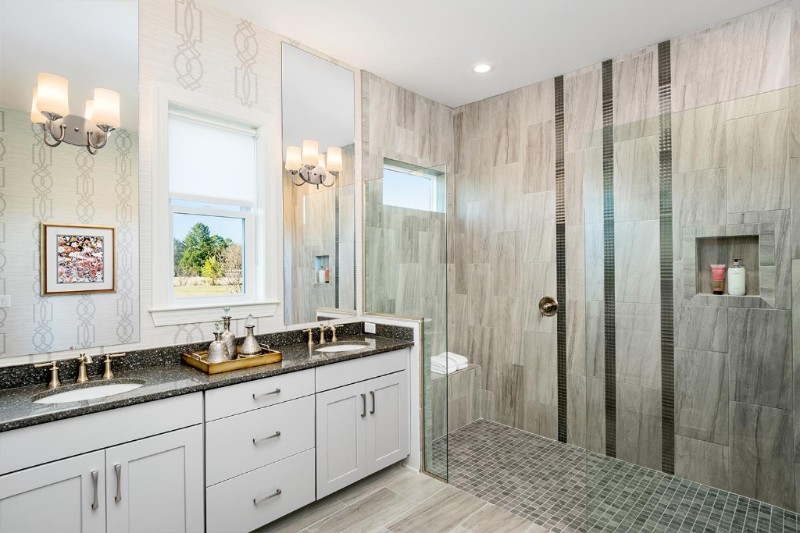 His / Her Vanities
If you have the floor space in the bathroom, I find separating the vanities to be a big plus. This might not be as important for younger or first-time buyers. But the experienced, 55+ buyer has figured out that the secret to a long-lasting relationship can sometimes be a little breathing room – especially early in the morning before coffee. When you split up the vanities, they need to be a minimum of 42" each. If adding a knee space, her vanity should be 5' minimum.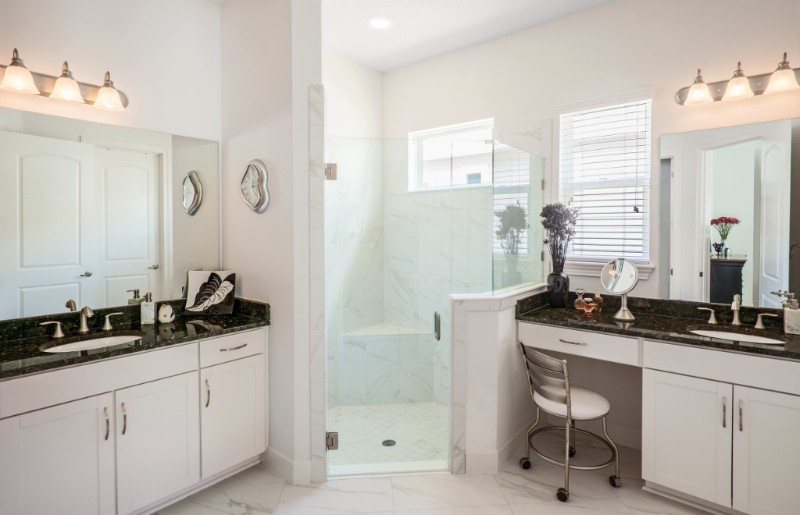 It's a bit baffling how complex our sink spaces have become. This is just one of the seemingly endless list of options and decisions home buyers must make – and then they have to choose an actual sink and faucet! Don't underestimate this space's importance, however. This is where our buyers start and end their day. Why not make both times of the day refreshing?
Categorized in: Design Solutions from a Working Mom's Point of View
This post was written by Housing Design Matters